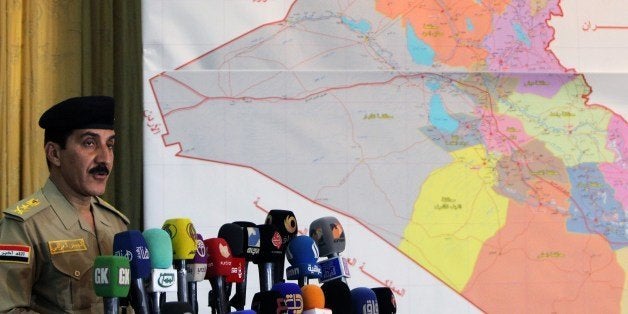 NEW YORK -- New York Times foreign correspondent Rod Nordland apologized to Iraqi journalists on Monday after claiming in a series of tweets this past weekend that an Iraqi army official had given cash payments to members of the press.
Nordland stood by his allegation that several Iraqi journalists accepted envelopes with cash following Saturday's news conference with army spokesman Lt. Gen. Qassim Atta. But in a statement, Nordland emphasized that he didn't intend to lump all Iraqi journalists together.
"I would like to apologize to any of you who felt my criticism of bribe-taking by some of your colleagues was intended as blanket condemnation of all Iraqi journalists; it was not," Nordland said. "From what many have told me, my remarks were frequently mistranslated to suggest that. I am well aware of the courage and dedication many of you have exercised during many years of war and turmoil, and the risks you take particularly from the extremists who have threatened this country for so long."
Nordland wrote that his "remarks were intended as satirical and directed against what I would hope is a small group who are willing to accept such payments." He noted that he's worked with Iraqi journalists who were "honest and above reproach, and would never have made any comment intended to include them in my criticism."
In a Skype interview from Baghdad, Nordland reiterated that his tweets "were frequently mistranslated to suggest that I thought all Iraqi journalists were bribe-takers." Nordland told HuffPost the Iraqi journalists he knows "are not (and they are not the kind who would waste their time going to a press conference where you can't ask questions usually."
The controversy kicked off Saturday following Atta's daily news conference. Nordland commented during it on how dozens of journalists weren't asking questions. After the event, Nordland suggested he'd figured out the reason why: they'd been bribed. An army official, he tweeted, had passed out envelopes to journalists on the press bus. The Times' group -- which included Nordland, a translator and a photographer -- had received an envelope with three $25,000 dinar notes, worth about $20 each.
In a series of tweets, Nordland included photos of the cash payment given to The Times and Iraqi army official providing the envelopes. He also suggested that those accepting the money were "whores" and likened the practice to prostitution:
The Washington Post recently described Atta's press briefings as "one cog of the government propaganda machine," a daily effort to paint a rosier picture of the Iraqi army's fight with militant group Islamic State in Iraq and al-Sham (ISIS). The Post also noted that some pro-government journalists pose with Atta for photos at the news conferences. Still, the allegation of cash bribes crosses a line, going beyond excessive chumminess between government spokespeople and journalists to corruption.
It shouldn't be forgotten that many brave Iraqi journalists have died covering the Iraq war and ongoing sectarian violence. The Committee to Protect Journalists found that over 150 journalists and 54 media support workers were killed between the U.S. invasion in March 2003 and its withdrawal in December 2011 -- the majority of whom were Iraqis. During those years, the Times Baghdad bureau was rocked by the killing of a 23-year-old Iraqi reporter and interpreter who worked for the paper. Out of 100 cases of journalist murders in Iraq, none have led to a conviction.
Nordland told HuffPost that people who contacted him in response to the tweets defended the cash payment "as just tip money, or travel money, or phone card money." He said that the equivalent of $20 is "probably in the vicinity of a day's pay for most Iraqi journalists unless they're employed by foreign organizations."
Nordland said he "didn't see what was inside others' envelopes, since everyone else tucked them into their pockets straight away and looked out the window of the bus as if nothing had happened."
"The brazenness of it was pretty remarkable," Nordland added. "I hear now there's a movement afoot among the recipients to all claim there were press releases in their envelopes and I invented the money."
Related
Popular in the Community