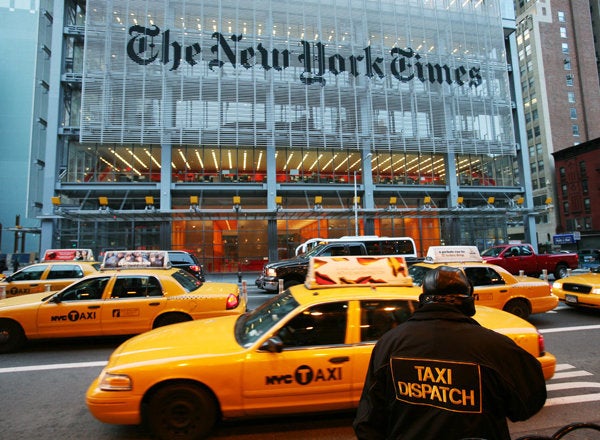 The New York Times began its latest round of layoffs Wednesday, as too few employees accepted voluntary buyouts.
The New York Post's Keith Kelly reported Wednesday morning that 26 staffers would be laid off, since only 74 employees accepted buyout offers and the target was to cut 100 positions.
New York Magazine reports that layoffs were "ongoing all day...with the unlucky few people called upstairs out of the newsroom -- where now people are 'standing around in clumps and obviously talking about everything.'"
NYMag's list of laid-off employees includes*:
Eric Konigsberg - Culture

Sara Rimer - National

Christine Hauser - Metro

Josh Barbanel - Real Estate

Mitch Blumenthal - Continuous News

Kate Galbraith - Business

Allen Salkin - Styles

Monica Evanchik - Web
Gawker reports an additional employee, NYT Service/Syndicate multimedia producer C. Spencer Beggs, was also laid off; he told Gawker, "Been there a year and a half. Got 4 weeks salary. I was full-time, non-union."
News Cycle calculates that over 15,000 newspaper employees have lost their jobs in 2009.
Developing...
*UPDATE: New York Times spokeswoman Diane McNulty says, "The Times does not and will not discuss personnel matters, nor reveal any names or numbers relating to the current staff reduction. As a result, The Times cannot and will not comment on the list of specific names you have aggregated from another site, except to say the list is in error."
Popular in the Community