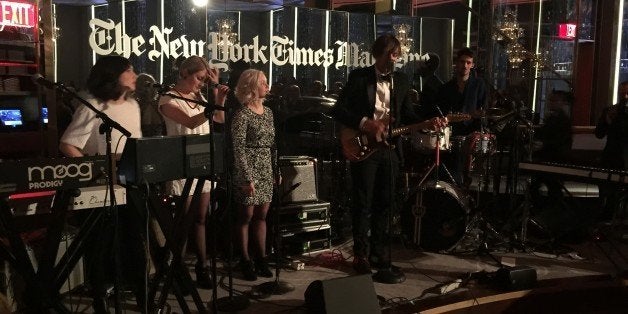 NEW YORK -- Just four months after its parent company cut 100 people from the newsroom, Wednesday night The New York Times Magazine feted the relaunch of its print and Web products at a glitzy event high above Manhattan.
"Tonight is a celebration of narrative journalism at its very best -- a magazine that teaches, inspires, entertains and helps millions of readers stay better informed about the world they live in week after week," Times Magazine Publisher Andy Wright told the crowd of about 200 gathered on the 65th floor of 30 Rockefeller Plaza. "We're really, really excited about making it even better."
The 220-page redesigned issue, which arrives on readers' doorsteps this weekend, is the largest in the magazine's history. It contains 120 pages of advertising -- a promising sign for a title that has seen advertising revenue drop as luxury advertisers flock to its sister publication, T: The New York Times Style Magazine. In the months preceding the relaunch, Wright and Editor-in-Chief Jake Silverstein, who left the Texas Monthly for the Times a year ago, toured 10 cities to meet with marketing and advertising executives to tout the revamped magazine.
"The Global Issue" features four covers depicting "chaos in the world" in its opening pages and is printed on thicker paper stock than its previous iteration.
Long a bastion of long form, narrative journalism, the publication has also redoubled its commitment to storytelling under the leadership of Silverstein, growing the feature well from three to four stories per week. Silverstein has also sought to give the magazine "a more literary dimension" with a number of prominent hires. U.S. Poet Laureate Natasha Trethewey, who won the Pulitzer Prize for poetry in 2007, will select and introduce a poem in each issue. A rotating column will feature contributions from Teju Cole on photography, Adam Davidson on money, Troy Patterson on clothing and Helen Macdonald on nature.
The redesign replaces a number of long-running features -- "The One-Page Magazine," "Who Made That" and "Look" -- with new ones: "First Words," "a prolonged consideration of a telling word or phrase"; "Search Results," a semimonthly "dispatch from Internet culture" by technology reporter and New York Times columnist Jenna Wortham; and "Letter of Recommendation," which offers "a gleeful yawp of praise for something, anything."
Attended by media and entertainment luminaries like Diane Sawyer, Lance Armstrong, Martha Stewart, and HuffPost President and Editor-in-Chief Arianna Huffington, Wednesday's relaunch party comes almost a week to the day after New York Times media critic David Carr collapsed at the newspaper's offices on Eighth Avenue and was later pronounced dead. The resigned issue is dedicated to Carr.
"He was a mentor and a friend to many of us on staff, as he was to many people throughout the building," Silverstein told the crowd before ceding the floor to musical guest Will Butler of Arcade Fire.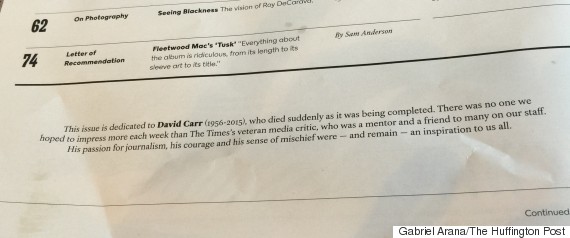 Popular in the Community