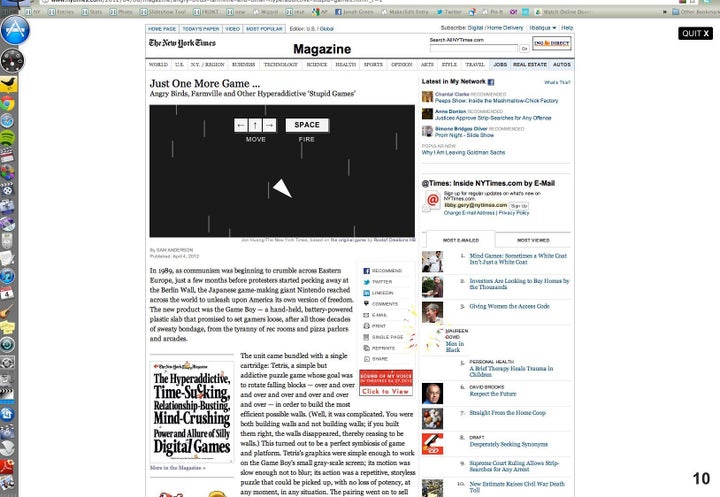 The New York Times published a piece on the prevalence of 'stupid' video games for the upcoming issue of the Magazine. In it, the Times' multimedia designer Jon Huang illustrated the concept with his very own creation, a simple left right space bar toggle game with a tiny spaceship designed to destroy all the visual content of the New York Times. Wee!
Try it! You click, and boom -- there goes the ad. Click -- the picture of Maureen Dowd bursts into a lo-fi confetti of yellow and red sparks. Most emailed list? Poof. Like the subject of Sam Anderson's piece (Angry Birds, Farmville) it's mind-numbingly therapeutic.
The game was modeled after the game developed by Erik Andersson, a 17-year-old Swede, and tweaked to blot out the content on nytimes.com.
Among the early fans of the game was Jon Huang, a multimedia producer at The Times, who had the idea to modify Andersson's open-source code to include with Anderson's article. Because the game is open-source, he was able to modify the code to work on The Times's site. "We realized we could tweak the nose or the ear a little bit and share a joke," he said. "I wanted to share a joke with the reader."
Calling all HuffPost superfans!
Sign up for membership to become a founding member and help shape HuffPost's next chapter