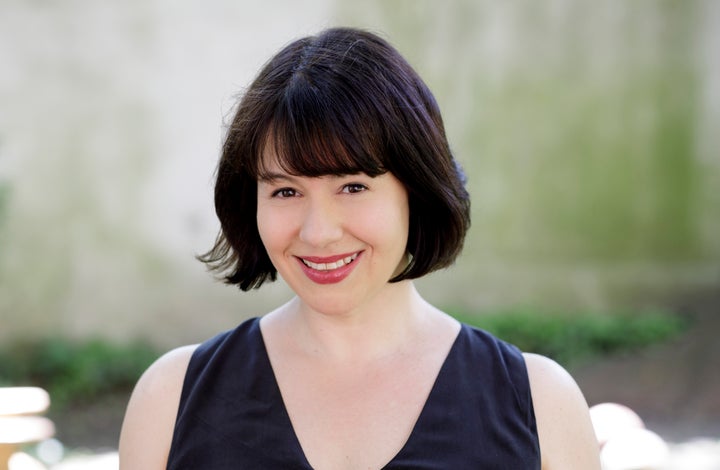 The New York Times is adding Michelle Goldberg to its stable of columnists, according to a newsroom memo obtained by HuffPost.
Goldberg, a progressive writer most recently with Slate, began contributing regularly to the Times opinion section earlier this year. Her work quickly stood out and prompted internal speculation that she could be in line for a full-time columnist job, one of the most prestigious perches in journalism. 
However, Goldberg told HuffPost she never dreamed of landing a columnist slot. Shortly after the announcement on Wednesday, Goldberg said she was still "staggered by what an honor it is to have that platform at this moment."
"It's the opposite of the end of history," Goldberg said. "Suddenly everything has been thrown open and it's really terrifying. I don't think it's a silver lining as a writer is that it's suddenly such an ideologically fertile time. It's a terrible and harrowing time. But there is so much to explore."
"One thing I hope to do is to be a voice for the majority of the people in this country who cannot believe what the fuck is going on," she said.  
The Times has recently been incorporating new voices by adding contributing columnists. But the stable of 14 full-time columnists, which boasts high-profile writers like Paul Krugman and David Brooks, has lacked diversity. Goldberg is one of three women in the group, joining Maureen Dowd and Gail Collins. Charles Blow is the only writer of color among the group.
And the last columnist hire by Times editorial page editor James Bennet, conservative writer Bret Stephens, ignited controversy. Some Times readers even canceled their subscriptions in April over the selection of Stephens, a self-identified "climate agnostic" known for mocking environmentalists. Bennet defended the hire at the time, telling HuffPost it was "totally unfair" to label Stephens a "climate denialist."
Goldberg, who has written for The New Yorker, The New Republic and The Nation, focuses largely on politics, gender, religion and ideology and is the author of three books: Kingdom Coming: The Rise of Christian Nationalism, The Means of Reproduction: Sex, Power, and the Future of the World, and The Goddess Pose: The Audacious Life of Indra Devi, the Woman Who Helped Bring Yoga to the West.
While progressive, Goldberg wouldn't likely be identified as coming from the Bernie Sanders wing of the Democratic Party. During the 2016 primary race, Goldberg wrote how the Independent Vermont senator's politics were "more or less my own," yet she supported Hillary Clinton.
Goldberg described her politics to HuffPost as close to those of Krugman and Blow, though coming from a more feminist framework. She said she understood if some people in the Sanders wing of the progressive movement "continue to feel underrepresented," yet she described much of her work as being "in dialogue with people to my left."
For instance, Goldberg said she's interested in arguments found in Jacobin, a socialist-leaning magazine, the growth of the Democratic Socialists of America (DSA), and debates on the left over the radical, anti-fascist group known as antifa. 
"One thing I can do is to give voice to people's incredulity as they watch their democracy crumble around them and nobody seems to be doing anything about it," she said. 
The Times, whose columnists generally veer center-left to center-right and at times share views on foreign intervention whether liberal or conservative, also doesn't boast a full-time columnist representing more of the Steve Bannon-like populist, nationalist viewpoints found on Breitbart News. The Times' conservative columnists ―  Brooks, Stephens and Ross Douthat ― have all been critical of President Donald Trump. 
In a memo, Bennet and deputy editorial page editors Jim Dao and Katie Kingsbury promised "further additions to our lineup in the coming months as we continue to broaden the range of Times debate about consequential questions."
Read the full memo below:
All: 

We're delighted to tell you that Michelle Goldberg is joining the strongest lineup of columnists in the world. Many of you know Michelle from her regular contributions here, as well as from her column at Slate, so you have some sense already of her intellectual depth, courage and ambition. She is the author of three books that together point to her range: The first, "Kingdom Coming," investigated the rise of Christian nationalism in the United States; the second, "The Means of Reproduction," examined struggles worldwide for women's self-determination and its connections to economic development and national identity; and the third, "The Goddess Pose," told the rollicking tale of Indra Devi, the extraordinary woman who fled the Russian Revolution and eventually – as the twentieth century unfolded and she passed through stints in Berlin cabaret, Indian silent film, and Hollywood – helped bring yoga to the United States.

 Michelle knows how to deliver big ideas through great stories, and to do the hard reporting to support both. She knows how to write fast and forcefully off the news and how to structure a complex, magazine-length argument. She is interested in pretty much everything, and she sees no contradiction between having fierce convictions and keeping an open mind. She is, in other words, our kind of colleague.

You can expect further additions to our lineup in the coming months as we continue to broaden the range of Times debate about consequential questions.

Michelle's first day will be in about two weeks, and we'll ask you to join us in welcoming her then.

 All best

James, Jim and Katie
Calling all HuffPost superfans!
Sign up for membership to become a founding member and help shape HuffPost's next chapter