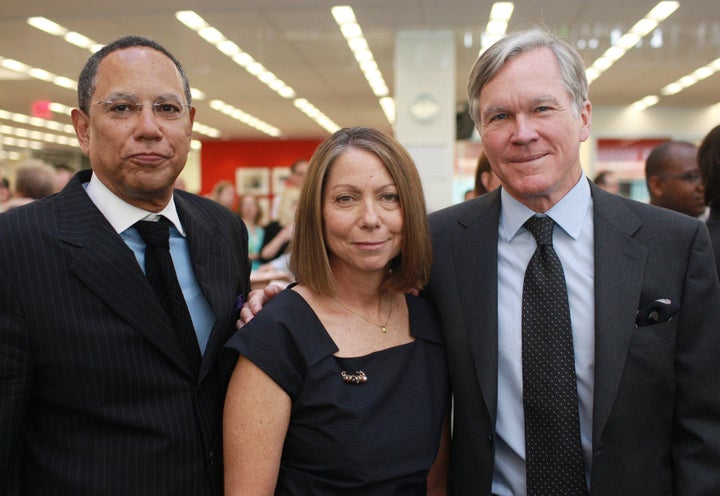 NEW YORK -- The New York Times made it onto page one of Friday's New York Times.
In a management shakeup the day before, the paper announced that Jill Abramson would succeed Bill Keller as executive editor in September, a move that garnered headlines across the country and was catnip for Times Kremlinologists speculating about what the masthead change portends.
But in two weeks, the Times will get a different kind of "Page One" treatment, as Andrew Rossi's fly-on-the-wall documentary opens in New York City prior to a national release on July 1. Rossi, in an interview with The Huffington Post, acknowledged that "having a huge news story break on your subject two weeks before release is good."
While Rossi turned his camera primarily on the paper's media desk as it covered a rapidly changing news landscape and the Times' own uncertain place in it, the director also spoke with Keller about being executive editor during rocky moments in the paper's history.
Keller took the reins in the wake of the Jayson Blair plagiarism scandal, weathered criticism for the paper's bogus pre-Iraq War WMD coverage, fought the Bush administration over publishing two blockbuster intelligence stories, and spent 14 months creating a metered paywall strategy that was finally implemented in March. (Keller told The Huffington Post yesterday that his job became less about journalism in recent years and more about devising a business strategy to keep the paper afloat.)
"You couldn't write a Hollywood script to more perfectly wrap up an era of crisis in the life of the paper and his role as somebody who was, as [Columbia University Graduate School of Journalism dean] Nick Lemann says in the movie, guided the ship through the storm," Rossi said regarding Keller's decision to step down after eight years.
Rossi's film begins with television reports of newspapers like the Seattle Post-Intelligencer and Rocky Mountain News shutting their doors. The film's final shot features Keller addressing the Times newsroom after winning yet another Pulitzer Prize. The message -- that despite uncertainty over whether the Times paywall strategy works out, the paper's journalism may carry it through -- is one Times executives would be happy to promote as they make the case to readers that they should pay for full access online.
But the Times has a complicated relationship with "Page One."
In some ways, the paper has appeared to embrace it. Media columnist David Carr and media reporter Brian Stelter, two stars of the film, have appeared independently, or together, at a half dozen advance screenings around the country. On June 14, the Times will screen "Page One" twice for staffers at the paper's headquarters. That night, Keller, Carr, Rossi and legendary journalist and former Timesman Gay Talese will speak on a public panel about the film.
Still, the Times is keeping the film somewhat at arm's length in its pages. The paper will not run a feature on it and is planning to assign the review to a freelancer rather than an in-house critic. Even though the Times had no editorial control over the film, it still doesn't want to be seen as promoting it heavily in the paper. The Times also has no control over the release of the film, which Magnolia Pictures and Participant Media are handling.
While "Page One" depicts the Times as a vital journalistic institution, there are scenes that could make the paper's executives wince. Staffers talk openly about one day getting tapped on the shoulder when it's their time to leave -- the sort of gallows humor one might have found in any newspaper newsroom following the industry freefall of the previous few years. There's also a scene where media editor Bruce Headlam jokingly says that Stelter's "lying" about saying he thought he already filed a story -- a line that could get twisted around.
Rossi was bound to catch such unfiltered newsroom moments – he spent 14 months filming and had extensive access to not only the newsroom, but also to the editors' daily page one meetings.
So why'd the Times allow Rossi in?
"I've tended to err on the side of being accessible, because I think it's hard for outsiders to spend much time with the people who work here and not come away impressed," Keller said in an email. "(When I say "err," I mean that literally. I opened the newsroom to a crew from The Daily Show. What the hell was I thinking?)"
"Andrew had what sounded like a smart angle -- follow the media desk as it covers the implosion of our own industry -- and he convinced me that he was serious of purpose," Keller continued. "Dave Carr, whose instincts I trust, said that Andrew passed his smell test."
Keller saw a rougher cut of the film a few months back, but just watched the final version last week. "It's not the film I would have made, of course," he said. "But I think he treated us fairly."
Carr says he likes the film and, therefore, has been happy to speak about it. "I think it gets newsroom culture right," Carr said. "I say that because it's one of the few movies about journalism where you really see editors doing their job."
He said he considers "Page One" to be "sort of a craft-based film."
So far, Carr's appeared at Sundance Film Festival, South by Southwest, and at screenings in Los Angeles and Sarasota. At the Sarasota Film Festival, following a screening for over 1,000 attendees, Carr said that "people who were not intrinsically interested in the topic, again and again, [asked] me all manner of questions about newspapering, circulation, about the future."
Carr would never admit to this, but Rossi describes him as the film's "secret weapon" and he emerges as the star of "Page One." A 54-year-old former drug-addict-turned-media-sage, Carr spent years working at alt-weeklies before reaching the Times and he now speaks about the paper with the zeal of a convert. In the film, Carr smacks down a variety of critics attacking the paper, including Adweek editorial director Michael Wolff, DailyKos founder Markos Moulitsas, and Vice magazine co-founder Shane Smith.
Even though Carr is praising the paper on the road, such appearances could create problems for his employer, since he's simultaneously promoting a film the Times didn't make and isn't endorsing as an institution. Carr said he had long conversations with a couple top newsroom editors before deciding to engage with the film. "I'm appearing first and foremost as an employee of the paper and second as a subject of the film, one of many," Carr said.
Stelter says any promotional work he's doing is reasonable.
"I talk about the paper and I talk about the film, and sometimes it's promotional," Stelter said of his recent appearances at "Page One" screenings. "So it's both, but I don't think every word is promotional."
Stelter also took an unlikely route to the Times, joining the paper in 2007 after starting a successful cable news blog in college. Now 25, Stelter's become one of the Times' most public faces and perhaps its biggest proponent of using social media to engage with readers. In the film, Stelter is seen telling Columbia University students that all Times reporters should be on Twitter.
Over the past few months, Stelter has also attended screenings at Sundance and South by Southwest and made appearances in Sarasota, Durham and Seattle. He'll attend a screening and reception at the Newseum in Washington D.C. on June 15 and appear on a panel, with Carr, the following night on the roof of Gawker Media's Manhattan headquarters.
"I think one of the takeaways is that the Times is a healthy part of the news ecosystem," Stelter said, adding that "Page One" shows "we're more open and more transparent and more accessible than people might imagine."
"This film will indirectly benefit the Times in showing that we're normal people trying to do our best," he added.
"Page One" may also convince some long-time critics that the Times is on more solid footing than they have suggested.
Talese, who wrote the archetypal newsroom narrative, "The Kingdom and the Power," hasn't always had kind things to say about publisher Arthur Sulzberger Jr., the ruling heir of a newspaper family dynasty stretching back 115 years. "You get a bad king every once in a while," he famously scoffed to the New Yorker in 2005.
But after watching "Page One," he had a change of heart. In an interview with The Huffington Post, Talese said he told Times managing editor Bill Schmidt that today's Times is "a better paper than when [he] worked for it in the 1960's." Schmidt passed Talese's message upstairs to Sulzberger and the two men exchanged letters.
"This documentary captures what has so long been missing in the media's coverage of the Times during the first, very difficult decade of the 21st century -- and that is the institutional strength and character that your newspaper has shown in its refusal to be discouraged by the economic downturn and its resistance to the pessimism that has pervaded the newsrooms of so many other periodicals," Talese wrote to Sulzberger in March.
"What the Times has done during these tough times is get tougher," he wrote. "It has done what it does best, even better." Talese later reminded Sulzberger that past publishers also had to "overcome negative trends and hosts of skeptics in their lifetimes," and concluded by wishing him and the Times "continued greatness and gratification in the years ahead."
In a couple of weeks, the Times will find out if audiences and reviewers of "Page One" agree with Talese.
(Above photo from left: Incoming managing editor Dean Baquet, incoming executive editor Jill Abramson, and outgoing executive editor Bill Keller)
Watch the "Page One" trailer below:
Related
Popular in the Community