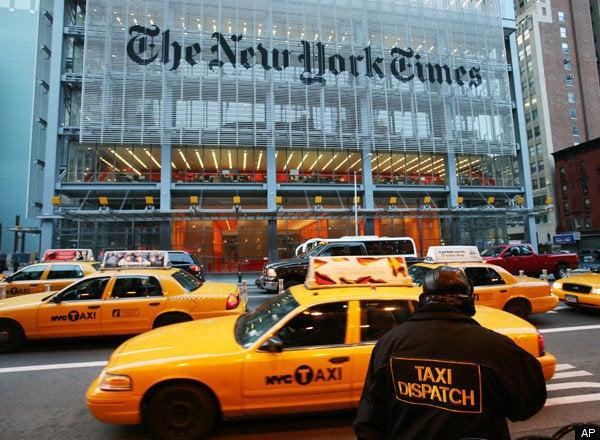 NEW YORK -- When New York Times editorial page editor Andy Rosenthal told staff Monday that reporter Frank Bruni will soon get a Sunday Op-Ed column, he revealed something else about the upcoming relaunch of the paper's "Week in Review" section: It will be called "Sunday Review."
The Huffington Post first reported May 11 that the Times was considering the name "Sunday Review" but Rosenthal did not confirm at the time.
In an interview Monday with The Huffington Post, Rosenthal acknowledged that "Sunday Review" is the name on the paper's latest prototype but still wouldn't commit to it 100 percent. "Everything's up in the air until it's out," he said.
"That's what everyone's calling it," Rosenthal added. "We have to call it something. We can't call it the 'newly re-designed Week in Review.'"
In February, the Times announced that the editorial section and newsroom would work together to overhaul the iconic section, which has historically featured news analysis up front and columnists and op-ed pieces on the back pages.
Trish Hall, the paper's op-ed editor and deputy editorial page editor, was put in charge of overseeing the project, signaling that the editorial side might now play a larger role in the joint venture. Times Executive Editor Bill Keller made clear to staff in recent weeks that the newsroom is still very much a part of the operation.
Some aspects of the redesign are still in flux. But Rosenthal said that readers should expect "a really beautifully-designed section that looks really different than lots of stuff in the Times, with a great cover piece and great art."
The cover may be the most noticeable change. While reporters and editors have long written Week in Review cover stories, the paper's columnists -- among them David Brooks and Gail Collins -- will now also get a shot, perhaps writing a 2,000-word feature one week instead of the typical 800-word column. Outside op-ed writers may also write cover stories. Rosenthal described the new section as a "showcase for the best writers at the Times and people we invite to write."
Since opinion and news analysis pieces may soon run side-by-side, Rosenthal said that editors will make clear which is which. "Each one will be labeled and there will be a bio right before the writer's name," Rosenthal said.
"It's possible to do kind of a commentary section where you have opinion stuff and news analysis comfortably co-exist," he said.
Bruni, who has covered political campaigns, worked as the paper's Rome bureau chief and served as its previous food critic, said in an email that writing an Op-Ed column "wasn't something I'd thought much about, though I've always loved reading our Op-Ed columnists and always thought the Op-Ed form would be a challenging, interesting one."
Since he's worn several hats at the Times, does Bruni have any idea what he wants to tackle in the column on Thursdays and Sundays?

"We're all still talking about this, the editors and I," he said. "But the evolving idea is that the subjects could indeed vary widely. I don't think food, though, would come up with any special frequency, and if it did it would be in the service of a larger, broader point."

In a staff memo, Rosenthal described Bruni's forthcoming column as a "a sharp, opinionated look at a big event of the last week, from a different or unexpected angle, or a small event that was really important but everyone seems to have missed, or something entirely different."
While it's not exactly clear what Bruni will cover week-to-week, Rosenthal said he's very pleased to have him writing on Sundays alongside Nicholas Kristof, Maureen Dowd and Thomas Friedman. "I'd be jealous if it wasn't my section," he said.
REAL LIFE. REAL NEWS. REAL VOICES.
Help us tell more of the stories that matter from voices that too often remain unheard.