Coral Davenport, one of The New York Times' few environmental reporters, is repeating her past mistakes on Keystone XL reporting. The Keystone XL pipeline would connect Canada's tar sands to Texan oil refineries, allowing the high-carbon product to reach the global oil market. Over its forty-year intended lifetime, the pipeline's tar sands crude would have a greenhouse-pollution footprint of about 7 billion tons of carbon dioxide, the equivalent of forty new coal-fired power plants. By any reasonable measure, the Keystone XL pipeline is a major piece of infrastructure for the Canadian tar-sands industry and a significant threat to a safe climate.
But most energy and policy experts say the battle over Keystone overshadows the importance of the project as an environmental threat or an engine of the economy. The pipeline will have little effect, they say, on climate change, production of the Canadian oil sands, gasoline prices and the overall job market in the United States.
This is a common trope of Davenport's Keystone XL coverage, despite its falsehood. In February of last year, she claimed, "Although the pipeline is a potent political symbol, its true impact on both the environment and the economy would be more limited than either its supporters or its opponents suggest."
On Earth Day last year, Davenport penned a nearly identical story, writing, "when it comes to the pipeline's true impact on global warming, energy and climate change experts -- including former Obama administration officials -- say Keystone's political symbolism vastly outweighs its policy substance."
The original version of the Earth Day story understated the scale of the tar-sands pipeline's greenhouse pollution by a factor of ten.
Davenport's new story relies on experts who have done work on behalf of the oil and gas industry, leading with Robert Stavins, the influential Harvard Kennedy School economist who has studied climate policy for the last thirty years. Stavins claims:
"The political fight about Keystone is vastly greater than the economic, environmental or energy impact of the pipeline itself. It doesn't make a big difference in energy prices, employment or climate change either way."
For a professed supporter of climate action, it seems that Stavins can find little the fossil-fuel industry does wrong. Stavins calls natural gas "the crucial transition fuel to address climate change." He also opposes the climate movement's campaign to divest universities and other institutions from the fossil fuel industry.
It does not appear that Stavins has conducted any published work on Keystone XL or the economics of Canadian tar sands. However, a Kennedy School doctoral candidate named Gabe Chan has analyzed the climate economics of Canada's tar sands. Chan and his co-authors found that under global policy that maintains a safe climate, Canada's tar-sands development would collapse. The study raises serious questions about whether approval of Keystone XL is consistent with the international climate commitments the State Department has made at the direction of President Barack Obama.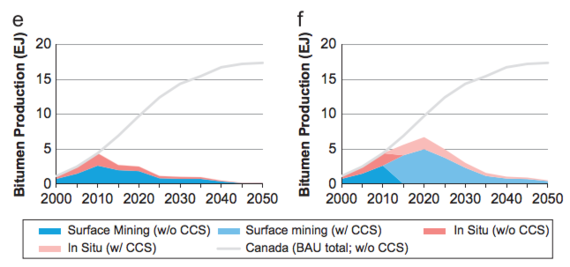 With climate policies implemented worldwide, the Canadian bitumen production is significantly reduced. Left (e) shows global climate policy scenario, right (f) global climate policy with carbon-capture-and-sequestration technology. (Chan et al. 2012)
Stavins has done consulting work for Chevron, Exelon, Duke Energy and the Western States Petroleum Association. Neither McNally nor Tezak publicly disclose their clients who are part of or invest in the fossil-fuel industry. None have a scientific background, and none have published work analyzing the environmental impact of the Keystone XL pipeline. All seem to believe that continued and increasing use of hazardous fossil fuels is inevitable, without being able to admit their own culpability in making that future come to pass.
Fortunately for human civilization, they've been wrong so far about the inevitability of the Keystone XL pipeline.
In the words of climate scientist John Abraham, "People who think Keystone is a minor issue don't understand science and they sure don't understand economics."
Calling all HuffPost superfans!
Sign up for membership to become a founding member and help shape HuffPost's next chapter