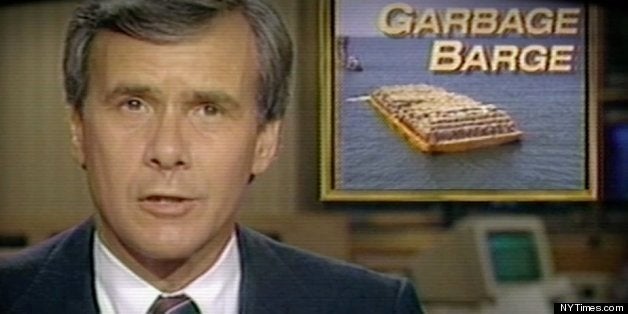 NEW YORK –- On CBS, Dan Rather called the Mobro barge "the most-watched load of garbage in the memory of man." Over on NBC, Tom Brokaw described how the "homeless garbage barge" from Islip, N.Y., was refused entry in North Carolina, while a network colleague said it had been "chased away by the warplanes of two nations." Late-night host Johnny Carson turned the media frenzy into a punch line, suggesting the barge be re-routed to Iran.
News consumers of a certain age may remember the unwanted barge's five-month journey in 1987, but they are less likely to know what happened next.
That's where Retro Report comes in. The new nonprofit documentary news organization re-reports news stories like the floating garbage barge, which –- despite being overblown in the media -- ended up having a positive effect in raising the public's awareness about recycling. In its reporting, Retro Report found that New York City still produces the equivalent of seven Mobro barges a day, or over 2,500 barges per year.
Retro Report will formally launch on Monday, with its first video published on The New York Times' "Booming" blog. The Times is partnering with Retro Report to publish a 10- to 15-minute documentary from the nonprofit each Monday on the blog, which is aimed at baby boomers. Retro Report will report and produce all its own documentaries, but may partner with outlets like The Times to air them.
The "The Voyage of the Mobro 4000" is the first video in the series, with future episodes tackling the media-hyped "crack baby epidemic," the Tailhook sexual assault scandal in the military, the Tawana Brawley case, Y2K, and school busing in the 1970s.
Rick Berke, The Times director of video content, told The Huffington Post that "the thing that I find riveting about these videos, maybe because I'm a baby boomer, is that it brings you back to these earlier moments in time."
"I'm fascinated by watching Peter Jennings and Dan Rather and a young Tom Brokaw talking about these events that were stirring the nation, that seemed so urgent then, but have now been forgotten and that young people might not even know about," Berke said.
However, the journalists behind Retro Report aren't just trying to jog boomers' memories. Rather, they say they are motivated to find out something new about these past news events and eventually create a Wikipedia-like library of documentaries. By next year, the Retro Report team hopes to have 70 films online.
Kyra Darnton, a "60 Minutes" veteran and managing editor of Retro Report, said the basic idea behind the start-up is to "re-examine, revisit old news stories" and look critically at the effect of past news coverage on media and culture today.
Christopher Buck, a former video editor and philanthropist, came up with the idea for Retro Report more than a decade ago. Buck is now providing funding to get the project off the ground, according to its website. Retro Report has a nonprofit model similar to investigative outfit ProPublica, and it is launching with over a dozen staffers and a number of contributors with experience at network news magazines, Darnton said.
But even with TV veterans on board, Taegan Goddard, the founder of Political Wire and publisher of Retro Report, described the new company as "Internet first." Goddard said that Retro Report is an experiment to see if longform video journalism "can go viral on the web."
"We try to be, in some ways, the second draft of history," Goddard said. "We re-report stories and bring everybody up to date."
Correction: This article originally misstated Christopher Buck's former job. He was a video editor. Additionally, language has been modified to reflect that the Tailhook scandal involved members of both the Navy and the Marines.
Popular in the Community