NEW YORK ― It's not every day The New York Times admits in a front page story to having helped a foreign power interfere in a U.S. presidential election.
But reporters at the paper offered this candid assessment in an explosive story on Russian cyber attacks directed at the Democratic National Committee and Hillary Clinton campaign chairman John Podesta. The stolen emails, written by or to Democratic officials, were distributed through different channels, such as WikiLeaks, and made available online. The news media feasted on them, amplifying unflattering details about the Democratic rival to Republican nominee Donald Trump, whom the CIA believes was Russia's preferred candidate.
"Every major publication, including The Times, published multiple stories citing the DNC and Podesta emails posted by WikiLeaks, becoming a de facto instrument of Russian intelligence," wrote Times reporters Eric Lipton, David Sanger and Scott Shane.
The increased scrutiny on the disruptive role Russia played in the election has triggered more reflection on the role of the media itself. And for the trio behind the Times piece, that meant acknowledging that they were subjects ― not just chroniclers ― in the story they were pursuing.
"We heard a lot from the folks we interviewed who were angry, frustrated, disappointed with the media and the role it played," Lipton told The Huffington Post. "We thought it was important to articulate that in the story."
Such bits of introspection may be cheered by critics who argued in real time that reporters need to show more caution when reporting on hacked documents. But for Clinton allies and fellow Democrats, it probably feels too like little and late.
And it wasn't just the Clinton campaign that suffered. Russian hackers targeted the DNC and House Democrats too, once more taking advantage of a scoop-happy press corps to spread the stolen material. As Lipton and Shane wrote in a separate Tuesday story, in targeting those congressional Democrats, "a de facto alliance" was "formed between the Russian hackers and political bloggers and newspapers across the United States."
The media's fixation on the contents of the hacked emails, even when Russia was believed to be responsible for making them public, has rankled Clinton allies. Neera Tanden, president of the Center for American Progress and a Clinton backer whose impolitic comments were unearthed in the Podesta hack, told the paper that she "could not believe that reporters were covering" them.
Inside newsrooms, however, the decision to cover wasn't as simple as Tanden's comment suggests. Reporters and editors may have recognized that by writing on hacked emails they were incentivizing hacking. At the same time, however, the hacks presented journalists with a trove of information that was both accurate and arguably in the public's interest. How it ended up on the internet was, in some ways, a secondary point.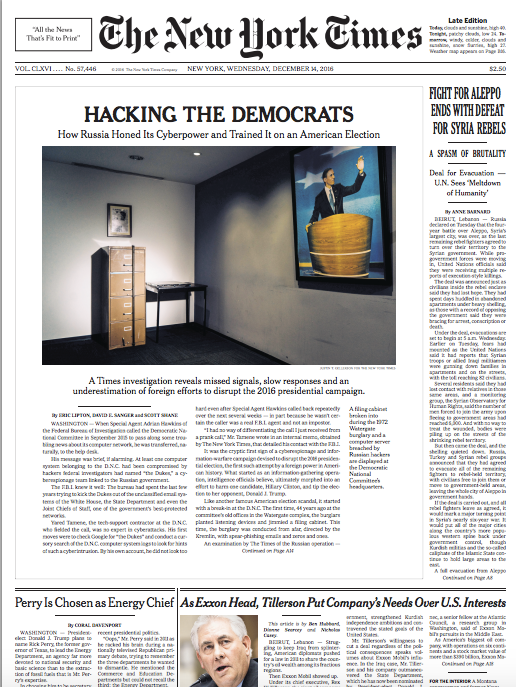 "When these things are put in the public sphere, we're likely to judge them for their news value, independent of the motive of the leakers," Times Managing Editor Joseph Kahn told HuffPost.
Only covering a leak in which the source's motives are known to be pure, Kahn suggested, is a slippery slope. He argued that it wouldn't be journalistically sound to report a leak in which a U.S. ally, like Britain, was believed to be involved, but not do so if a country more hostile to the United States is said to be responsible.
"Making those judgments about the motivations of a leaker is not the sort of thing that we should be engaged in," he said. "What we should be engaged in is making sound judgements about the news value of the information in the public sphere."
Though Kahn stressed that the underlying substance of the documents is what matters most when deciding whether or not to publish, he said that news organizations should be transparent in revealing as much as they can in real-time about who might be behind it. He noted the Times mentioned Russia's suspected involvement in articles last month pegged to the Podesta emails and recently put together a "crack team of investigative reporters" to examine "how the leak happened and the foreign power believed to be behind it."
Scott Shane, a member of that team, said in an email that it's "very tricky to abstain from even marginally newsworthy stuff because of a suspected sinister purpose on the part of the hacker or leaker."
"But I suspect it's something we'll face again and again," he continued. "It's parallel to, but different from, the issues raised when we published the diplomatic cables from WikiLeaks and the Snowden documents."
Journalists, as Shane noted, have been put in these situations before. In 2010, former Army private Chelsea Manning leaked a large cache of U.S. government documents related to the Iraq and Afghanistan wars and international diplomacy to WikiLeaks, which worked with major news outlets on covering the materials. Three years later, National Security Agency contractor Edward Snowden provided journalists with documents detailing the sprawling U.S. surveillance state.
The 2014 Sony hack, which the U.S. government has said was perpetrated by North Korea in response to a movie mocking dictator Kim Jong Un, was more complicated. In that case, an outside foreign power was suspected rather than a whistleblower with inside access, a more common journalistic scenario. Still, the Times, and other news organizations, covered many revelations in the Sony emails.
Lipton, who won a Pulitzer Prize for his 2014 series on the corporate lobbying of state attorneys, reported late that year on efforts by the Motion Picture Association of America to convince attorneys general to build cases against Google. He relied, in part, on emails from the Sony hack.
Though Lipton said the news industry is still "coming to terms with what the rules can be" when covering large-scale leaks and hacks, including those believed to be directed by foreign powers, he raised some questions that emphasize why journalists are still likely to cover the newsworthy elements regardless of the source.
"How do you turn away from something of real news value that the public needs to know?" he asked. "Are you going to censor that because of how you got it?"
Popular in the Community