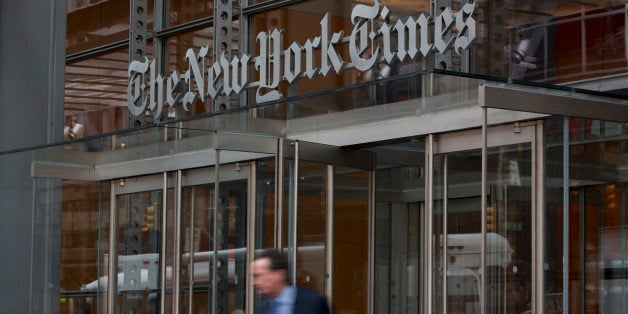 NEW YORK -– The massive Sony hack has left editors with a decision sure to be studied in media ethics classes for years to come: Should journalists report on materials stolen from a corporation by hackers?
The New York Times, for one, has covered revelations from the hacked Sony emails, but only after they've first been made public by other news organizations. Executive editor Dean Baquet said Monday it "would be a disservice to our readers to pretend" that already-surfaced documents "weren't revealing and public."
Times reporters have not only stopped short of first reporting information from the hacked email cache, but according to one, have been advised by the papers' attorneys not to download and open them at all.
"This is stolen material," Jeremy Peters, a Times political reporter, said Wednesday on MSNBC's "Morning Joe." "As our lawyers are telling our reporters at the New York Times, we are not to open these emails. We are not to actively look at them. We are only allowed to report on what has been out there because this is stolen material and trafficking in it is in itself a criminal act."
A Times spokeswoman declined to comment on any legal advice that reporters may be receiving regarding the Sony hack, but in a statement to The Huffington Post, broadly described how the paper is handling it:
The Sony situation poses difficult questions. We don't condone hacking into private computer systems. We also don't like depriving our readers of information they care about.

Editors and reporters at the Times have been following the situation closely and discussing the journalistic issues. Any decisions about whether or how to use any of the information will take into account both the significance of the news and the questions of how the information emerged and who has access to it.
In a Wednesday front page story on Google's lobbying efforts, The Times acknowledged obtaining private Sony messages through "an industry executive." So it seems the Times will acquire hacked Sony materials if provided by a source -- in this case, "an industry executive" -- even though its reporters cannot download the emails directly. The Times attributed some other details in Wednesday's story to technology site The Verge, which reported directly on the hacked emails Friday.
Sony has warned news organizations that they're trafficking in stolen materials, which hackers identifying themselves as "Guardian of Peace" have made available on anonymous download sites like Pastebin and GitHub. Hackers targeted Sony in retaliation for "The Interview," a forthcoming comedy in which James Franco and Seth Rogen, who play journalists, are recruited by the government to assassinate North Korean leader Kim Jong-un.
On Sunday, David Boies, a high-profile attorney now representing Sony, sent a letter to news organizations demanding they destroy any downloaded material, and threatened they could be held legally accountable for damages resulting from publication.
But while the Times isn't downloading the hacked materials, other outlets, like Gawker and BuzzFeed, have dug in. And in some instances, they've revealed private exchanges between Times staffers and Hollywood executives.
BuzzFeed's Matthew Zeitlin reported Thursday on emails suggesting that Times columnist Maureen Dowd promised to show Bernard Weinraub, a former Times reporter and husband of Sony Pictures co-chair Amy Pascal, an advanced look at a column mentioning the Hollywood executive.
Weinraub told Times public editor Margaret Sullivan that Dowd checked information with him about Pascal, but never sent the column. Dowd, too, denied showing Weinraub the piece in advance.
On Tuesday night, Gawker's Sam Biddle wrote that emails between Sony Entertainment president CEO Michael Lynton, Sony PR chief Charles Sipkins, and Times reporter Brooks Barnes demonstrated an "unsettling amount of influence-wielding." In one exchange, Sipkins tells Lynton that he asked Barnes to kill a story about how the famously over-budget film Ishstar had finally broken even.
This story has been updated to include a reference to a Wednesday front page Times story on Google that used the hacked emails.
Related
Popular in the Community