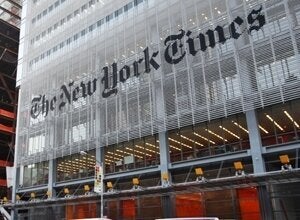 The pain of cutting back at the New York Times has taken on an international dimension as the paper struggles to save money everywhere, including at the International Herald Tribune (IHT), a bedrock source of information and comfort to Americans -- and to all English-speakers -- visiting or living abroad since its founding in 1887.
As the memo to IHT staff below makes clear, the New York Times management, under French law, faces many constraints in dealing with employees living in France, and cannot order pay-cuts, impose involuntary leave without pay, or lay off workers as easily as in the United States. Nor can the Times adopt the overall tough bargaining stance that it can at the New York headquarters and at the NYT-owned Boston Globe.
Martin Gottlieb, global edition editor of The New York Times with responsibility for The International Herald Tribune, declined a request from the Huffington Post to elaborate on the memo to IHT staff he signed.
"We are in discussions with union representatives about our plan for the Paris office and, in fact, it would be inappropriate to comment while those talks go on. Sorry that I can't comment further right now," Gottlieb wrote in an email.
At the end of June, the Times is expected to announce plans to start charging viewers of the paper on the web, albeit modestly. Two methods under consideration are a.) a "meter" system requiring payment by visitors after a yet-to-be-determined free level of viewing each month, or a b.) "membership" program similar to the fundraising techniques used by NPR and museums, allowing donors of various amounts differing levels of access to the Times web site. The Times site is generally agreed to be far superior to all its newspaper competitors, including the Washington Post, Wall Street Journal and Los Angeles Times.
In Boston, where the New York Times threatened to close the Globe, the Newspaper Guild on May 6 reached tentative agreement on terms calling for a significant cut in pay, forced unpaid vacation leave, and modification of the Globe's lifetime job guarantee provisions. Total union concessions at the most influential paper in Massachusetts amounted to $20 million. There is no guarantee that the union concessions assure continued publication of the Globe which faces total losses this year of up to $85 million.
The agreement is scheduled to be voted on by all the Globe's Guild employees on June 8. More specifically, it calls for an 8.388 percent wage cut, five unpaid furlough days each year, elimination of overtime, a freeze on pensions at the current level and elimination of the company contribution, the cessation of company contributions to 401 (k) accounts, elimination of banked vacation time from previous years, and elimination of company tuition reimbursement, eye care coverage, life insurance, and retiree death benefits.
In a May 20 memo to members of the Globe Guild, Boston Globe publisher Steven Ainsley warned that a Guild rejection of the agreement will result in an immediate 23 percent pay cut.
At the New York Times, which lost $74.5 million in the first quarter of 2009, the Guild accepted a five percent pay cut on May 5 after management warned that it would lay off 80 employees if wages were not reduced.
The memo to International Herald Tribune employees, co-signed by Martin Gottlieb, follows:
To the Staff:

When we wrote to you last week, we encouraged you to come forward by Friday to make voluntary contributions of CET days [vacation days held over from previous years, most likely because staff were not allowed to take them] or temporary pay reductions at this difficult economic time for the IHT. Since then we have met with you twice in groups and in many individual sessions. We appreciate the response from the many people who have come forward with contributions, either involving a salary reduction or the donation of CET days, which now tally more than 60. That is already a worthwhile contribution, given that we are told that one day of CET from each person on the newsroom payroll would be worth a total of some 23,500 Euros. All this serves -- on top of the previously instituted reduction of CET days -- as an expression of the Paris newsroom's willingness to stand by the IHT and help it financially. It also more evenly balances the salary cutbacks experienced in different offices of the IHT and The Times, which were shaped by varying laws, contracts and procedures across three continents. These voluntary contributions by the Paris staff exemplify what Bill Keller referred to in a newsroom talk at The Times Wednesday as the "spirit of shared sacrifice" reflected in the Newspaper Guild's overwhelming approval of temporary pay cuts of 5 percent covering hundreds of its members.

We appreciate as well your thoughtful questions and comments as you wrestle with the decision of what, if anything, to contribute. We want to emphasize that this decision is a personal one, shaped by individual circumstances and determinations, and that there is no single right answer. One factor that many of you have asked about is the nature of the eight layoffs proposed in Paris. Without knowing which departments they come from and how they might affect the newsroom, several of you have said, it is hard to know how to come to your best judgment. We are in the formal process of consultation with the comite d'enterprise, and for now that is all that can be said. In the meantime, we will extend the period for making voluntary contributions so that you can weigh everything and make your most reasoned decisions. Meanwhile, we welcome a continuing dialogue. Please contact either of us or Tom Redburn with any questions or simply to talk things through.

And thanks, again, for considering this request after a year in which you have risen to the occasion -- journalistically and in many other ways -- time and again.

Marty and Alison
Calling all HuffPost superfans!
Sign up for membership to become a founding member and help shape HuffPost's next chapter