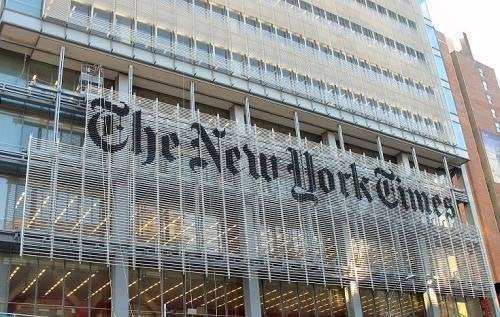 The New York Times is drawing fire for a story about the alleged gang rape of an 11-year-old girl that critics say blames the victim for the assault. (See the paper's response below.)
The story, which was published on Tuesday, described a horrific event: a group of 18 men and teenage boys raping the girl in an abandoned trailer home in Cleveland, Texas.
But critics pointed to a section where the reporter, James C. McKinley, wrote about what residents were saying about the victim:
Residents in the neighborhood where the abandoned trailer stands -- known as the Quarters -- said the victim had been visiting various friends there for months. They said she dressed older than her age, wearing makeup and fashions more appropriate to a woman in her 20s. She would hang out with teenage boys at a playground, some said.

"Where was her mother? What was her mother thinking?" said Ms. [Sheila] Harrison, one of a handful of neighbors who would speak on the record. "How can you have an 11-year-old child missing down in the Quarters?"
They also noted that the first quote in the piece came from Harrison, who was quoted as saying of the men, "these boys have to live with this the rest of their lives."
Progressive website Change.org put out a petition calling on the Times to apologize for "blaming a child for her gang rape."
On Wednesday, the Times published a letter from a reader in Brooklyn. The reader mentioned the above sections of the piece and asked, "How is this relevant except to subtly blame the victim?...I wonder why these particular quotes were included. The suspects are innocent until proved guilty, but shouldn't the victim be afforded the same rights?"
A spokeswoman for the Times, Danielle Rhoades Ha, sent a statement to The Cutline, explaining why the paper had included the controversial passages in the piece.
"Neighbors' comments about the girl, which we reported in the story, seemed to reflect concern about what they saw as a lack of supervision that may have left her at risk. As for residents' references to the accused having to 'live with this for the rest of their lives,' those are views we found in our reporting. They are not our reporter's reactions, but the reactions of disbelief by townspeople over the news of a mass assault on a defenseless 11-year-old. We are very aware of and sensitive to the concerns that arise in reporting about sexual assault. This story is still developing and there is much to be learned about how something so horrific could have occurred."
Popular in the Community