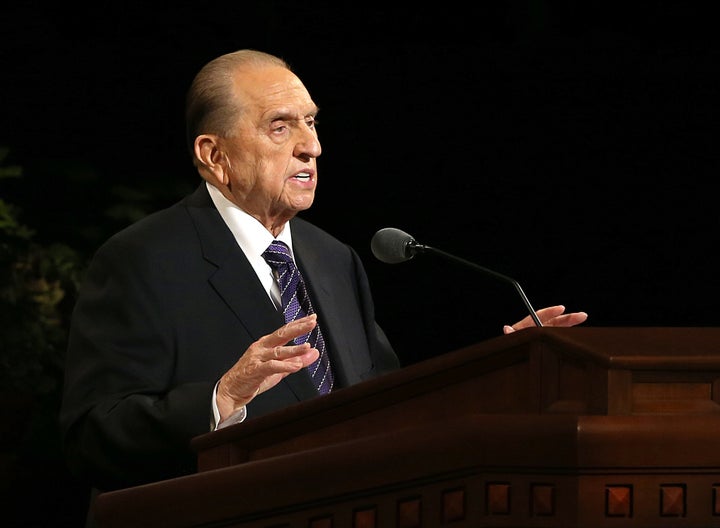 More than 160,000 people have signed a petition urging The New York Times to rewrite its obituary for Mormon leader Thomas Monson, who died last week.
Monson, who was 90, had served as the 16th president of the Church of Jesus Christ of Latter-day Saints since 2008. As president, he was considered by Mormons to be a prophet who received divine revelations.
"Facing vociferous demands to recognize same-sex marriage, and weathering demonstrations at church headquarters by Mormon women pleading for the right to be ordained as priests, Mr. Monson did not bend," the obit reads. "Teachings holding homosexuality to be immoral, bans on sexual intercourse outside male-female marriages, and an all-male priesthood would remain unaltered."
A Change.org petition is accusing the Times of using Monson's obituary "as a political statement against him and the Church as a whole." It claimed that Times obituaries for other leaders, including Fidel Castro, have been "more neutral." 
″[This is] either a direct attack or a complete misunderstanding of religions or religious people. Would they write similar scathing remarks about the Pope?" the petition questioned.
Nearly 170,000 people had signed onto the petition as of Tuesday afternoon. The petition includes a disclaimer stating that it wasn't "sponsored or supported by" the Mormon church. An LDS spokesperson did not immediately respond to a request for comment.
Nevada resident Nathan Cunningham, who started the petition on Sunday, told News4Utah, that he wasn't necessarily disputing the factual accuracy of the obituary. "However," he added, "an obituary is hardly the place to criticize a church and its policies."
William McDonald, the Times obituaries editor, stood by the outlet's reporting on Monson's death in a Q&A published Monday, saying the obit discussed important issues that arose during the late religious leader's tenure.
"It's our obligation as journalists, whether in an obituary or elsewhere, to fully air these issues from both sides," McDonald said.
The editor argued that journalists aren't in the business of writing tributes and that when it comes to reporting on leaders, religious or not, "controversy comes with the territory."
But, he noted, the obituary focused on Monson as a public figure, rather than who he was "to his more ardent admirers."
"In 20/20 hindsight, we might have paid more attention to the high regard with which he was held within the church," McDonald said. "I think by his very position in the church, all that was implied. But perhaps we should have stated it more plainly."
REAL LIFE. REAL NEWS. REAL VOICES.
Help us tell more of the stories that matter from voices that too often remain unheard.