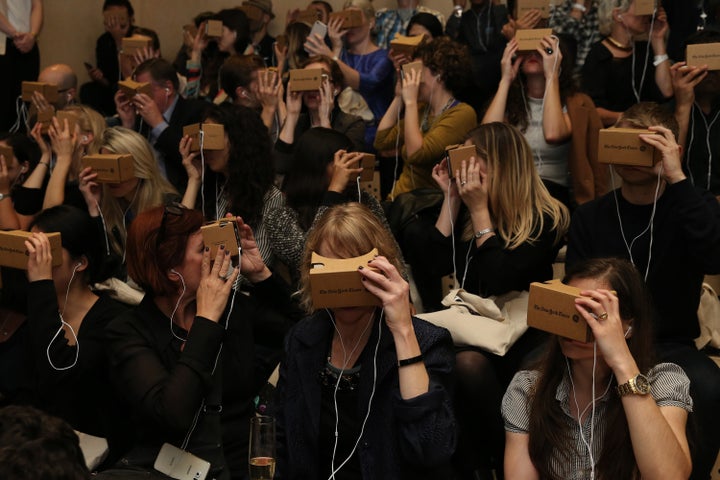 NEW YORK – The New York Times has seen the future of media -- and it requires cardboard. 
"The New York Times has been telling stories for 164 years," company CEO Mark Thompson said Thursday night at NeueHouse for the launch of the the paper's first virtual reality film."This feels like one of those grand moments where the way you tell stories has changed."
New York Times Magazine editor Jake Silverstein followed Thompson's remarks by recalling how the magazine published the paper's first photographs in its inaugural 1896 issue. Virtual reality, he suggested, has a similarly "bright future just like photography did 119 years ago."
The Times' first VR film, "The Displaced," may just live up to the hype. It tackles the global refugee crisis through the perspective of three children: 11-year-old Oleg from Ukraine, 12-year-old Hana from Syria and 9-year-old Chuol from South Sudan. The three characters are among the 60 million people worldwide currently displaced by war and persecution, half of whom are children.
What VR offers is complete immersion in the children's worlds, a 360-degree perspective that can't be accessed through other mediums. 
You race with Oleg and friends atop bombed-out buildings, float through a crocodile-infested swamp as Chuoal rows to an island temporarily providing safety, and are in a Lebanese field as Hana tries to support her family by picking cucumbers. You look up with those on screen as a plane flies overhead and drops food in South Sudan. Each successive viewing offers the opportunity to see new details above, below, left, right or behind.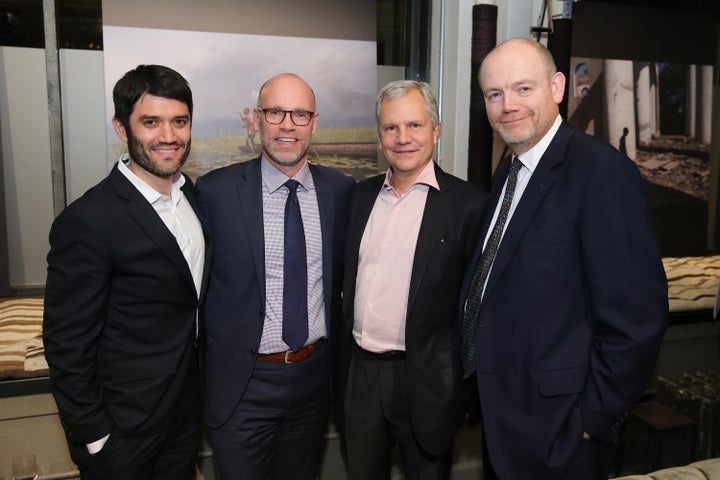 The Times is betting big on VR.
Thompson raved about the technology on last week's earnings call for investors, and said Thursday night that the paper's VR initiative is "an example of the kind of irresponsible … not-very-well-managed, crazy exercise which, as a company, we should do more of."
The CEO spoke before an audience that included publisher and chairman Arthur Sulzberger Jr., several top editors, and two possible future stewards of the paper, Arthur Gregg Sulzberger and Sam Dolnick. The producers of the film, from the Times and virtual reality company Vrse.works, took part in a Q&A after the screening. 
The Times provided guests with a Google Cardboard viewer pre-fitted with an iPhone that included its new NYT VP mobile app. Guests had to return the phones, but kept the cardboard viewer -- the same device that a million Times subscribers will receive this coming weekend. Silverstein called the weekend rollout the "largest distribution of virtual reality viewers in the history of the world."
"This will really be a watershed moment in the emergence of this new technology," he said, "particularly in the journalism space and in terms of what I means for organizations like the New York Times as we try to adapt it to the kinds of work that we do."
Calling all HuffPost superfans!
Sign up for membership to become a founding member and help shape HuffPost's next chapter