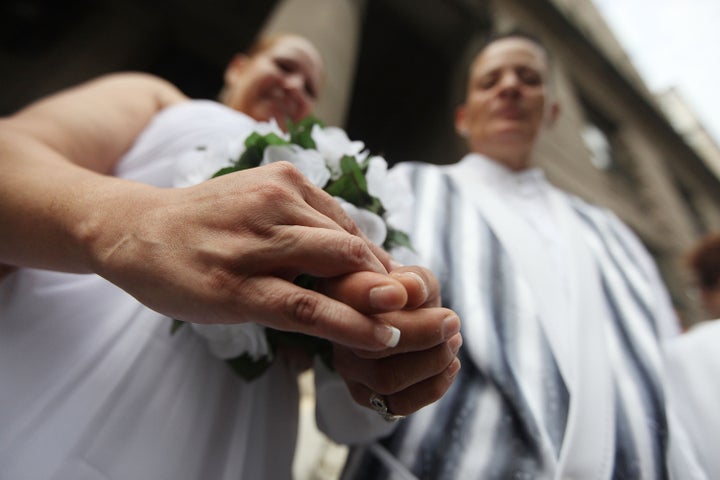 WASHINGTON -- A town clerk in Ledyard, N.Y., is standing in the way of letting a same-sex couple tie the knot, even though the state legalized marriage equality in June.
Rose Marie Belforti, the town clerk for the small town of Ledyard, has publicly stated that she will not sign marriage licenses for same-sex couples and refused to do so for Katie Carmichael and Deirdre DiBiaggio on Aug. 30.
"Separate but equal is not equal," Carmichael told The Huffington Post. "We do not want to have to go in there on another day and be treated like a second-class citizen."
Shortly after New York legalized marriage equality, Carmichael and DiBiaggio began making plans to wed.
But Belforti, the publicly elected official responsible for issuing marriage licenses, refused to issue one herself and told the couple to make an appointment with a deputy town clerk. There's just one problem: There is no deputy town clerk.
The town's government is behind Belforti, saying it cannot force her to issue licenses. Carmichael warned that support could potentially make the town complicit in breaking the law.
New York state sent out new forms this summer that change wording on marriage licenses to gender-neutral terms -- for example, switching "Groom" or "Bride" to "Spouse." Belforti told an affiliate of the conservative group Focus on the Family that she thinks there's a hidden agenda behind the forms.
"We know what a bride is, we know what a groom is -- but if we choose to be a 'spouse,' does that even limit [marriage] to a human being?" Belforti asked.
Belforti cited a law that prevents discrimination against New York employees for their religious beliefs, but a memo from the New York state government doesn't allow for any exceptions to following the new marriage law.
According to the July memo sent by the state Department of Health, "Under New York State Law the town or city clerk must provide a license to an applicant who meets all marriage requirements for New York State. It is a misdemeanor violation if the clerk refuses to do so for any reason."
The memo also read, "No government treatment or legal status, effect, right, benefit, privilege protection or responsibility relating to marriage shall differ based on the parties to the marriage being of the same sex or a different sex."
The law does not require religious entities of any kind to perform marriages for same-sex couples.
People For the American Way Foundation, a progressive advocacy group, and Proskauer Rose, LLP, a global law firm, have stepped in and sent a letter demanding Belforti either resign or begin to issue licenses. New Yorkers for Constitutional Freedoms is offering free legal support for Belforti and the town.
"Public officials can't pick and choose the laws they want to follow," Michael Keegan, president of People For the American Way Foundation, said in a statement. "If a public official simply decides to shirk the obligations of her office, then she should resign and be replaced by someone who will do the job and carry out state law."
Carmichael repeated that sentiment about Belforti: Either resign or perform her office's duties.
"She took an oath of office to uphold the law," Carmichael said. "It's part of her job, she needs to do her job."
But when The Huffington Post called the Ledyard Town Hall on three occasions to speak with Belforti and Town Supervisor Mark Jordan, the woman who answered abruptly hung up each time. Two emails were not returned.
"We're hoping that we will be vindicated, that we stood up for what is right for all people and certainly put our necks out for everyone, because no one should have to go through this," Carmichael said. "It's demeaning, degrading and bottom line, it's discrimination."
Carmichael said town residents have been very supportive, as have other town clerks they've spoken with. At this point, she and DiBiaggio are exploring what legal options remain and indicated they would not be giving in any time soon. The couple's ultimate goal is to walk into the same town clerk's office and have their marriage license issued where it was once denied.
CORRECTION: An earlier version of this article erroneously stated that New Yorkers for Constitutional Freedoms is offering free legal support to the couple. The group is offering legal support to Belforti and to the town of Ledyard.
Related
Popular in the Community