New York City officials are speaking out against the ongoing "bathroom bill" controversy in a very big way. 
On Monday, the Big Apple became the first city in the nation to launch a government-led ad campaign affirming the right of transgender people to use the restroom that best corresponds with the gender identity. Spearheaded by the New York City Commission on Human Rights, the effort includes a series of print and television advertisements that will appear in subway cars, phone booths, multilingual newspapers and on television and social media.
A video PSA is slated for release later this week.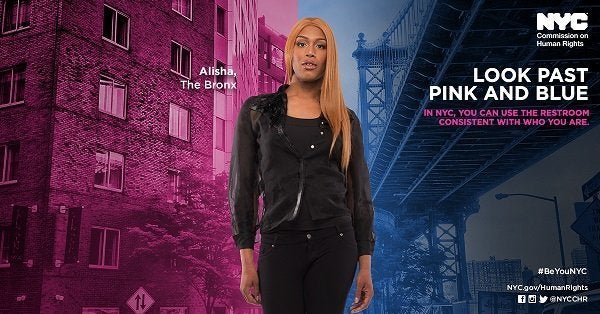 "Look past pink and blue. In NYC, you can use the restroom consistent with who you are," read the ads, which feature trans New York residents and were timed to coincide with the start of LGBT Pride Month in June. "In NYC, it's the law. No questions asked." 
New York Mayor Bill de Blasio said in a statement that the campaign was a way for New York to set itself apart from other cities and states, such as North Carolina, that have been "legislating intolerance" in recent months. The effort will also serve as a reminder that it has been illegal in New York to discriminate against an individual on the basis of gender identity or expression since 2002. 

"No one deserves to be denied access to bathrooms or discriminated against for being who they are. Every New Yorker has the legal right to use the bathroom consistent with their gender identity, no questions asked -- and these powerful ads affirm this right," he said. "New York City has long been a leader in the fight for LGBTQ equality, and these ads are further evidence of the city's unwavering support of our diverse communities." 

That sentiment was echoed by Carmelyn P. Malalis, who is the commissioner and chair of the New York City Human Rights Commission. The campaign, Malalis said in a statement to The Huffington Post, was created "to remind New Yorkers that people have a legal right to use the bathroom consistent with their gender identity, and to ensure that every New Yorker can be who they are when they need to use a bathroom or locker room at work, at a restaurant or at a park." 
Charles Solidum, a Brooklyn resident and health care professional who appears in the ads, said in a statement that he joined the campaign because he felt "privileged to live in New York City, where the laws are explicit about protecting us regardless of our documentation, transition status or gender expression." 
"Harassment and discrimination of trans people in bathrooms happen every day, especially for trans women and gender non-conforming folks," he said. "These ads help to ensure trans New Yorkers know that the city stands with us and supports our access to the same rights and opportunities as everyone else."
It makes us proud to see New York leading the way once again. 
Calling all HuffPost superfans!
Sign up for membership to become a founding member and help shape HuffPost's next chapter
BEFORE YOU GO
PHOTO GALLERY
Iconic Transgender Moments