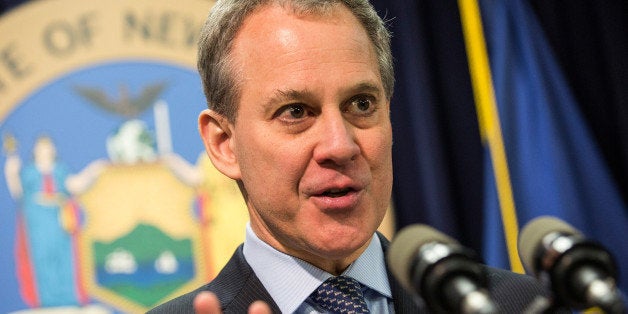 "My office is committed to ensuring equal and respectful access to medical care for all New Yorkers, regardless of their gender identity," Attorney General Eric Schneiderman said in a statement. His office is partnering on the initiative with the Greater New York Hospital Association, Mt. Sinai Health Systems and Lambda Legal, an LGBT civil rights organization.
Discrimination in health care goes beyond the explicit refusal of services, according to the director of LGBT HealthLink, who goes by the singular name Scout and is also an adjunct assistant clinical professor at Boston University School of Public Health and himself transgender.
"Discrimination in this world preloads trans people with a bunch of health problems that are much worse than the general population," he told The Huffington Post. "Our smoking rates are super high. Our addiction rates are super high. Obviously our suicidality is higher. Our mental health problems are really high. Anything that's a stress-related mental health problem, you're going to see us pretty much go off the charts on."
Unfortunately, once transgender people seek treatment for anything from a cold to more serious chronic diseases, some doctors don't know how to treat them sensitively, Scout explained. The first phase of the new initiative hopes to address some of these problems. The Attorney General's Civil Right Bureau led trainings for GNYHA hospitals throughout New York State, as well as in New Jersey, Connecticut and Rhode Island, educating hospital administrators about discrimination, diversity and denial of care and as well as circulating a patients' bill of rights.
"There are so many wonderful people in the industry, it's important to have access to the cultural competency piece to treat all populations who walk through your door," M. Dru Levasseur, director of the Transgender Rights Project at Lambda Legal, told HuffPost.
When Lambda Legal was helping draft a hospital policies document to determine how health care facilities were failing transgender patients, Levasseur said that the surveyed hospitals reported a high number of transgender people being placed in lobbies or waiting rooms because staff didn't know how to room them, or how to call them by proper name.
"People want to do the right thing, but they might not have the information at their fingertips," he said. Levasseur also mentioned how critical it is to make sure that every level of health care worker who interacts with patients receive trainings -- from security guards to front desk personnel to doctors, not just the higher-ups.
"We know from racism and other types of discrimination, that you need a lot of efforts in order to dig out the stigma that's built into our society," Scout said of the announcement. "But this will absolutely make a difference, because it enlists the Attorney General's office. That's actually someone who people care about. When you've got leadership standing up and saying 'This isn't cool,' that really starts to shift the paradigm."