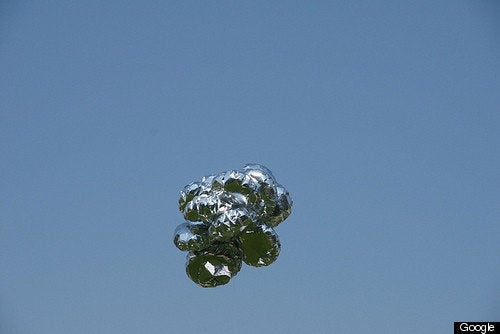 Flying saucer? Space Jelly fish? Silver weather balloons? It seems one classroom in Westchester has the explanation behind Tuesday's UFO craze.
Students of the Milestone School in Mount Vernon were celebrating at an engagement party for one of their teachers. A mother of one of the students, who brought a dozen silver balloons for the occasion, accidentally loosed a bunch at 1pm on Tuesday -- and the first sightings of the UFO were at 1:30pm that same day.
Hours later, Angela Freeman, headmaster, said she saw those same balloons pop up all over Youtube. "UFO? They're crazy," she told the Daily News, "those are our balloons!" The News reports:
Meteorologists with the National Weather Service said the wind was blowing south at 5 to 10 m.p.h. at the time which would make the engagement balloon theory possible.

Gawkers gathered in Chelsea to view the mystery objects, and without a clear explanation most onlookers were left stumped. Social networking sites like Twitter likewise were flooded with UFO claims, and images and videos of blurry specs in a blue sky proliferated around the web.
The News tried to reach out to the NORAD general whose claim that aliens would visit Earth on October 13 created UFO buzz, but ominously:
Popular in the Community