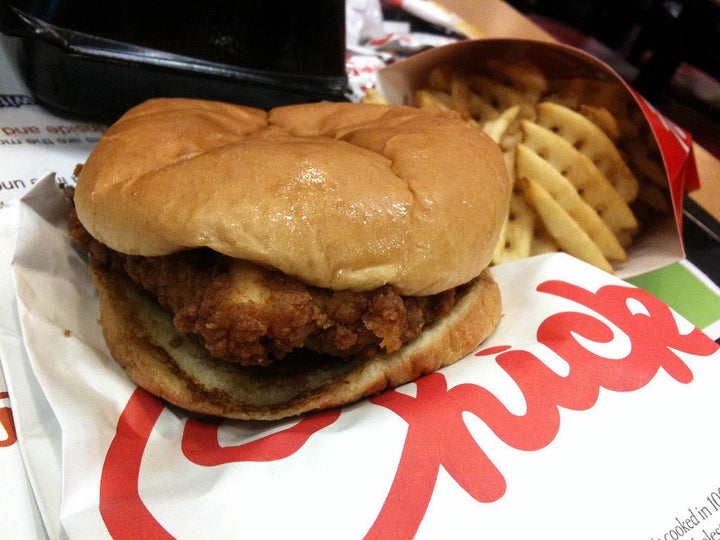 NEW YORK -- Hillary Dworkoski thinks it's ridiculous that there's a Chick-fil-A located on New York University's campus.
Dworkoski, a freshman at NYU, launched a petition to get rid of the Chick-fil-A on campus -- the only Chick-fil-A location in Manhattan -- because of the restaurant chain's financial support of anti-gay groups.
"NYU prides itself on being a diverse, open and inclusive campus community," Dworski writes in her petition. "That's one of the major reasons why I enrolled at NYU as a freshman last fall. Unfortunately, maintaining a contract with an anti-gay vendor like Chick-fil-A undermines what makes this university so great."
Dworkoski said she got upset after reading several articles about donations from Chick-fil-A's charitable arm, WinShape, to anti-gay groups. In 2009, WinShape donated $1.7 million to conservative groups that actively work against LGBT rights and marriage equality laws. WinShape gave more than $3 million since 2003 to groups and campaigns with anti-gay agendas.
So far, Dworkoski's online petition has gained more than 10,000 signatures. This is the first time she's gotten involved in any kind of activism, but she says she has found a welcomed reception by students and Change.org, where she is hosting her petition.
"For the most part, many students have gotten behind this issue really quickly," Dworkoski told The Huffington Post. "However, there are a few students who want to keep Chick-fil-A because they love their chicken and waffle fries and can't seem to give them up."
However, NYU doesn't have any plans to kick Chick-fil-A off its campus any time soon.
Officials with NYU told HuffPost their process for dealing with these kinds of petitions involves going through the University Senate. As students joined Dworkoski to protest the Chick-fil-A at the dormitory it's located in Thursday afternoon, Albert Cotugno, chair of the Student Senators Council, emailed students to say tell them they voted not to remove the fast food joint.
"The SSC also believes there is a fundamental difference between personal boycott and institutional prohibition," Cotugno said in his statement. "To ban any entity from campus for ideological reasons is, in most every case, to limit freedom of expression. … After extensive deliberation, the Student Senators Council agreed that there was insufficient evidence at this time to justify a ban of Chick-Fil-A."
Philip Lentz, Director of Public Affairs for NYU, insisted the school is not giving any money directly to Chick-fil-A.
"The University does not have a direct relationship with Chick-Fil-A," Lentz told HuffPost. "ARAMARK is the University's restaurant vendor and Chick-Fil-A is licensed by ARAMARK to lease a restaurant on NYU's Greenwich Village campus."
NYU isn't the first college to have students protest for the removal of a Chick-fil-A location.
According to Change.org, students at the University of North Texas, the University of New Orleans, Mississippi State University, Gainesville State College, Indiana University and Texas Tech University have all launched petitions like Dworkoski's.
Earlier this week, students at Northeastern University in Boston were successful in getting their school to cancel plans of a campus-based Chick-fil-A location.
Popular in the Community