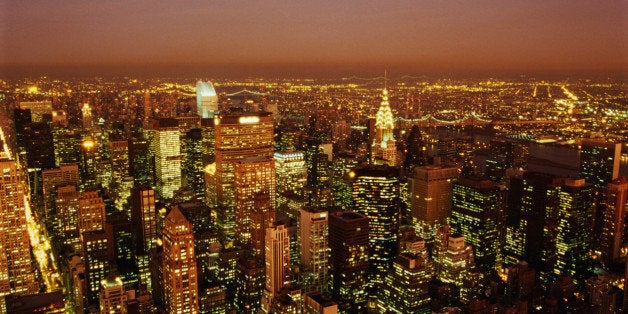 Ok so this might take you more than a minute to read but it'll be worth it I promise. Read it on the bus or on the subway, it's filled with all the juicy details of a week that can only happen in New York City. In a city that's constantly changing the only thing you can count on are that things will pop up on your calendar unexpectedly and that it's always better to be overdressed than not which is why I like to wear black on an almost daily basis (I know, cliché but its efficient). Anyway for the sake of brevity lets just say Monday was a recovery day from EDC that passed weekend (which is what led to the idea of this article) and jump right into Tuesday.
Tuesday aka that time I interviewed Kygo while in black tie
6:30 pm
An already interesting evening took a turn for the better when much to my surprise I was invited to speak with superstar DJ phenomenon Kygo at his private listening party that he did at the Absolut Elyx house in conjunction with Uber. Luckily the Whitney Studio Party (the reason I was in black tie) was late in the evening and I was able to coordinate with his team for a last minute chat, so lets dive right into that, shall we?
Mike: If you could do a collaboration with any artist, who would it be?
Kygo: It's hard - it would be either Michael Jackson or Bob Marley!
Mike: What do you think of when people say you revived Justin Beibers career? What do you think of your influence?
Kygo: It feels good to hear but I don't think its necessarily true - hes killing it right now so its great all around.
Mike: If you could play anywhere in the world, where would it be?
Kygo: The nicest venue I've played is Red Rock in Colorado, it's a beautiful venue but for a festival definitely Coachella.
Mike: Outside of music, what would you be doing?
Kygo: Living on the street? Kidding - I started studying business and finance before this started so I would be doing something in business. My plan was music but my backup plan was finance.
Mike: Ok your 3 favorite cereals, one for when youre sober, one for when your drunk, and one for when youre hungover?
Kygo: Fruity loops, cocoa puffs, and anything else chocolate.
Once we wrapped up talking about cereals and concerts, we hit the bar for some more vodka supplied by the team at Absolut Elyx before hitting up the next party.
9:30 pm
My last stop for the night was the biannual Whitney Studio Art Party, which is a fantastic event at one of the cities most renowned museums. While tickets to the dinner can cost as much as $10K a head and often feature performances by top performers (this year was Seal), the after party is far more affordable at $250 a head and includes an open bar, great music, and a reason to dress up and support the arts, so what's not to love? This was absolutely the best way to end a crazy night with pop up interviews.
Wednesday aka the day I spoke to Hailey Baldwin about ice cream
7:00 PM
Despite the fact that I was still recovering from the previous evenings festivities and a full day of work, I managed to make it out to Soho for the unveiling of Magnum ice creams newest collab with Hailey Baldwin (you might know her from being, well, everywhere). Of course I jumped at the opportunity to speak to her about ice cream because what's better than models and ice cream?
Mike: Alright, first things first, what was your favorite kind of ice cream growing up?
Hailey: I would definitely have to say Rocky Road.
Mike: Why Magnum ice cream - whats the best part of the collab?
Hailey: I think Magnum is being very intelligent and smart about how theyre doing this, that you can dip the bar yourself and pick the toppings yourself and create something that you know that youll love. You cant go wrong!
Mike: People always say models cant eat ice cream - how do you feel about that?
Hailey: I will say I believe sugar is a big culprit in skin and diet, but I think in moderation every so often theres nothing wrong with it.
Mike: Ok lastly, describe your personalized magnum bar.
Hailey: White chocolate, chocolate covered sunflower seeds, blue cornflower and coconut! I made another one that was milk chocolate with butterscotch and vanilla cookies, which was also BOMB!
There you have it ladies and gentleman, if the recipe to eat ice cream like a Baldwin.
Thankfully tonight I didn't have a late night and was able to end up with a quick glass of wine and bite at Soho House before calling it a night and gearing up for Thursday, which in New York, is the new Friday.
Thursday aka the night I ended up in a hotel lobby bar with a Polaroid photographer
6:30 pm
The night started at its normal time and I stopped by a store opening party for interior design showroom Pirch in Nolita (north of Little Italy). The store was a behemoth and I had no idea what I was in store for given that I know almost nothing about interior design other than that I want my room to look like a pinterest board or tumblr account. Being in a space that was at the forefront of design and décor was great and it gives me hopes to one day have an apt big enough to fit a digital table, personal steaming area, and digital fridge.
8:30 pm
I got word from a dear friend that she was doing a pop up art gallery of sorts in the area and if I would like to stop by to meet the artist and see some of the work so off I went. I truly could not have imagined how impactful the show was. The artist name is Jennifer Elster and the show was called "The Retrospective of an Extroverted Recluse part one" and was simply magnificent. It dealt with some of my favorite sad topics such as love, love lost, longing, and conflict. Jen has been able to work with everyone from Yoko Ono to Alan Cummings often giving them very little information regarding what's going to be happening and getting raw emotion and reactions. Needless to say I spent a lot of time tonight taking pictures of each piece and sending them out to the various friends that I thought would appreciate them as well. A powerful way to end a week that was riddled with amusement.
10:30 pm
Last stop of the night - the Roxy Hotel to meet with my good friend and photographer Zach Sebastian. Known for being incredibly creative and talented, when an invite from Zach comes your way you know better than to miss out and this was no different. He was shooting Polaroid's on behalf of the hotel of his friends just hanging out or listening to the live jazz or drinking wine or really whatever they wanted to do. Really its hard to understand why people don't indulge in life jazz more often, because it was inarguably the best way to end a crazy week. A few glasses of wine and I was ready to call it a night, which was perfect timing because my phone was at 1% (I live life on the edge).
Friday - Sunday aka when I sleep in and edit pictures for instagram
Thankfully the weekend had finally arrived and I was able to put away all my going out clothes and jackets and slip into sweats and a hoodie for the foreseeable future. Barring the club and bar scene, events are pretty slim in New York given that most happen during the week and the weekends are reserved for reflecting aka being hungover at brunch.
Stay tuned next week for another version of New York Minute where we bring you to all the things that you'll inevitably see somewhere on the internet.
REAL LIFE. REAL NEWS. REAL VOICES.
Help us tell more of the stories that matter from voices that too often remain unheard.