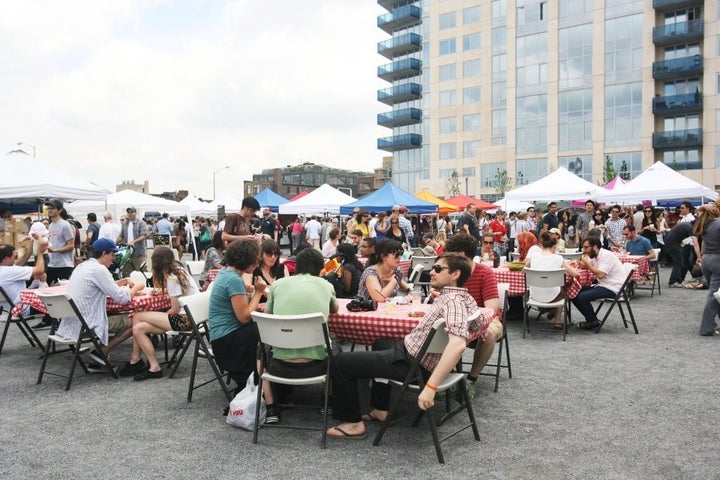 Get shut out of Kraftwerk tickets? We've got an alternative electro-party for you and the rest of us to both commiserate and celebrate their music, plus plenty of outdoor events to enjoy this weekend's upcoming sunshine below.
Kraftjerks: Shut-Out Fest
Where: Big Sky Works, 29 Wythe Avenue, Brooklyn
When: Friday, 9PM
Price: $10
Were you rudely shut out of Kraftwerk's highly anticipated performances at the MoMA? Join the rest of the rejected gang at Big Sky Works, where live performances and visual installations will explore Kraftwerk's influence and musical contribution. The evening will also feature a keytar-triggered light show!
Opening Day Parade
Where: Prospect Park, 7th Avenue & 2nd Street, Brooklyn
When: Saturday, 10AM
Grab the little ones to celebrate the arrival of baseball season with an Opening Day Parade in Prospect Park. Little Leaguers from the neighborhood will march around the park and end with a ceremonial first pitch at the Bandshell.
Oyster Shuck & Cask Event
Where: 191 Fifth Avenue, Brooklyn; (718) 230-7600
When: Saturday, 12PM
Price: Free
Head to Park Slope for the 1st annual Oyster Shuck and Cask Fest, where the folks of Bierkraft reopen their outdoor space for fine ales and seafood delectables.
Jonquil, Xylos, Darlings
Where: Union Pool, 484 Union Avenue, Brooklyn; (718) 609-0484
When: Saturday, 9PM
Price: $5
Beautiful weather moves back into the city, which means heading to Union Pool for outdoor tacos and cheap beer. Add Jonquil and you've got the perfect Saturday mix to celebrate warmer temperatures and good music.
Brooklyn Zine Fest
Where: Public Assembly, 70 North 6th Street, Brooklyn; (718) 384-4586
When: Sunday, 11AM-6PM
Price: Free
Explore the niche-centric world of independent publishing at the Brooklyn Zine Fest hosted at Public Assembly, where over 60 tables showcase material on literature, photography, cooking, and much more. While in the neighborhood, check out Crown Victoria, recently named by NYMag as 2012's Best Outdoor Bar.
CORRECTION: An earlier version of this story incorrectly listed an event for Brooklyn Botanic Gardens.