On Thursday, June 2nd, the Theater at Madison Square Garden was the place to find fabulous New York women of all stripes and colors. But the color to watch for was purple, as in the violet-colored robes of Hunter College graduates. What a fantastic bunch they are.
Hunter College is the largest college of the City University of New York (CUNY). These are the schools where New York City's best and brightest traditionally come for an education that is both affordable and excellent. The stories of this year's graduates shared by Hunter College President, Jennifer Raab, show that the tradition is alive and well. She spoke of the courage, perseverance and determination that allowed this year's graduates to triumph against seemingly insurmountable odds. It was a day to celebrate.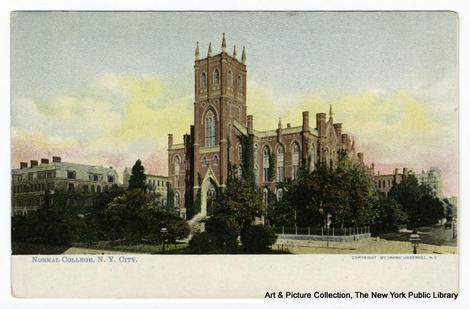 This year marked Hunter College's 213th commencement exercises. Founded by Thomas Hunter in 1870, Hunter College began as a school to educate women as teachers. It was originally called the Normal College of the City of New York.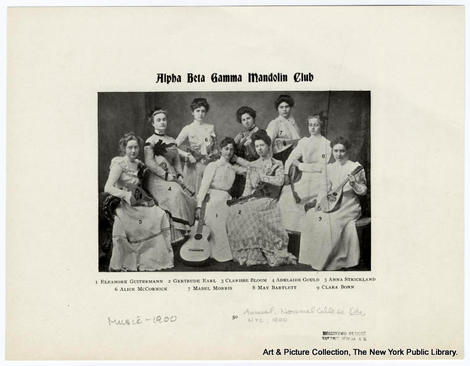 An Irish immigrant, Thomas Hunter, led the college as president for 37 years. In 1914, the name of the school was changed to Hunter College to honor its founder and his vision. Generations of American women owe their education to this immigrant.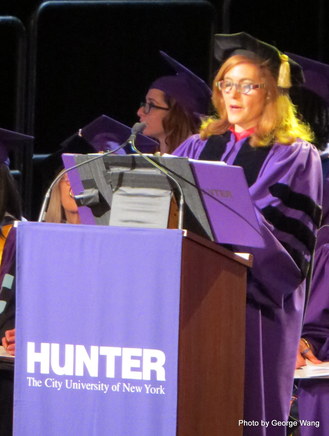 Current Hunter College President, Jennifer Raab, is one of those women. Growing up in Washington Heights, she made the daily trip to the Upper East Side to attend Hunter College High School. She went on to receive degrees at Cornell and Princeton, but returned to Hunter College in 2001 as its 13th president. Good move, Jennifer.
Today, Hunter's roster of students includes women (and men since 1964) who hail from 150 countries. Many of their families traveled from other continents to mark the celebrations with their graduates. Hunter College is also the only college in America that has two female Nobel Prize winners on its roster of alumnae, Gertrude B. Elion and Rosalyn Yalow. And the roster gains more fabulous New York women each year.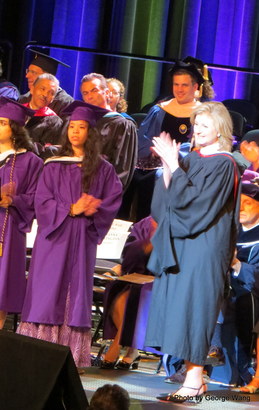 This year, Hunter's keynote speaker and President's Medal Recipient was the media mogul, Arianna Huffington, co-founder of The Huffington Post. Arianna was born in Greece. But today, she's an American citizen and fabulous New York woman with an office in Soho. Here, she works as editor-in-chief of The Huffington Post. She has also written 15 books. Arianna Huffington was named one of the world's 100 most influential people by Time magazine and is on the Forbes Most Powerful Women list. In short, she fits right into the spirit, the vision and the accomplishments of Hunter College women.
What made me particularly happy about seeing Arianna Huffington on the stage at the Theater at Madison Square Garden, was that my daughter, Alexandra Wang, was one of four Hunter College BA candidates who presented her with the President's Medal. I couldn't be more proud. Alex will stay at Hunter to begin a Master of Science of Education degree in Guidance and Counseling at the School of Education.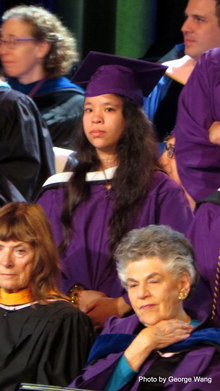 Seated behind Alex on the stage was another fabulous New York woman, Klara Silverstein, now Dr. Klara Silverstein. She received an Honorary Doctor of Humane Letters. A fabulous New York woman originally from Brooklyn, this was Dr. Silverstein's third degree from Hunter College. She also holds a BA in social sciences ('54) and an MS in special education ('56). True to founder Thomas Hunter's vision for his graduates, Dr. Silverstein taught in New York City public schools for many years. She married fellow New Yorker, Larry Silverstein, 60 years ago. Together, Klara and Larry Silverstein have supported education, medical research and organizations that meet humanitarian needs.
It was great to see these three generations of New York women on the stage together, all working together to embrace and enhance one of our city's great educational institutions. In her Charge to the Graduates, President Jennifer Raab urged this year's graduating students to remember the Hunter College motto: Mihi Cura Futuri, the care of the future is mine. With such a dazzling array of talent, determination and brains, I am confident in the future contributions of these young New Yorkers to our great city and country. And I have never been more proud. Congratulations, Hunter College graduates!
Related
Popular in the Community