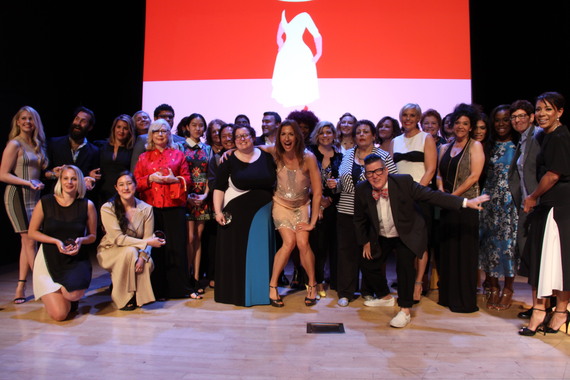 When you binged on season three of Orange is the New Black this weekend, perhaps, amidst the drama, laughs and boundaries pushed, you took a moment to admire how even while the inmates of Litchfield Prison wear the same institutionally-issued uniforms, sport only the most basic makeup essentials, and rely on Kool-Aid to dye their hair, each has their own particular style that gets to the heart and soul their character. Did you notice?
On May 28th, New York Women in Film and Television (NYWIFT) noticed by honoring the entire hair, makeup and costume design teams for the Netflix sensation at the Designing Women awards.
Designing Women, an annual event co-presented by Variety, was created by NYWIFT to acknowledge and celebrate the influence and impact of costume designers, makeup artists and hairstylists in film, television and other moving-image media. Their contributions often go unrecognized, overlooked in favor of "starrier" above-the-line professions like acting or directing. But as actors and directors themselves will tell you, it's the look that can make or break a character. "Without these women, we actors could not possibly visually embody characters as fully as we do," said host Lea DeLaria, best known as Orange is the New Black's Carrie "Big Boo" Black. "Without them, there's nothing."
The Designing Women Awards stand out because they pay tribute to women, an unusual event in the notoriously male-dominated world of film and television. A recent Ralph J. Bunche Center study found that while an increasingly diverse TV, film and new media audience prefers varied programming, women remain underrepresented both in front of and behind the camera.
Watching the highlight reel for the first honoree of the evening was like getting a crash course in film history. Ann Roth started her career painting scenery for the Pittsburgh Opera as a Carnegie Mellon undergrad before segueing into costume design. She is a legend in the entertainment industry -- name a classic, and Ann Roth designed the costumes. Midnight Cowboy. The Talented Mr. Ripley. Hair. Working Girl. Cold Mountain. The Birdcage. The English Patient. Angels in America.
Roth explained in the retrospective that a costume designer is not a stylist - some of the most interesting characters have no style at all. Design is about creating what that real, full, interesting character would wear.
"You have to know how much money [the character] has. Where did these clothes come from? How old are they? Who made them? When she takes them off at night, is she sober? Does she throw them on the floor?" Roth said. Roth's daughter, Hannah Sorkin, quoted her mother's frequent collaborator, the late Mike Nichols, as she presented the award. He said Roth's ruthlessly detailed designs can project "awkwardness in a button. Hope in a shiny skirt."
Playful and sharp-tongued at age 83, Roth's work will next be seen in Ricki in the Flash, which stars her frequent muse Meryl Streep. "When I was asked to come honor women in film, I said 'Who else would you honor?'" Roth said as she accepted her award. "It's a woman's thing! We just don't scream about it. It's who we are."
There has been some screaming, however. Dr. Martha M. Lauzen's 2015 Independent Women study showed that women accounted for only 26 percent of all directors, writers, executive producers, producers, editors and cinematographers in independent feature-length films produced in the last year. Stephen Follows' Gender Within Film Crews report found that only 22.6% of all crew members were female in the 2,000 highest grossing films of 1994-2013. And just last month the American Civil Liberties Union asked the U.S. Equal Employment Opportunity Commission to open an investigation into the systemic failure to hire female directors in the film and television industry. The world is taking notice at last.
As organizations like NYWIFT fight to even the playing field, we also take this time every year at Designing Women to honor those women who are getting hired and whose artistry touches the lives and hearts of so many. Makeup artist Beverly Jo Pryor was the next of those women. She has designed such hits as Empire, The Vampire Diaries, Lee Daniels' The Butler, and Selma, the latter of which posed a particular challenge as she strived to make each actor look as much like their real-life counterpart as possible. Pryor was brought to tears as she accepted her Designing Women award, saying, "This is the most exciting time of my life."
Boardwalk Empire star Gretchen Mol presented the award to hair stylist Francesca Paris, who, in addition to Boardwalk, has worked on The Sixth Sense, Eternal Sunshine of the Spotless Mind, and A League of Their Own. Mol and Paris both paid tribute to "Lola," the affectionately named wig Paris designed for Mol's character Gillian Darmody. Mol relied on "Lola" for protection during nude scenes - Paris added secret hair extensions to cover certain key anatomical features whenever Mol's clothes came off.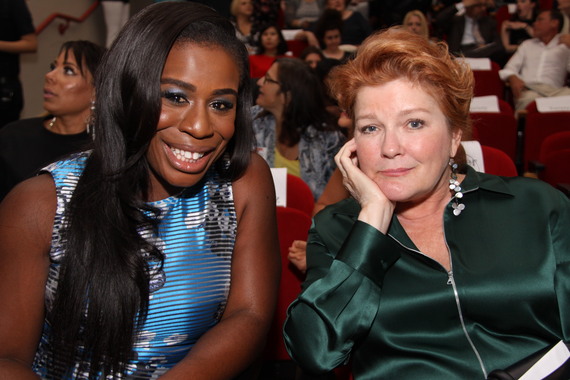 Finally, Uzo Aduba, Barbara Rosenblat and Kate Mulgrew of Orange is the New Black presented the Variety Ensemble Award to the hair, makeup, and costume design teams of the Netflix phenomenon. "I am often reminded not only of the brilliant storytelling and nuance that is represented through hair, makeup and costuming," said Aduba, who herself is visibly transformed each episode into Suzanne "Crazy Eyes" Warren by the team, "But also how each designer has been able to incorporate the persona of each character inside the walls of Litchfield while still gently and respectfully maintaining the humanity, individuality and dignity of each of these women that they so deserve."
Designing Women is one of more than 50 events produced annually by NYWIFT to advocate for equality in the entertainment industry while celebrating women's achievements. Learn more at www.nywift.org.
-- Katie Chambers is the Community Engagement Coordinator for New York Women in Film & Television.
Calling all HuffPost superfans!
Sign up for membership to become a founding member and help shape HuffPost's next chapter