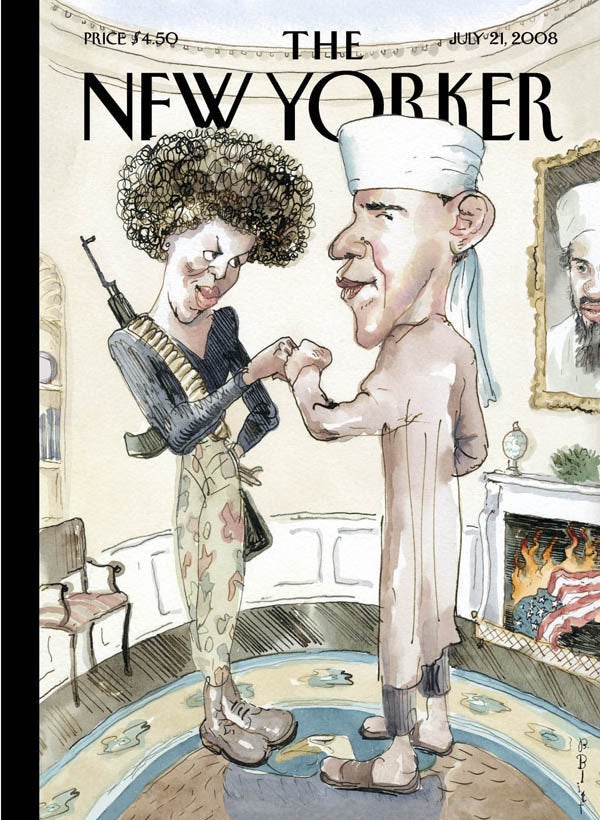 The New Yorker says it's satire. It certainly will be candy for cable news.
At a press availability Sunday afternoon in San Diego, Senator Obama was asked, according to the diligent Maria Gavrilovic of CBS News: "The upcoming issue of the New Yorker, the July 21st issue, has a picture of you, depicting you and your wife on the cover. Have you seen it? If not, I can show it to you on my computer. It shows your wife Michelle with an Afro and an AK 47 and the two of you doing the fist bump with you in a sort of turban-type thing on top. I wondered if you've seen it or if you want to see it or if you have a response to it?"
Obama (shrugs incredulously): "I have no response to that."
Priceless stage direction by Maria.
The magazine explains at the start of its news release previewing the issue: "On the cover of the July 21, 2008, issue of the The New Yorker, in 'The Politics of Fear,' artist Barry Blitt satirizes the use of scare tactics and misinformation in the Presidential election to derail Barack Obama's campaign."
Related
Popular in the Community