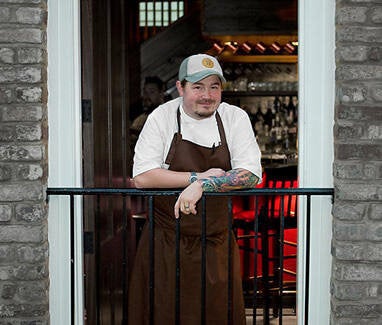 "No man loves pigs more than Homer Sean Brock," explains Bilger. "His country hams, hung for a minimum of eighteen months, are guarded, like a twelve-year-old's comic books, by a scrawled cardboard sign: 'Don't Fucking Touch.'"
Sean Brock, 33, was born and bred in the South. He fell in love with cooking at a young age, thanks to watching food television and imitating what he saw. He liked the strictness and order of culinary school and after graduation, worked in several kitchens before becoming head chef at McCrady's in 2006. He opened Husk in 2010.
Husk and McCrady's exemplify Southern food, with the former re-creating what Southern food once was and the latter showing what it could be, Bilger explains. Brock is serious when it comes to his commitment to the South. "I want people to see how beautiful Southern food is -- whatever it takes. I feel like I was put on earth to preach that gospel," he says.
While Brock is steadfast in his commitment to highlighting the South's bounty, he's not timid about having a Versawhip 600K on hand, or gluing "six lamb bellies together with brushstrokes of transglutaminase." Brock has found the balance of staying routed in tradition while still exploring new culinary grounds. "It changed my life, growing my own food," Brock tells Bilger. And who says he can't combine tradition and progress? "We're trying to change the way people dine in Charleston," he admits.
Popular in the Community