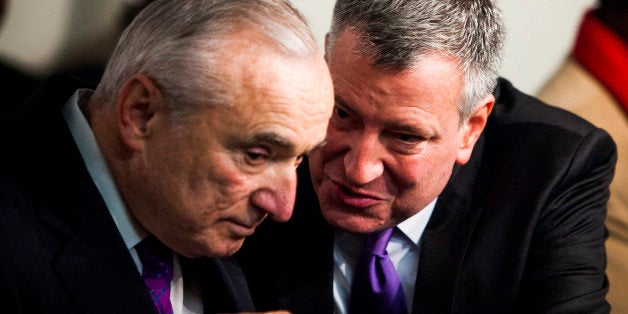 When Margarita Rosario began following the mayoral campaign of Bill de Blasio, she believed he'd choose a police commissioner who would finally try to mend the frayed relationship between the New York City Police Department and New Yorkers of color.
De Blasio promised during his campaign to end the abuses of stop and frisk, an aggressive policing tactic that has resulted in the arrests of hundreds of thousands of mostly black and Latino New Yorkers on minor charges. His multiracial family lent credibility to his vows, she thought, and he seemed to have a good understanding of the challenges faced by people of color.
To call Rosario disappointed when the newly elected de Blasio chose William Bratton is an understatement. Bratton was in charge of the NYPD in 1995, when two officers shot and killed Rosario's 18-year-old son, Anthony, and her nephew Hilton Vega in a Bronx apartment.
A forensic pathologist hired by Rosario determined that the two young men were shot multiple times in the back, while lying face down on the floor. But Bratton never arrested the officers, and never ordered an investigation.
"Someone like him doesn't understand the communities of color," said Rosario, "and I don't think he should be commissioner."
Rosario is now part of a small, ad hoc group of New Yorkers who are protesting Bratton's return. Calling themselves New Yorkers Against Bratton, members plan to march from Harlem to the Bronx on Friday evening to express their opposition to Bratton and to demand that de Blasio rescind his appointment.
They include Iris Baez, whose 29-year-old son, Anthony, was strangled by police during a scuffle in 1994, and Nicholas Heyward Sr., whose 13-year-old, Nicholas Heyward Jr., was shot and killed by police the same year while playing with a toy gun in a Brooklyn housing project.
The group of about 100 hopes to influence the way New Yorkers view their new police commissioner, according to Josmar Trujillo, one of the organizers.
"While ousting Bratton is the underlying goal, we also aim to communicate to the everyday New Yorker that the fight against police abuse and racial profiling doesn't end with Bloomberg and [current Commissioner Ray] Kelly," Trujillo wrote in an email. "Democrats and 'progressives' cannot be given a pass and we must hold them accountable."
Phil Walzak, a spokesman for de Blasio's transition team, wrote in an email Friday afternoon that the mayor-elect and Bratton are, in fact, "committed to rebuilding the bond between police and the communities they protect by ending the overuse of stop-and-frisk."
"They have been in constant contact with neighborhood leaders, clergy and grassroots activists, and will continue to work with communities across the city to enact real reform," the email said.
As head of the NYPD from 1994 to 1996, Bratton embraced the "broken windows" theory of policing -- the idea that police can discourage criminals from acting with impunity by cracking down on people who commit vandalism and other minor offenses.
Under his watch, the city's arrest rate soared and reports of serious crimes plummeted. Supporters praised him both for his tough approach and his innovative use of technology to monitor crime data. But as the arrest rate climbed, so did charges of police misconduct, especially in heavily black and Latino precincts.
According to police statistics cited in a 1996 report by Amnesty International, the number of civilians shot dead by police in Bratton's first year as commissioner increased to 31 from 23 the year before, and the number of civilians who died in police custody increased from 15 to 23.
Six months after her son was shot, Rosario and the mothers of several other victims of police killings went to a town hall meeting to demand answers from Bratton.
Bratton refused to call on them, Rosario said, so the mothers began to yell at him.
His response was not what they'd hoped. "You're acting like a bunch of fools," he snapped, according to press accounts from the time. "You're making fools of yourselves. You're the same group that shows up at every one of these meetings and we're not getting anywhere."

The activists who oppose Bratton criticize him not only for failing to tackle police brutality, but also for innovating stop and frisk. Kelly, who took over the force in 2002, expanded on Bratton's use of this practice in a way many consider excessive and discriminatory against minorities. An analysis of the NYPD's stop-and-frisk practice by the New York Civil Liberties Union found that innocent black and Latino New Yorkers were stopped 400,000 times in 2012, while innocent whites were stopped only 44,500 times, despite making up almost half the city's population.
In recent years, Bratton has sometimes seemed eager to distance himself from Kelly's use of the tactic. At a 2012 business-group meeting in New York, he likened stop and frisk to chemotherapy, calling it an "intrusive power," before adding that it can help reduce crime if "applied in the right way."
In response to de Blasio's appointment of Bratton, many civil liberties groups and civil rights leaders offered qualified endorsements of the new chief.
"We look forward to working with the new mayor and police commissioner to ensure that fundamental changes are made to the NYPD, including a top-to-bottom culture shift that ends racial profiling and the abuse of stop-and-frisk," Donna Lieberman, executive director of the New York Civil Liberties Union, said in a statement.
Unlike the NYCLU and other groups that have welcomed Bratton, the new group opposing him is a grassroots organization. It doesn't depend on the government for funding, and Trujillo sees this as an advantage.
"We don't have to worry about our relationship with the mayor," he said. "We don't have to worry about pissing him off. We're here to demand justice."
UPDATE: This story has been updated to reflect a response from de Blasio's transition team.
Related
Popular in the Community