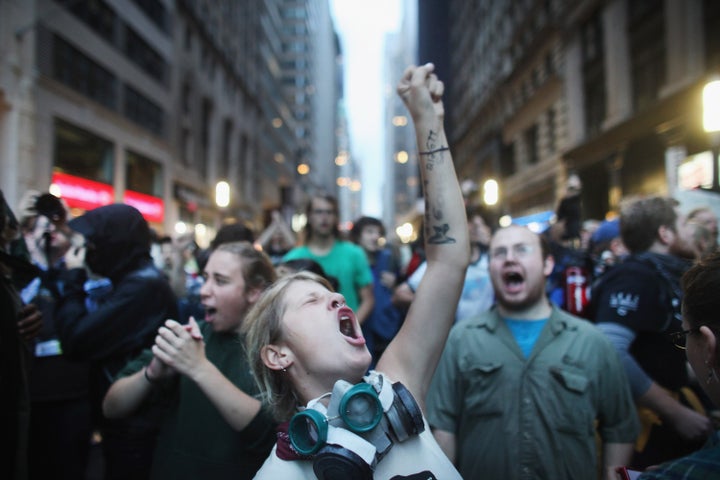 Good news for Occupy Wall Street protestors: 67 percent of New York City voters agree with protestors' demonstrations and 72 percent of New Yorkers statewide desire a Millionaire's Tax in order to increase taxes for those who earn more than $1 million a year. The numbers were released on Monday by two separate polls conducted by Quinnipiac University and Siena College.
An even higher percentage, 87-10, had city voters saying that they were "okay that they were protesting."
It's a free country. Let them keep on protesting as long as they obey the law, New Yorkers say overwhelmingly. Critics complain that no one can figure out what the protesters are protesting. But seven out of 10 New Yorkers say they understand and most agree with the anti-Wall Street views of the protesters.
According to the poll released by Siena College on Monday, the tax has the support of 83 percent of Democrats, 70 percent of independents, and even 55 percent of Republicans.
The overwhelmingly popular statistic parallels the opinion of most Americans as shown in a similar survey conducted by Daily Kos in which nearly 75 percent of the country supported such a tax.
The proposal is a part of President Obama's deficit reduction plan unveiled in September to increase taxes on the wealthy. Back in August, the highly regarded investor expressed the need to stop "coddling the super-rich" in an Op-Ed piece for The New York Times. Buffet, the second richest man in the country according to Forbes, stated that he only paid 17.4 percent of his annual income, $6,938,744, in taxes last year.
The Millionaire Tax also has the support of Governor Cuomo, who according to Siena's survey, is still extremely popular with New Yorkers as he holds a 70 percent favorable rating. Last month, Cuomo spoke of the tax:
While I am against raising taxes in general, if taxes need to be raised to create jobs, balance the budget and lower the deficit then those increases need to be done at the federal level and on the wealthiest Americans, not the middle class.
Monday's results also revealed that most New Yorkers oppose the looming union layoffs that may leave 3,500 workers without a job.
Popular in the Community