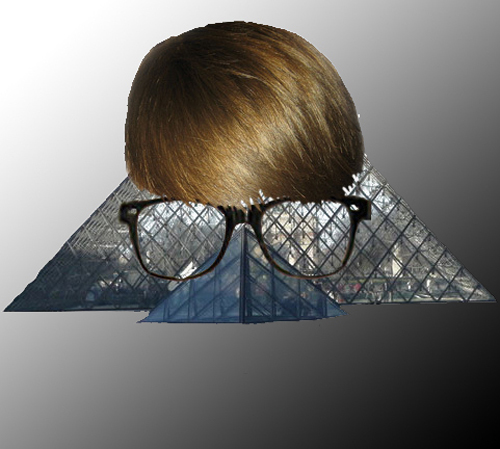 MuseumNerd's original avatar
Chances are, if you're on Twitter and you're an art lover, you've become acquainted with the thoughtful and entertaining musings of MuseumNerd (@museumnerd). The anonymous New York art world insider has amassed a following of over 17,000 by chatting unabashedly in 140-character spurts about contemporary art, art history and--you guessed it--museums. He/she/it (keeping to the anonymity) has become an advocate for the modern-day museum, introducing thousands of art enthusiasts to the happenings of museums in New York City and throughout the world. M.N. has publicly butted heads with influential art critics and bemoaned the state of museum funding and visitorship, all in the name of keeping the art conversation alive and thriving. And now the MuseumNerd will go on record about it all in a rare instance of surpassing 140-characters.
Allison K Gibson: How did you become such a champion for museums?

MuseumNerd: I grew up in Washington D.C. and was dragged to museums whenever we hosted guests from out of town. Though I often grumbled all the way there, I learned at a young age that museums were troves of fascinating things and influential experiences. In high school I once skipped an entire Friday of classes, hopped on the subway, and learned more at the Smithsonian than I had all week. Although it's a somewhat passe idea, I still feel that the art museum can be a sort of cathedral/temple/mosque for fostering strong feelings of connection with our fellow human beings.

AKG: What are a few of the most exciting exhibitions you've seen recently at museums and why?

MN: The Kuniyoshi exhibit at the Japan Society was a revelation. I tried through Twitter to express just how fantastic a show it was. I was blown away by Anish Kapoor's Memory at Guggenheim in New York. Installation of these sorts of large-scale works is usually best done by a museum. The video work in Greater New York at MoMA's PS1 and the 2010 Whitney Biennial were excellent. I usually don't have patience for video work in a museum setting.


Anish Kapoor, Memory, Solomon R. Guggenheim Museum, New York. Photo: David Heald.

AKG: What was your intent for creating the anonymous moniker of MuseumNerd?

MN: The name just applied to me and to my lifestyle in New York. On a Saturday trip to Brooklyn Museum I tweeted that one of the video narratives in the Feminist gallery was misplaced. When @brooklynmuseum (Shelley Bernstein) immediately responded [via Twitter] that they'd fix it on Monday I was thrilled. It was that night that I went home thinking about what the feed could and should be. I stayed up late making the silly icon (with I.M Pei's Louvre pyramid, a mop of hair, and nerd glasses) that I still use today. I have some personal reasons for wanting to remain anonymous, but I also have no interest in being even a minor celebrity. I'm very gratified to have a large audience to share my discoveries with, but I enjoy moving around in the museum community without people feeling they have to watch what they say around me. If you've followed my feed, you'll know I'm fairly tactful and don't tell tales out of school.


Rashaad Newsome, still from Untitled (New Way), 2010 Whitney Biennial. Collection of the artist; courtesy Ramis Barquet.


AKG: You've become quite outspoken on the topic of museums--particularly in their defense against such critics as Tyler Green (@TylerGreenDC). How do you think the conversation about museums has changed over the years? Is the discussion dominated by art world insiders or do you think the general public has a place at the podium at this time?

MN: Social media does allow for a broader discussion. As for art critics who casually attack museums, they often reveal how little they know of the way the museum works internally. Those who are quick to attack anything they perceive as "populist" show a lack of sensitivity to the pressures museums face to serve as broad a public as possible if they hope to garnish government and foundation support through grants. The insider/outsider line is not distinct. I work in a museum, but I rarely have insider information about other museums and would never post such information about my own. The one way being a sometime "insider" benefits me is that it informs my perspective and allows me to be more empathetic to museum staff and their decisions.


Greater New York, organized by MoMA PS1 and The Museum of Modern Art. Courtesy PS1.

AKG: What do you see as a benefit for having put so many eyes on the feeds of museums around the world?

MN: As museums are moving more and more content and images of objects in their collections online, it becomes increasingly important for funders to realize that it's not just about people walking through the museums' doors (although this is certainly important when it come to art). Fulfilling an educational mission can take many shapes. I am very excited about the possibilities for museums to use social media to spark learning along the lines of those missions. A fact learned on a wall text is no more valuable than that same fact learned from a "tweet" despite its silly-sounding name.

AKG: What do you imagine is the future of museums?

MN: Museums have historically been slow to adapt. In the present day this is tied up with the way they are funded. Basically, the ones holding the funds often have to be forward thinking before a museum can afford to be. It strikes me that this should maybe be the other way around.
Allison K Gibson is a Southern California-based writer of fiction, contemporary art and culture. She contributes regularly to Daily Serving, Beautiful/Decay and Art Ltd. Learn more at allisongibson.com.
Calling all HuffPost superfans!
Sign up for membership to become a founding member and help shape HuffPost's next chapter