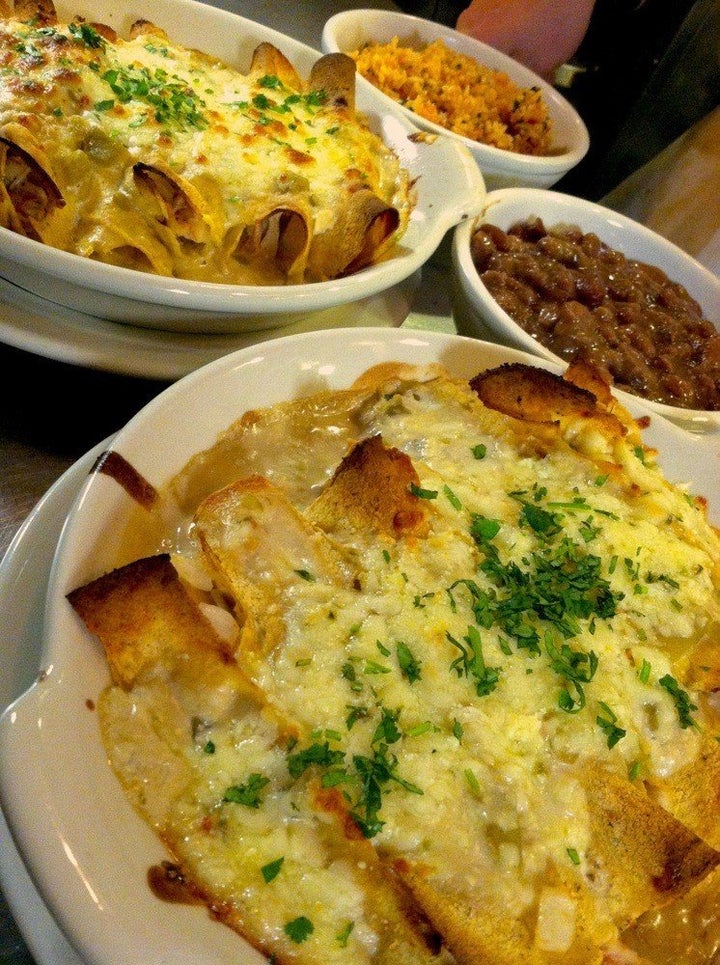 Sunday night can feel like a cliff. You don't know where the weekend went, but you know it flew by and all of a sudden you're standing on a ledge, about to nose-dive right into another week. But it doesn't have to be like this. You can pause, take a breath, and slow down for an evening. You can savor the weekend and prepare for the week on a happy note. You can eat Sunday Supper.
Sunday Supper is traditionally a family meal. Its origins can be traced back to the Sunday Roast, a British or Irish meal eaten on Sundays. My favorite version is the Italian-American Sunday Gravy, a meat-heavy red sauce that gets better with time and makes great dinners all week.

Whether it's a traditional, family-style spread or a prix fixe tasting menu of small plates, special Sunday night menus can be found all over New York -- a city in desperate need of slowing down. Here are some of New York's best Sunday Suppers.
606 R&D
Almost a year old, 606 R&D in Prospect Heights, run by City Bakery alums Ilene Rosen and Sara Dima, fits right in with the neighborhood: it's young, cutting-edge, laid back but sophisticated.
On Sunday nights the restaurant offers family-style dinners on a rotating schedule. The chicken parmesan with red sauce and mozzarella, which follows fried ravioli and a tricolor salad and is served along side penne pomodoro and garlic bread, is a real winner, and perfect for sharing with friends. For New Yorkers craving a shared meal that doesn't consist of rounds of small plates, R&D's Sunday Supper hits home in the right way.
Crown
One of the latest Sunday Suppers to dawn the New York dining scene comes from Crown restaurant on the Upper East Side -- owned by chef John DeLucie, who also owns The Lion and was formally the executive chef at the Waverly Inn. Crown debuted its Sunday Supper series on March 3rd last month. An ode to the British Sunday Roast, the Sunday Supper menu features roast meats and sides, and will change monthly. This month's menu offers lamb and family-style, olive oil crushed potatoes and spring vegetables.
James
James restaurant in Brooklyn is a treasure. Slightly hidden on a quiet street in Prospect Heights, it's Brooklyn dining at its finest: understated but beautiful, stylishly antiquated but culinarily forward thinking and -- sadly an almost necessary disclaimer for BK restaurants these days -- not pretentious.
Open since 2008, James has been serving locally sourced food since before it was fashionable. Its three-course Sunday Supper offers the best of James' seasonal American cuisine, with dishes like pan roasted porgy with fava beans and marinated market beans, and grilled lemon pound cake with strawberry-thai basil salad and citrus cream.
PUBLIC
PUBLIC restaurant in Nolita, recently the recipient of a Michelin Star for its innovative food and decor, has been serving a popular Sunday Supper for years. The menu -- a five-course tasting menu -- changes weekly and is so fresh it's decided upon the day it's served.
Dovetail
Dovetail, chef John Fraser's Michelin star-winning contemporary American restaurant on the Upper West Side, wins the best name for a special Sunday menu: simply, Sunday Suppa. The menu changes weekly, drawing upon seasonal ingredients and products. Diners will find a full vegetarian menu in addition to one offering meat, poultry and fish.
Last week's menu included unique, ingredient-driven dishes like salt baked carrot salad, roasted garlic, barley and harissa; fluke crudo, pineapple, ginger and shiso; roasted beets, coffee, almond and ricotta; and sautéed foie gras, graham crackers and huckleberries.
Northern Spy Food Co.
The popular East Village eatery Northern Spy Food Co., named after one of New York State's classic heirloom apples, has been serving seasonal, locally purveyed dishes since 2009. With an eye on sustainability in both its food and decor, using local ingredients when possible and repurposing materials for its interior, Northern Spy Food Co. was ahead of its time and continues to push the envelope. On Sundays the restaurant offers a three-course menu that changes weekly and shows off the best of what's in season.
PHOTO GALLERY
New York's Best Sunday Suppers
REAL LIFE. REAL NEWS. REAL VOICES.
Help us tell more of the stories that matter from voices that too often remain unheard.
BEFORE YOU GO