Songs about New York City range from 1932's "42nd Street" (by Harry Warren and Al Dubin) to Stephen Sondheim's "Broadway Baby" (from 1971's Follies). Whether one prefers to whistle George M. Cohan's "45 Minutes from Broadway" or 1934's "Let's Take A Walk Around the Block (by Harold Arlen, E. Y. "Yip" Harburg, and Ira Gershwin), there is no shortage of lyrics with geographical references to New York.
From 1894's "The Sidewalks of New York" to 1940's "Give My Regards to Broadway" and beyond, some songs have become closely linked to the mythology of New York. There are even two hit songs (from 1944 and 1977) entitled "New York, New York."
But what about lesser known songs (or forgotten hits) like "The Bowery" (from 1891's A Trip to Chinatown); "Give It Back To the Indians" (from the 1939 Rodgers and Hart musical, Too Many Girls); "New York Is A Summer Festival" (by Harvey Schmidt and Tom Jones), and "Don't Forget 127th Street" (from 1964's Golden Boy)?
Bottom line? There are at least a gazillion stories that are set in New York, that happen to New Yorkers, and that have become part of the history of New York. Two, in particular, fascinated Bay area audiences this summer.
Though the first hot dog eating contest at Nathan's Famous is rumored to have taken place on July 4, 1916, ever since 1972 the Nathan's Hot Dog Eating Contest has been an annual event. Having given rise to such competitive eating champions as Takeru Kobayashi, Joey Chestnut, and 2015's winner, Matt Stonie, many people only think of Nathan's Famous on July 4th or when they see the company's products in their local supermarket.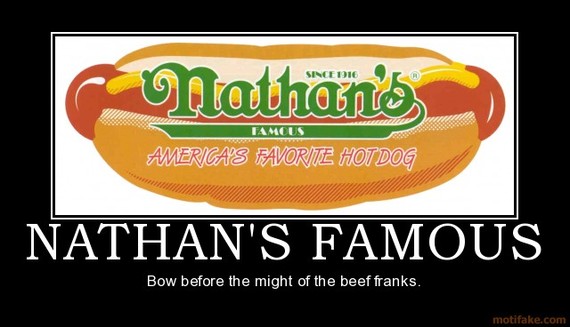 As part of the 2015 San Francisco Jewish Film Festival, audiences were treated to Lloyd Handwerker's documentary entitled Famous Nathan. Anyone who grew up in Brooklyn was familiar with the food from Nathan's (a mandatory stop on any trip to Coney Island) and Shatzkin's Knishes (located just around the corner). However, until now, there has been little public knowledge of how this family business began, grew, and was eventually sold to corporate interests that would take the brand much further than the members of the Handwerker family could ever imagine.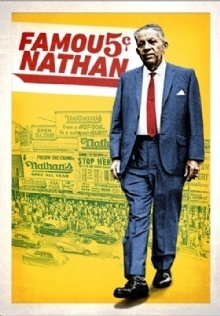 A poster showing Nathan Handwerker in
front of Nathan's Famous
Nathan Handwerker came to the United States in 1912 (a young Jew unable to read who had only learned how to write his name while crossing the Atlantic aboard a steamship). While working at a Coney Island restaurant named Feltman's German Gardens, he was challenged by two of his co-workers (Eddie Cantor and Jimmy Durante) to launch a restaurant of his own. In 1916, he and his wife Ida launched a hot dog stand at the corner of Coney Island's Surf Avenue and Stilwell Avenue. Their $300 investment blossomed into a multimillion dollar business.
To the outside world, Nathan's was a miracle of efficiency. To the workers however, it was difficult to spend a day on their feet in front of a hot grill -- especially when old man Handwerker was looking over their shoulders to make sure they didn't make any mistakes. There was also an intense sibling rivalry between Nathan's two sons, Murray and Sol.
While Nathan Handwerker was quietly generous to many of his loyal employees, he had ways of irritating some others. As the filmmaker (Nathan's grandson, Lloyd) explains:
"Since 1986, I've been piecing together my family history, looking for anyone I could find with Nathan's stories. The most compelling have been the workers, some who stayed 40 or more years at the place. Not at all shy at offering opinions, they provide intimate, sometimes hilarious memories of working for Nathan, whose fierce dedication was the stuff of legends."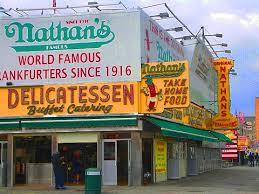 Nathan's Famous in Coney Island
"Ultimately, Famous Nathan honors the fighting spirit of a remarkable man and his equally remarkable business. And though it is nothing like when my grandparents ran it, the original Nathan's Famous remains. As we approach the centennial of its birth -- 100 years in 2016 -- I offer this personal, long-in-the-making film to my parents, grandparents, the Nathan's workers and to lovers of our great city everywhere."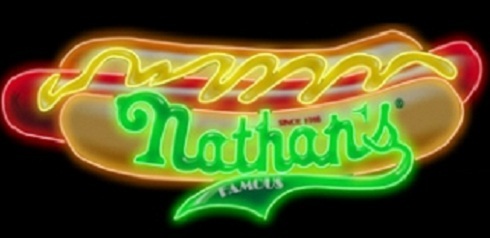 A neon sign with the logo for Nathan's Famous
Lloyd Handwerker's documentary relies on interviews with his relatives, former workers, and friends of his grandparents. Using a combination of stock footage and family films, he paints a portrait of an immigrant couple whose success eclipsed them. While some of his grandparents' friends suggest that Ida's life might not have been the happiest, what comes through quite clearly is a portrait of a driven business owner who was essentially married to his work.
One of the sadder tragedies to take place in Manhattan was the Triangle Shirtwaist Factory fire of March 25, 1911 in which 146 workers perished from smoke inhalation and/or jumping to their deaths from a ninth floor window. Located at 23-29 Washington Place, the building (which is now a part of New York University) has been declared a New York City Landmark as well as a National Historic Landmark. The following clip, marking the centennial of the deadly fire, explains how the tragedy occurred, its social impact, and the workplace protections that resulted from the deadly event.
In August 2012, I attended a workshop production of a new musical by Curtis Moore, Thomas Mizer, and Joshua Scher that was inspired by the story of the Triangle Shirtwaist Factory fire. Because members of the press must agree not to review workshop productions/readings staged by TheatreWorks Silicon Valley during its annual New Works Festival, it was difficult to spread the word about a superb new show being developed that was one of the most original pieces of musical theatre I had seen in years.
Fully formed (and somewhat rewritten), Triangle received its official world premiere from TheatreWorks Silicon Valley this summer (the company's 66th world premiere), returning to the stage of the Lucie Stern Theatre in Palo Alto. With a magnificently flexible and evocative unit set designed by Daniel Zimmerman, costumes by Cathleen Edwards, lighting by Paul Toben, and sound designed by Brendan Aanes, this was one of the rare instances in which a workshop production blossomed into a stunning piece of tightly woven and intricately layered musical theatre that was rich in history, complex relationships and accessible music with a refreshingly inventive plot structure.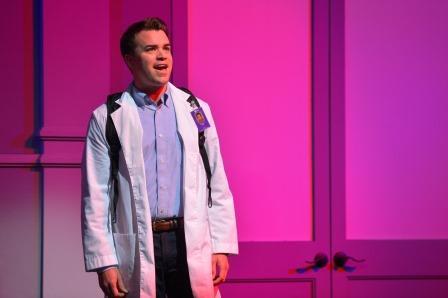 Ross Lekites is Brian in Triangle (Photo by: Kevin Berne)
The action jumps back and forth in time between the winter of 1910-1911 (alternating between the ninth floor sweatshop that was the Triangle Shirtwaist Factory and the tenement apartment of two Jewish sisters awaiting their father's arrival from Europe) and the ninth floor offices of a research laboratory in 2011. Under the inspired direction of Meredith McDonough, the cast of six easily travels through time and space, creating a love story where there may never have been one and another love story that could easily have been sabotaged by a modern gay man's neuroses.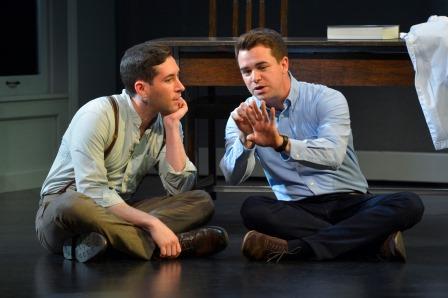 Ben (Zachary Prince) listens as Brian (Ross Lekites) explains his
scientific research in a scene from Triangle (Photo by: Kevin Berne)
As the protagonist, Brian, Ross Lekites demonstrates a powerful tenor voice and an extremely likable personality. Struggling with his personal resolve never to fall in love after his older sister, Jenni (Megan McGinnis), perished on September 11, 2001 in the attack on the World Trade Center, he finds himself bowled over by the advances of a young man named Ben (Zachary Prince) who has come to commemorate the 100-year anniversary of the Triangle Shirtwaist Factory fire.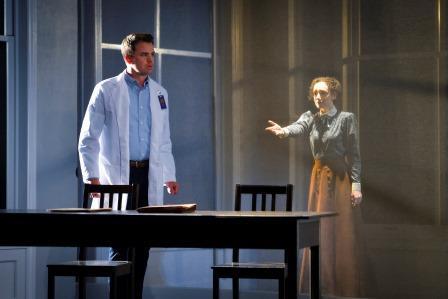 Brian (Ross Lekites) is haunted by the ghost of Sarah
(Megan McGinnis) in Triangle (Photo by: Kevin Berne)
Buoyed by his lab partner, Cynthia (Sharon Rietkerk), Brian is shocked by the appearance of the ghost of a young woman (also played by Megan McGinnis) who seems to be reaching out to him for some kind of help. As the audience soon learns, that woman is Sarah Abramov, a young Jew glad to have gotten a job as a seamstress at the Triangle Shirtwaist Factory, but who is conflicted about being asked to work on Shabbos even though the factory's owner is, himself, Jewish).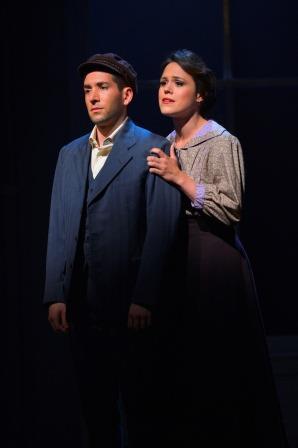 Zachary Prince as Vincenzo and Laura D'Andre as his
sister, Theresa, in Triangle (Photo by: Kevin Berne)
The story is much too delicately plotted and deftly staged to be described in words. Let's just say that Sarah is attracted to her supervisor at work, a young Italian named Vincenzo (also played by Zachary Prince) whose sister, Theresa (Laura D'Andre) warns him against getting emotionally involved with a Jewess. But Sarah desperately needs money to help support her pregnant sister, Chaya (also played by Sharon Rietkerk), and provide the fare to pay for their father's ticket to America so that he can leave Europe and join them in New York.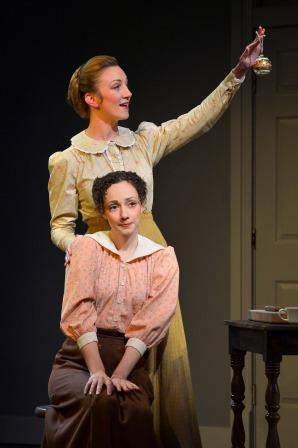 Sharon Rietkerk as Chaya and Megan McGinnis as her
sister, Sarah, in Triangle (Photo by: Kevin Berne)
Also in the small cast is Rolf Saxon, who portrays Howard (the man who runs New York's Lower East Side Tenement Museum and leads each year's memorial in remembrance of those who died in the Triangle Shirtwaist Factory fire), Vincenzo's father (the boss of the Triangle Shirtwaist Factory), and Chaya and Sarah's father, Isaac. In addition to portraying Vincenzo's sister, Theresa, Laura D'Andre also appears as Brian's boss, Dr. Zimmerman. As Artistic Director Robert Kelley notes:
"When [Triangle] debuted as a staged reading in our 2012 New Works Festival, its parallel stories of ordinary people overwhelmed by extraordinary events deeply affected me. It still does. In the wake of disasters both past and present, Triangle finds cause for hope. Caught up in the tides of history, its unconventional love stories unfold in opposite directions: one from a tentative beginning to an unexpected end; the other from a tentative end to an unexpected beginning. Yet they are linked: one reaching across time to affect the other. Are such things possible? In the theatre, of course they are. In life, even more so."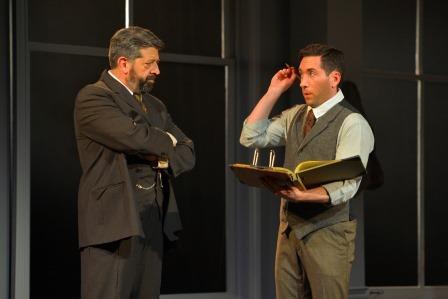 Vincenzo (Zachary Prince) struggles to communicate with the non-
English speaking Issac Abramov (Rolf Saxon) in a scene from Triangle
(Photo by: Kevin Berne)
Curtis Moore's score (which jumps nicely between 1911 and modern times) has an appealing style, with numbers such as "Nine Floors Up" and "Business" offering a lively contrast to more emotional songs like "Take My Hand," "All That I Need is Here," "You Didn't Call Me For The Ring," and "Safe." The musical's book has lots of smart jokes and plenty of genuine pathos (expect to laugh and cry).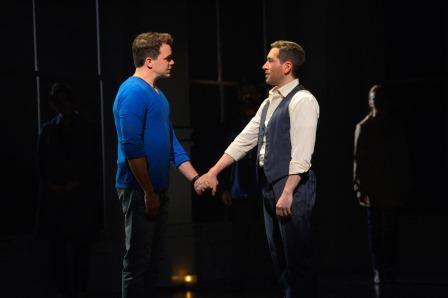 Brian (Ross Lekites) and Ben (Zachary Prince) look to the
future in a scene from Triangle (Photo by: Kevin Berne)
An intelligent and challenging new musical really couldn't hope for a stronger cast or production than the one Triangle has received from TheatreWorks Silicon Valley. It isn't often that one encounters a new musical of so much historical and emotional depth; a show which is not afraid to candidly deal with such issues as a horrific tragedy, occupational safety, cultural misunderstandings, women's rights, and gay relationships.. If you're a fan of musical theatre, gay theatre, or both -- you simply can't afford to miss this show whenever and wherever it is produced. It's that good!
Calling all HuffPost superfans!
Sign up for membership to become a founding member and help shape HuffPost's next chapter