Brad Croft, director of operations for Universal K9, has trained hundreds of dogs for police work. But if you ask him who stands out most to him, without hesitation he replies, "Kiah is one of the top three dogs I've ever placed."
Kiah is a pit bull who was rescued from a shelter after she was found as a stray in a grocery market parking lot with a serious wound on her head.
Now she's New York state's first K9 pit bull officer. She is part of the City of Poughkeepie Police Department's K9 force and her partner is Officer Justin Bruzgul. Kiah is Bruzgul's first K9 partner, and together they're patrolling the streets of Poughkeepsie, making it a safer place to be.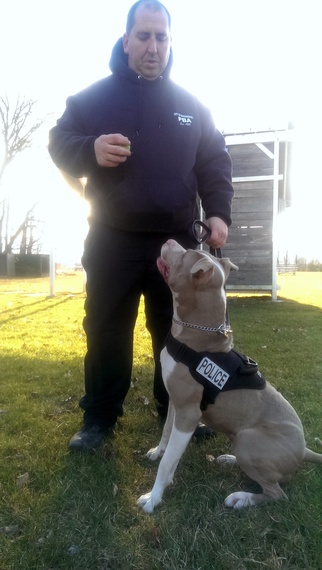 K9 police dog, Kiah, with her partner Officer Justin Bruzgul of the City of Poughkeepsie Police Department, New York
AFF, Austin Pets Alive! and Universal K9 formed a collaboration to select rescued pit bulls from shelters for their Detection Dogs Program. This type of work is generally reserved for purebred dogs specifically bred for this purpose. Croft evaluated Kiah and determined her to have exactly what it takes to become a working police dog.
What qualities does Croft seek in a potential candidate for a detection dog? First and foremost, confidence. These dogs are not fearful, and are curious and highly trainable. Croft said Kiah's ability to fixate on a toy for an extended period of time without becoming distracted is one quality that makes for a confident police dog. A dog who lacks confidence wouldn't be able to cope trying to detect narcotics in a car on the side of the road with other cars whizzing by.
Croft pulls powerful candidates from shelters; all types of breeds have come to Universal K9. Kiah was full of energy, jumping in her kennel five feet in the air. Her nerves didn't falter from the strange sounds and frenzied activity associated with an animal shelter. He knew right away she a phenom.
I spoke with Bernice Clifford, CPDT, director of behavior and training at AFF, about Kiah and their philosophy about these dogs.
AFF stresses treating each dog as an individual -- we can't base their behavior on their appearance or their past. Clifford doesn't speculate or dwell on their past. The dogs don't either, she said: "Let them be dogs."
Back in New York, Clifford reached out to her local police departments offering the opportunity to take on a K9 pit bull at no cost to the department. The City of Poughkeepsie was receptive.
Croft said that some agencies are resistant to the idea of a pit bull and it really angers him. Just like Belgian Malinois, German Shepherds and Dutch Shepherds, the usual types of K9 police dog, pit bulls are working breeds and are extremely productive when working. Universal K9 does not breed dogs, and Croft's own dog is adopted.
The cost of buying a dog, training the dog and then training the handler of the dog can add up to $20,000, but the dogs offered through AFF's dog detection program are free. The service is priceless and can be a windfall for a police department's budget.
Officer Bruzgul trained with Kiah in Texas and graduated with her in November after 16 weeks of training. She's been a patrol dog ever since and continually works on her skills. I got to attend a training session and watched her do groundwork to detect "articles" such as a small prescription bottle and a tiny bolt, then hold them at bay for her handler. She also detected scent cones, which develop when odors such as body sweat or colognes permeate the air. While Kiah is a patrol dog now, in April she will spend another 6 weeks in training for narcotics detection, Bruzgul said.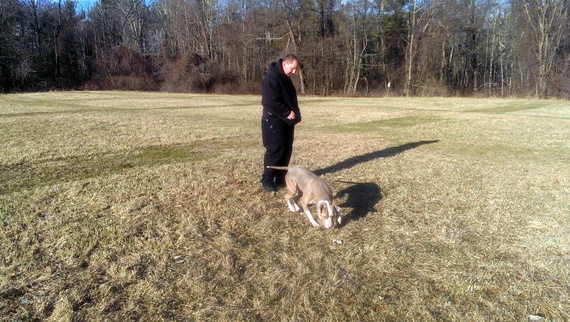 Kiah keeps her nose to the ground as she detects plastic, leather and metal objects hidden in the grass.
Bruzgul said his sister has a pit bull, and he was open minded when he learned his K9 partner would be one, too. At home, Kiah lives with Bruzgul and his two personal dogs, a Jack Russell terrier named Cosmo and a German shepherd named Cody.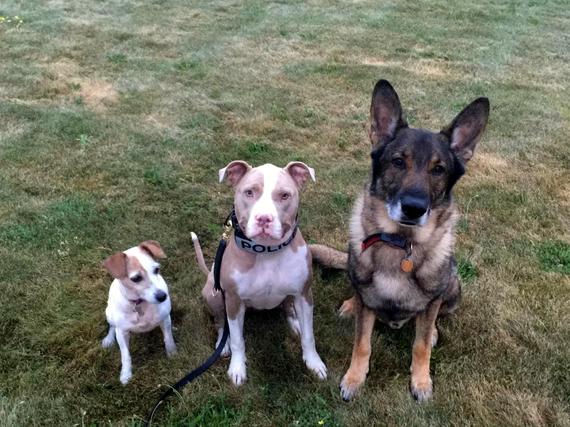 Cosmo (left), Kiah (center) and Cody (left) live together with Officer Bruzgul (credit Justin Bruzgul)
In person, Kiah's confidence and intelligence radiate from her. You feel the presence of a dog meant for big things. Dogs like her are in shelters and rescues everywhere; adoption is the easiest way to save a life. In return, they may save your life one day, just like a rescued police dog can do. They might also save you in lots of little ways, every day.
You can donate to the Detection Dog Program here.
This article was originally published on TheDodo.com
Related
Popular in the Community