Alastair Onglingswan, Iris Chau and Stephen Chen, co-founded
GreenSoul Shoes (GSS), a social enterprise where their mission is to shoe
underprivileged children around the world in a sustainable fashion.
They do
this by working with local third-world artisans to produce a 100% up-cycled
sandal (that is a sandal that is entirely made out of rubber tires and inner
tubes).
For each one that GreenSoul Shoes sell, they give one away to an
underprivileged child in need in that same community.
GreenSoul Shoes ("GSS") went on a South East Asian "Tour of
Strength," which included visiting four countries in as many weeks.  They visited, Thailand, Cambodia and Vietnam,
primarily to meet and greet new artisans that could produce its 100% recycled
sandals. 
They also went to the Philippines to do their very first shoe
drop.  They did the shoe drop in
coordination with the Philippine Christian Foundation ("PCF").  
"This group is a wonderful
organization with a mission to permanently improve the quality of life for the
poorest Filipino communities, through education, nutrition, health, medical and
family enhancement programs, regardless of religion, race or political
boundaries," Alastair, the CEO of GreenSoul Shoes, told the Huffington Post.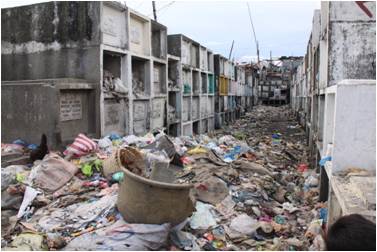 Open graves in Navotas
City, Philippines where locals live amidst debris.
Photo by Alastair
Onglingswan.
Jane Walker, the Executive Director of the
PCF, took the GSS team on a visit of the residents of Navotas City, Philippines.  The residents of Navotas City live on a
landfill that doubles as a cemetery. These communities were originally formed
to pick through for any recyclable or re-sellable goods when the dump trucks
emptied their garbage. 
Jane sadly
stated, "a day without any collection would mean a day without a meal for
them." The living conditions were as harrowing as they were shocking.  
Alastair stated, "While it is a
testament of the human condition to be able to adapt to any environment, no one
should have to adapt to the conditions that these people are subjected to on a
daily basis."
There was one woman who lived in a ten foot-by-ten foot hut.  Since the floor was made up of layers and
layers of garbage, the ground was soft, wet and was largely squishy with
mud.  In one corner, there was a hole
with a tire in it. 
Alastair was keenly interested in usage of tires in this community and
when he asked what that tire was for, she replied that it was her latrine.  Incredulously, Alastair asked the woman what
happened when it got full, and she simply replied that she dug up another hole
somewhere else in her hut, deposited the mud in the old hole and removed the
tire and replaced it in the new hole.
Although the community lived in despair, the attitude of these
residents reflected a completely different story.  The smiles of these people radiated both
desire and hope.  Desire for a better
life and hope that it would get better.
The GSS team was blown away by the
generosity and the benevolence of the community.  At the shoe drop were about 150 children all
in need of shoes.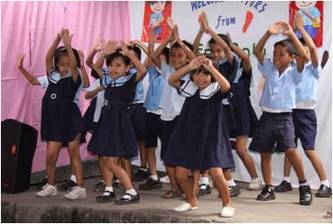 Wonderfully happy children perform heartwarming songs for their community. 
Photo by Alastair Onglingswan.
When the GSS team
walked into their "open-air" auditorium, all the kids stood up and
simultaneously shouted, "Good Afternoon Visitors, it is nice to see you!"  The children were broken up into four or five
groups depending on age, and each group then went up to the stage to do a thank
you lip-sync and dance routine to music.
The organizers at the PCF had come up with an ingenious way to
size the giveaway shoes.  They had each
child trace out their foot on a piece of cardboard, and then allowed the kids
to color and decorate the cardboard in any way that they wanted.  Then when GSS gave the PCF the shoes, the
organizers simply matched the tracing with each pair.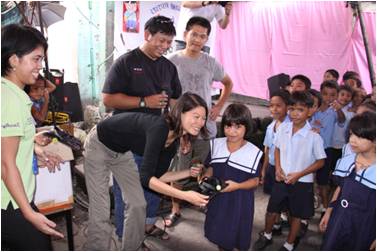 Shoe drop with the Philippine Christian Foundation.  
Photo by Alastair Onglingswan.
At the actual shoe giveaway, Alastair, Iris
and Stephen would call up the child's name (written on the cardboard tracing)
and the child would come up and gratefully and humbly say, "Salamat Po,"
Filipino for "Thank you very much." 
Some
of the kids gave high fives to the GSS team, others hugged them and still
others just shyly accepted their new sandals and scurried away excitedly to try
them on.
According to the Executive Director, this was the first
time an organization brought shoes to their community.  "It was a welcome and refreshing gift for
these children." 
GSS met the PCF through an email from Jane.   When Jane went on the GSS website, she
immediately knew that her community needed shoes.   Her first reaction was, "Oh my gosh, we need
shoes!" 
Her second reaction was that her
community could help to manufacture these shoes and partner with GSS to fulfill
its mission. One Ms. Walker's main thrusts, as well, is education. "With no
shoes, children do not have the physical means to go to school," she says,
highlighting how even as simple and basic a donation as rubber sandals will
make a significant difference in the lives of many children.
The PCF currently produces products out of recycled waste material
such as bags, aprons and jewelry.  Their
products are currently sold in certain hotels and high-end eco-stores in Manila
and are made from mostly single mothers and elderly people. 
"Introducing a sandal made out of tires and
inner tubes presents a certain challenge to the Philippine Christian
Foundation," says Jane Walker, "but it is a welcome one, as we need to employ
the men with a skill set."  "We are
certain that with the creativity of the Filipino artisans on staff, that we can
create different sandals and perhaps even booties."
Jane also shared her amazement when she asked the company how many
sandals needed to be produced and the answer was "5,000 shoes a month!" With
one tire providing enough material for eight shoes, Ms. Walker is calling on
all truck drivers and tire manufacturers to donate their used tires to PCF so
that they will be able to meet the demand for shoes.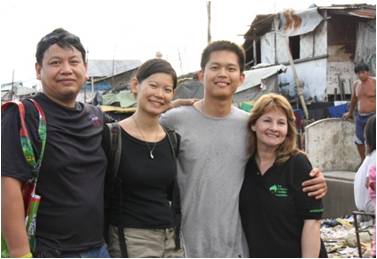 GreenSoul team spends the day with the Philippine Christian
Foundation. 
Photo by Alastair
Onglingswan,
Thanks to the project, disposing of truck
tires – which often becomes even more harmful to the health of the community
when discarded due to the fact that they become breeding grounds for
mosquitoes, which transmit malaria and Dengue fever – will no longer be a
problem. 
There were 80 million cases of
Dengue fever last year.  In fact, while
on the Navotas City visit, the GSS team passed a funeral of an 18 month year
old child who had died from Dengue Fever a couple of days previous.  According to Jane, this is a common
scene and occurrence in this community.
This represented GreenSoul Shoe's first shoe donation.  It was a small but significant step in their
goal to donate 1 million shoes in five years.
GreenSoul Shoes was recently selected by Forbes business as a
top-20 company and they are pleading for your votes to get them to the top
5. Vote for them here.
Calling all HuffPost superfans!
Sign up for membership to become a founding member and help shape HuffPost's next chapter