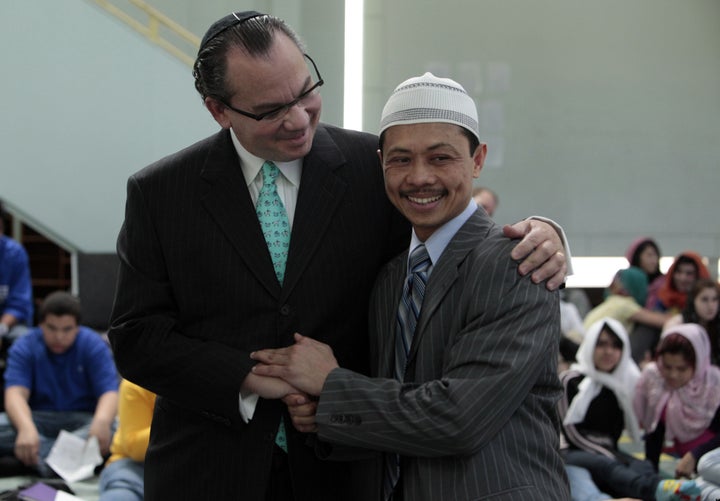 Assistant Imam Mohammad Shamsi Ali, a thin, short man with a well-trimmed moustache, was appointed assistant imam to the Islamic Cultural Center of New York, on 96th Street and 3rd Avenue, in November 2001, shortly after 9/11.
He believes his wide range of activities with non-Muslims got him the job.
After growing up in a remote region of Indonesia, Ali arrived in the U.S in 1996. And he rapidly imposed himself as a central figure of New York City's Muslim community, known for his continuous efforts to reach out to other faiths.
He became the chairman of the Muslim Day Parade, started working as a clergy liaison for the New York Police Department, and engaged in many interfaith events. After 9/11, city officials chose him as one of three religious leaders to represent American Muslims at the memorial prayer at Yankee Stadium. In 2006, New York City Magazine rated him the most influential Islamic leader in the city.
His appointment to the ICC, the first building constructed as a mosque in New York City, only reinforced his commitment to bridge different religious communities. Calling the ICC the "PR officer" of American Muslims, Ali believes it is his mission to "dispel misconceptions" about Islam, and to connect with other faiths. "It is perceived as the real center, the cathedral of Muslims," Ali says.
In less than 10 years at the mosque, he has established a free space for non-Muslims to come and ask questions about Islam; he has made countless appearances on TV to condemn terrorism, radicalism, and anti-Semitism; and he has initiated a regular dialogue with various religious leaders, including many rabbis.
With Rabbi Marc Schneier, chairman of the Foundation for Ethnic Understanding and founding rabbi of the New York Synagogue, he's launched a yearly "Weekend of Twinning" of mosques and synagogues throughout the country, to get congregations to intermingle. With Rabbi Burton Visotzky of the Jewish Theological Seminary, he's organized a charity event to feed homeless people in Manhattan. Most recently, he's started organizing social gatherings with Rabbi Michael Weisser's congregation in Flushing, Queens.
His focus on Muslim-Jewish relations is not a coincidence. In the past, the mosque's relationship with New York Jews has not always been tranquil.
In October 2001, former ICC Imam Sheik Muhammad Gemeaha quit his job, citing death threats to his family. As he returned to his native Egypt, he gave a television interview to an Arab station in which he accused Jews of being behind 9/11.
His successor, Imam Omar Abu Namous, from Palestine, struggled to improve the image of the mosque. But as he initiated an interfaith dialogue with Rabbi Marc Schneier of New York Synagogue, he made a political statement that irritated the rabbi's congregation. Invited to speak at Schneier's synagogue in 2006, Abu Namous defended the idea of a one-state solution to the Middle Eastern conflict. "All hell broke loose," remembers Schneier.
Because of that history, many religious leaders welcomed Ali's appointment to the mosque.
But having embarked on such a mission, Ali now faces many challenges. First, there is what he calls "the 800-pound gorilla in the room": the issue of Israel and Palestine. And the Mideast conflicts are not the only obstacle to a lasting dialogue between Muslims and Jews. Some verses of the Koran are critical of the Jews, and some verses of the Torah are critical of non-Jews, Ali says. Both holy books are often a source of misconceptions of the other, he adds. That's why he and Schneier have decided to co-author a book addressing the difficult passages of the Koran and the Torah.
Despite the difficulties, Ali says he can already see the fruits of his efforts. He says success can be measured through the way Jews and Muslims at the congregations he's worked with perceive one another. "It is a matter of time that people will break down the barriers," he says.
To read and view more about this topic, visit www.ImamOnaMission.com. This website was built by Chine Labbé and Mahawish Rezvi as part of their master at the Columbia University Graduate School of Journalism.
REAL LIFE. REAL NEWS. REAL VOICES.
Help us tell more of the stories that matter from voices that too often remain unheard.