I have a dream. A bad dream.

In this bad dream--which disturbs my sleep on a regular basis--I am usually trying to intervene in an argument between two people whom I may or may not recognize. As the third person in this scenario, I have a sort of omniscience (only in my dreams unfortunately!) that allows me to understand the positive message each individual intends to communicate.

It also makes me the sole witness to the fact that each party totally misunderstands the other, so that despite everyone's best intentions the situation is growing tense and hostile. My futile attempts to break this ever-deepening spiral of miscommunication and mistrust takes on a nightmarish quality that fills me with despair and panic.

At this point I've actually trained myself to scream until I wake up.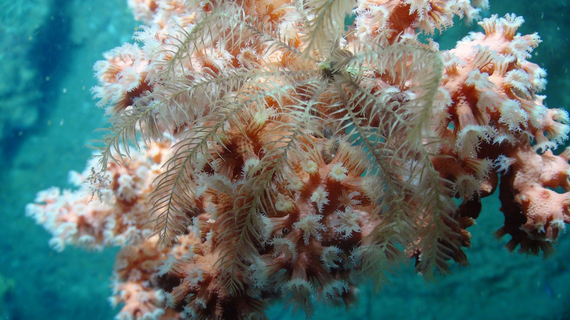 Paragorgia and crinoids in Norfolk Canyon, offshore Virgina. © Image courtesy of Deepwater Canyons 2013 Expedition, NOAA-OER/BOEM/USGS.

I get something of this same nightmare feeling of unease when I witness the conversations between representatives of industry and conservation here in New York. It seems to me that both parties fundamentally want the same thing: An ecologically healthy ocean that supports an economically vibrant city. But neither of them can hear the other or trust in their intent.

Too often these exchanges devolve into finger pointing, defensive posturing and cynicism, even though an objective analysis of their positions indicates that they are not mutually exclusive.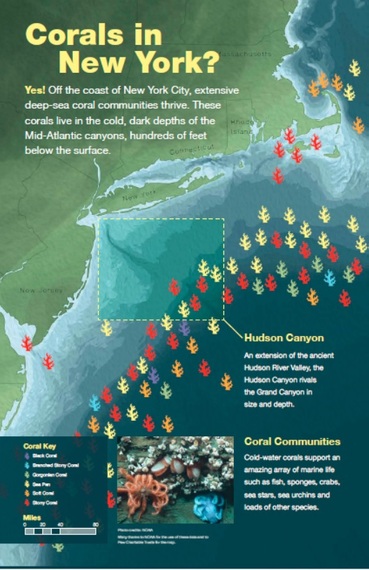 The Hudson Canyon is one of 13 submarine canyons between North Carolina and New York whose deep sea corals were protected in June by the Mid-Atlantic Fisheries Management Council (MAFMC). Graphic ©WCS Department of Exhibition Graphics and Design.

That's why I found the Mid-Atlantic Fisheries Council's recent announcement of an amendment to protect deep sea coral so refreshing. Instead of talking past each other, representatives of the commercial and recreational fishing industry, scientists, researchers, and conservationists looked for collaboration and trust.

Together they found compromises to protect the livelihoods of fishermen and the habitats of deep sea coral. This includes the astounding Hudson Canyon - the largest submarine canyon on the East coast, located just off our own shores. When the regulations are finalized, the deep sea coral protection zone (nearly the size of Virginia) will comprise the largest fishery protected area on the Atlantic seaboard.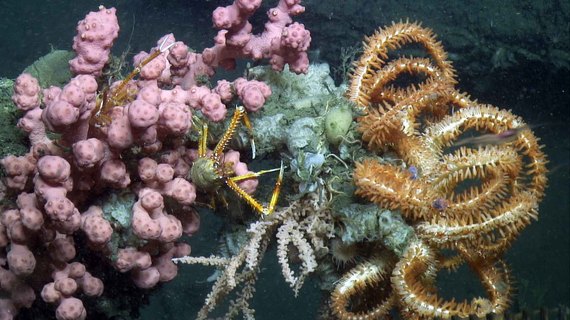 A squat lobster moves among underwater corals in Norfolk Canyon, offshore Virginia. © Image courtesy of Deepwater Canyons 2013 Expedition, NOAA-OER/BOEM/USGS.
I think that the 13,500 public comments in support of deep sea coral conservation gathered here at the Aquarium and at the Central Park Zoo helped the council reach the best possible compromise, and not just because they advocated for habitat protection.

No, I believe that the reason the council chose to display some of those 13,500 letters and drawings during final debate and voting was that they were written by children--children who we all agree deserve a bright future that includes both a way to make a decent living and a decent world to live in.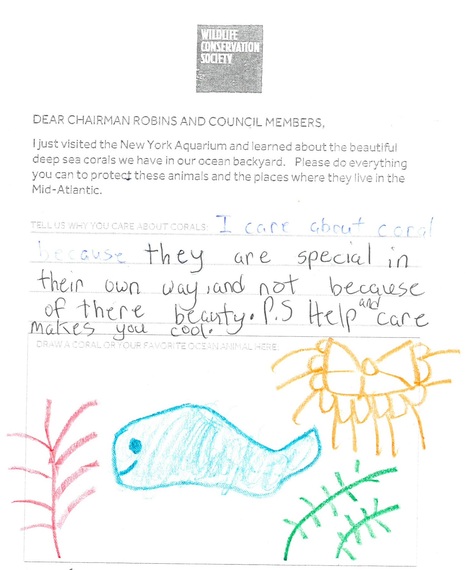 One of 13,500 letters and drawings by children submitted to the Mid-Atlantic Fisheries Council by the New York Aquarium and Central Park Zoo as the council considered protections for deep sea coral along the Eastern seaboard. Courtesy New York Aquarium.
Did fishermen want to maintain their use of gear and the depths at which they could fish? Of course they did. Did conservationists wish more deep sea coral habitat was protected? You bet. In the end, though, the council was able to bring both sides together around their common ecological interest in protecting sustainable harvests now and into the future.

Somebody pinch me... I must not be dreaming.
Popular in the Community