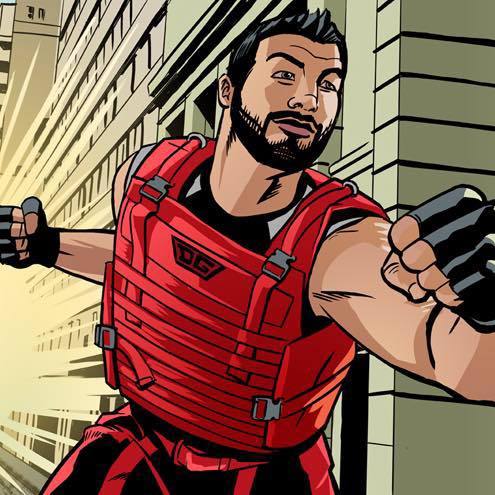 For most, dressing up and fighting crime is something we will only ever do in our dreams or in some instances, our nightmares. The average person just doesn't have the burn to go and walk the dark streets of Harlem or risk a tussle with your local street-hardened Gang Banger. For most of us, we're happy to keep to ourselves, avoid eye contact, and hopefully never have any more confrontation than that of which we face during our morning commute.
For the rest of you, there's the Dark Guardian.
The Dark Guardian is a lifelong New Yorker who's following his dream and calling to be a real-life superhero by patrolling the mean streets of New York City and doing his part to stomp out crime and fight lowlifes, pimps, and other forms of riffraff.
On any given night you might see him patrolling the streets of Brooklyn, Harlem, or Jersey City, dressed in red and armed only with a cell phone, flashlight, bullet proof vest, and a pension for confronting and hopefully scaring away drug dealers.
As a young man, Dark Guardian grew up as many of us do - inspired by superheroes and other people making our world a better place. The older he got, the worse his neighborhood grew and the burn to make a difference began to overwhelm his ability to simply watch his environment digress.
During a recent phone call, Dark Guardian shared with me that ever since he was a young man he felt the urgency to clean up his neighborhood and help make peoples lives better. He follows this calling by not only trying to help fight crime but also by handing out care packages to homeless, offering a listening ear to the destitute living on the streets, and yes, by confronting drug dealers 5 times his size and letting them know they're no longer welcome in his neighborhood.
Dark Guardian does not recommend others attempt to fight crime on the same level that he does, he realizes that what he's doing is dangerous but says that he hopes one day he will look back on his life and know that he chased the dream that he feels he was born to pursue.
Not a stranger to extremely dangerous situations, Dark Guardian tells me he's never been shot, stabbed, or kidnapped - but has feared for his life and realizes how dangerous his efforts are.
When asked about Dark Guardian's efforts and whether or not others should pursue their Super Hero predilection Safety and Victim Prevention Expert, Mike Mercer, says "People who want to fight crime in their own neighborhoods should work together with the police department. There are many ways to get involved. Start a community watch program and get local community assets involved.  Let the individual crime fighting be handled by the police."
How does Dark Guardian spoil crime for the evil doers? He has many tactics including making lots of noise and drawing attention, alerting the police, and yes - directly confront the criminal.
Dark Guardian admits that what he does is dangerous but also knows that what he's doing makes a difference - to him, to the safety of his neighborhoods, and to the people receiving his care packages.
Safety expert Mercer recommends,  "You should always call 911 or leave the area if it becomes dangerous to you or a bystander. The best thing you can do is be a good witness - I do not recommend taking the actions that Dark Guardian is."
When asked what Dark Guardian thinks of staying just a bystander he admits to being afraid for his own safety but also tells us that, "it's much easier to be brave when you are on the side of what's right." And, if we've learned anything in the past few months, our world needs a few more people who are willing to stand up for what is right.
"You can conquer fear psychologically. If you're willing to look at it for what it is. Few are. Few ever truly gaze into their fear, their pain. Fewer still embrace it." - Batman
About the author: David Pride, is a Youth motivational Speaker who helps young people navigate long seasons of setback and challenge. Always on the look out for people doing good and making our planet a better place to live, David uses his Huffington Post Column to celebrate "What's So Good About the World." Learn more about his speaking and school assemblies here: www.DavidPrideSpeaks.com
REAL LIFE. REAL NEWS. REAL VOICES.
Help us tell more of the stories that matter from voices that too often remain unheard.
This post was published on the now-closed HuffPost Contributor platform. Contributors control their own work and posted freely to our site. If you need to flag this entry as abusive,
send us an email
.