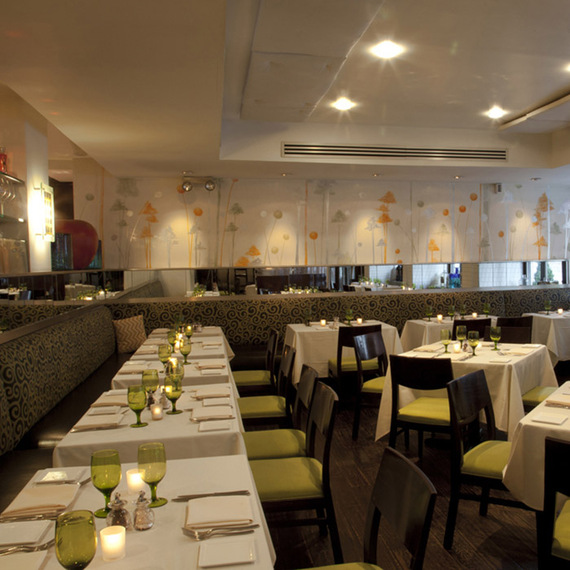 As the Willie Nelson song goes, "Ain't it funny how time slips away?" I've known restaurateur Tony Fortuna for many years as one of the true gentlemen of the profession, so it was with surprise that upon hearing he owned TBar I realized it's been seven years since I'd see him.
TBar has actually been a fixture on the Upper East Side (it used to be The Lenox Room) and is easily one of the handsomest of restaurants in a neighborhood where the creaky old J.G. Melon is the only other stand-out among storefront ethnic eateries. Melon, of course, is a hang-out for burgers and chili, whereas TBar is a full-fledged restaurant, also with burgers on the menu, with an equal number of steaks and chops, apps, salads, pastas, and a good pizza margherita ($19) for the table to share.
Executive chef Ben Zwicker has spent time in notable kitchens that include Four Seasons, Aureole, and Petrossian, and his aim at TBar is to provide consistency to a clientele that assume their favorite items on the menu to be the same every time they order them.
The premises are bright with primary colors and soft lighting, emanating from white tablecloths and from overhead lights that bounce off a delightfully whimsical mural. Comfortable banquets and chairs and votive candles on the tables lend the dining room a civilized ambiance without a whit of pretension, and newcomers will feel welcomed warmly at the front, where there is an active bar stocked with all the best labels of booze.
Our party of four began by sharing one of those crisp, delicious pizzas ($19) as well as nicely peppery "angel" chicken wings with a tangy-sweet tamarind glaze ($18). Guacamole with vegetable crudités ($27) was good, though it could have used a bit more spiking.
In a city now wall-to-wall with seared octopus dishes, the variation at Tbar, with potatoes, celery and olives ($18), is a real standout, just lightly seared and smoky, very tender and mild in flavor. Yellowfin tartare with soy, ginger and sesame seeds ($22) was cool and finely seasoned to bring out the freshness of the coarsely chopped fish.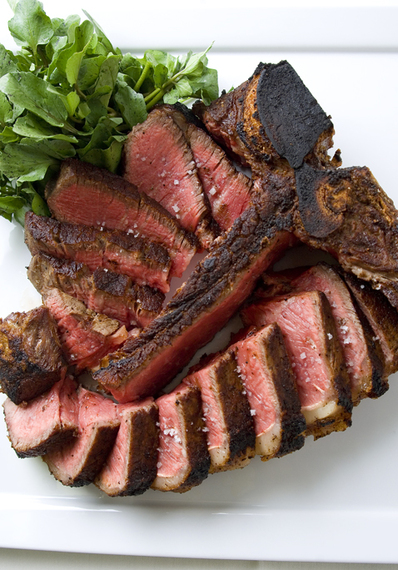 For our entrees we went with an excellent 40-ounce Black Angus porterhouse for two ($105)--though two people will undoubtedly take some home--with its complimentary choice of Béarnaise, steak or poivre sauce, and a 24-ounce bone-in ribeye ($56) that could just as easily feed two.
A "crispy Long Island Duck" with sweet potato and orange glaze ($38) hearkened back to the days when this dish was on every French and continental menu in NYC but now is rarely to be found on any. TBar's, though not as crispy as I'd hoped, reminded me how wonderful roast duck with orange sauce can be as an alternative to the endless sliced duck breast dishes now found elsewhere. The orange sauce was not too sweet, the meat was perfectly juicy, the remainder of fattiness in balance with it all.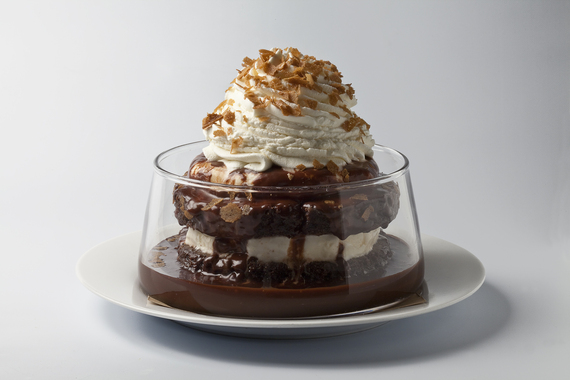 Freshly cut French fries were terrific, as were nicely seared and roasted Brussels sprouts.
The desserts at TBar are gooey wonders, not least a fudge brownie sundae ($18) that made the child in me sigh the way I once would at a Rexall soda fountain--only at TBar the chocolate and the ice cream were of higher quality. There's also a strawberry sundae and a homage to Master French Chef André Soltner in a reproduction of his chocolate mousse laced with rum and coffee ($18). True, these are expensive desserts, but no one person is likely to polish them off, so ask for two or three spoons.
The wine list at TBar has been carefully built up over the past decade, so there are some fine bargains among older bottlings.
Tony Fortuna must be very happy that his clientele is so faithful, but he's happier still when a new face comes to TBar to be cosseted and well fed in a pretty room where people can actually talk with one another.
Open for lunch Monday through Friday, brunch Saturday and Sunday, and every night for dinner. Email: tony@tbarnyc.com or manager@tbarnyc.com