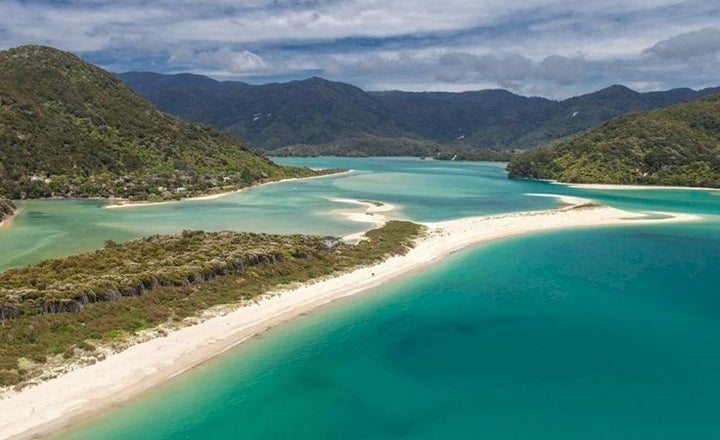 Nearly 40,000 people banded together to protect a pristine beach in New Zealand, successfully raising $2 million in a crowdfunding campaign to buy the stunning swathe of land.
On Wednesday, campaign organizers announced on Facebook that the beach, known as Awaroa Inlet, would now be in public hands thanks to the crowdfunding effort. 
"We are pleased to announce that at 10:57 p.m. last night a pristine piece of beach and bush was delivered into the hands of everyone to enjoy forever," the organizers wrote. "Congratulations everyone! We did it!!"
According to Mashable, the campaign was launched in January by brothers-in-law Duane Major and Adam Gard'ner, who learned that the beach was going up for sale as part of a 17-acre parcel of land. They worried that a private owner would limit public access to the gorgeous beach, which is accessible only by boat or chartered flight.
Fueled by this anxiety, the pair decided to start a crowdfunding campaign to save the strip of land.
"This place is special -- a slice of paradise," they wrote on the campaign page.
According to the Guardian, the campaign endured a "last-minute drama" before its eventual success, but at the 11th hour, the New Zealand government stepped in with a "modest contribution" to boost the pot. A private bidder -- who hasn't been named -- also helped the campaign reach its target. 
The land will now be donated to the adjacent Abel Tasman National Park, located on New Zealand's South Island.
"It's an outstanding outcome. I love the idea that the people of New Zealand have not only spoken, but they've put their tuppence-worth in," Maggie Barry, the country's conservation minister, said on "The Paul Henry Show" on Wednesday morning.
Major told the show that he was blown away by the success of the campaign.
"My heart is beating and I've got goosebumps and I'm just so thankful for all those people," Major said. "I always thought we could do it. I did not appreciate the crazy, freakish nature of this campaign."
Calling all HuffPost superfans!
Sign up for membership to become a founding member and help shape HuffPost's next chapter