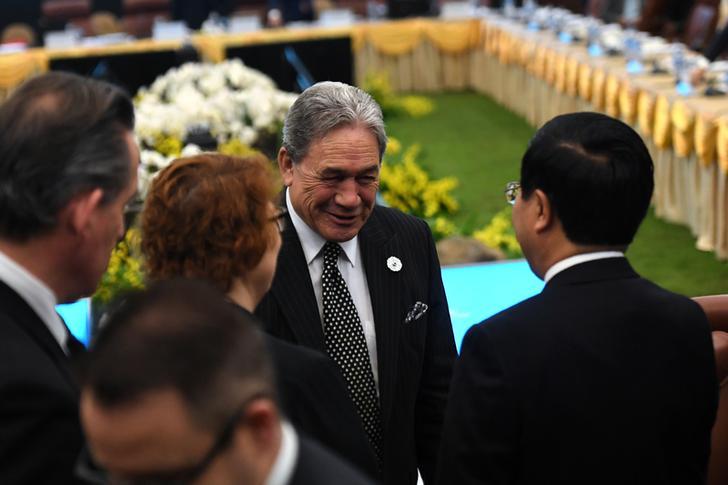 Does New Zealand Prime Minister Jacinda Ardern agree with her Foreign Minister Winston Peters that "Westerners" should not "constantly harp on about the 'romance of freedom'" in China? 
In a speech to mark the anniversary of bilateral relations, Peters invoked Janis Joplin's "Me and Bobby McGee," and then went on to note that "the Chinese have a lot to teach us when it comes to uplifting everybody's economic future."
Peters' lament—that the world apparently doesn't give China sufficient credit for its economic development—is hardly new.  Yet the remarks couldn't have been more poorly timed, coinciding with the worst crackdown on human rights since Tiananmen Square, and coming on the heels of a ferocious campaign by authorities to forcibly evict tens of thousands of migrant works from Beijing during the bitter northern winter.
This lack of interest in China's rampant human rights violations is sadly consistent with New Zealand's posture in recent years. Indeed, it would be hard for Wellington to be any less assertive than it already is.  For years New Zealand has relied almost exclusively on "private diplomacy" on human rights, a practice Chinese officials prefer because it enables them to behave as if such discussions have never taken place at all. 
New Zealand had nothing to say when imprisoned 2010 Nobel Peace Prize winner Liu Xiaobo died surrounded by state security in July 2017—which many other countries loudly condemned. Astonishingly, entering Liu's name into the Ministry of Foreign Affairs website yields the kind of result one gets when searching in China: "Sorry, your search did not return any results."
New Zealand didn't join a dozen other countries in an unprecedented March 2016 United Nations Human Rights Council statement denouncing China's abuses of human rights lawyers, or sign a joint letter with other governments in February 2017 expressing concern about torture.  In October 2016, Deputy Prime Minister Bill English memorably cancelled at the last minute a meeting with venerable Hong Kong democracy leaders Martin Lee and Anson Chan, stating but not explaining that it was "diplomatically sensitive" to meet them. 
Yet just last week the current government dispatched a Labour Party representative to a Chinese Communist Party gathering in Beijing that endorsed Chinese President Xi Jinping as a "peacemaker." No mention of the fact that he has just been selected by the ruling Communist Party for a second five-year term without a single vote from the Chinese public, or that he presides over a system where any attempt to even call for democracy can land the speaker in prison. 
When challenged, New Zealand officials defend their human rights strategy in China by saying they're a small country, and that stronger human rights interventions would be dismissed as "a mouse that roared."  Yet that mouse is assertive when it thinks its own interests are at stake, most notably by criticizing China about its aggressive posture in the South China Sea. New Zealand has little difficulty being principled by criticizing smaller or weaker countries in key international forums like the United Nations, where it holds itself up as a nation punching above its weight in defense of human rights. And China and its politics have certainly been a topic of heated debate in Wellington following the publication of a paper detailing Chinese government efforts to influence domestic politics.
If Prime Minister Ardern can poke fun at US President Donald Trump about his controversial election victory, she should be able to challenge Chinese President Xi about his not having been elected at all.
It is early days for the new and shaky coalition government, but a speech from Prime Minister Ardern setting out a clear policy toward China that highlights its rapidly deteriorating human rights situation is already overdue. Perhaps she and Peters can be inspired by another Joplin tune: "Try (Just a Little Bit Harder)."
Calling all HuffPost superfans!
Sign up for membership to become a founding member and help shape HuffPost's next chapter
This post was published on the now-closed HuffPost Contributor platform. Contributors control their own work and posted freely to our site. If you need to flag this entry as abusive,
send us an email
.