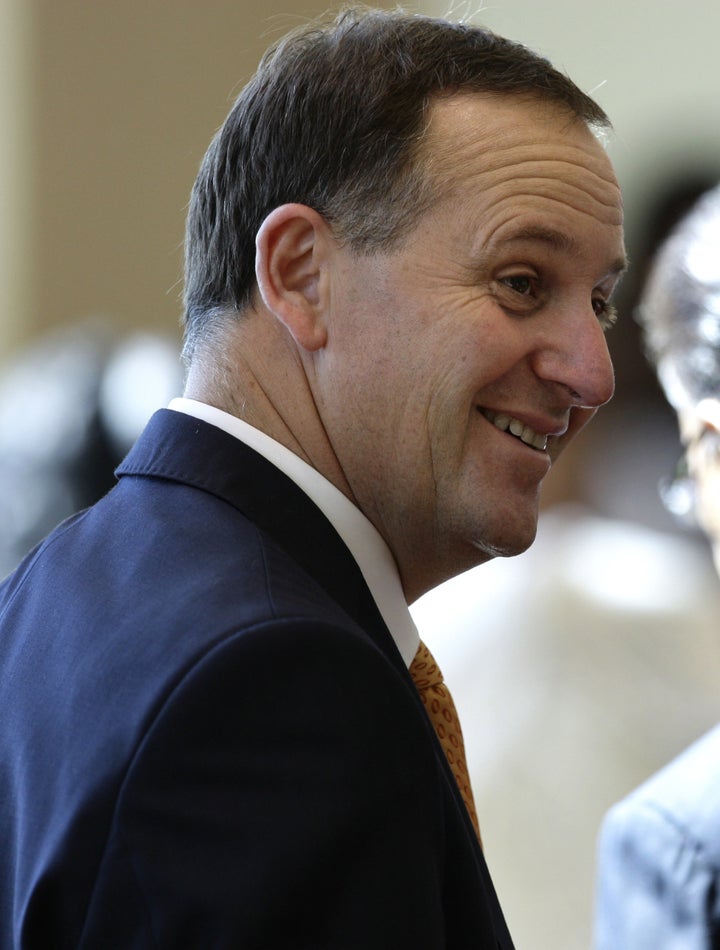 By all accounts, the New Zealand Prime Minister had a very successful visit to Washington. It went well, despite the debt crises, which consumes official Washington, and despite the tragic terrorist attacks in Norway. But the Oval Office meeting gave both leaders the chance to condemn the attacks and offer aid and condolences.
Despite the debt crises, the Prime Minister was able to meet with many of the most important Cabinet officials, lawmakers, and the president. He met with the president for about a half an hour, and then they made statements to the press corps. We reporters were very glad to get out of the sweltering heat and humidity for a while, and get into the cool Oval Office!
The President said he had "always been struck by the intelligence and thoughtfulness the Prime Minister brings to his work." (He also called the Prime Minister "Keys" two times. But, he is having a rough time). He said "the relationship between News Zealand and the United States is growing stronger by the day." President Obama said they are interested in promoting a more effective trade regime, and they hope to have a framework agreement by the time they go to Honolulu for the meeting of Asian and Pacific countries.
They also discussed disaster response, and the president said he is "still heartbroken by the loss of life and property resulting from the earthquakes."
President Obama said they discussed security cooperation in Afghanistan and the U.S. "is grateful to the outstanding servicemen and women New Zealand sent there."
For his part, Prime Minister Key called the Norwegian attacks, "an act of global terrorism" which shows "no country is immune from that risk." He thanked the U.S. for the tremendous reception and said "we're excited about the opportunities of the Trans Pacific Partnership." He thanked the U.S. for its help after the earthquakes. The Prime Minister said, "we are great friends and strategic partners. The Marines are coming down next year to commemorate their amazing contributions (70 years ago) and we are looking forward to welcoming them to New Zealand."
President Obama said he looked forward to returning the Prime Minister's visit sometime. They also made small talk about the upcoming Ruby World Cup, and we were hustled out into the heat.
Then we had a brief news conference with the Prime Minister in the Blair House -- the guest residence across the street. He was overjoyed with the trip. If he was exhausted, he did not show it, but the rest of us were wilting. He also displayed the gifts they both exchanged. Ironically, they both received ceremonial gifts of war. The Prime Minister took out his gleaming, and heavy, ceremonial sword, and pretended to bestow knight hood on one reporter. After this trip (and the one a few weeks ago to India), they probably all deserve an honor! Politics and reporting can be hard work!
Calling all HuffPost superfans!
Sign up for membership to become a founding member and help shape HuffPost's next chapter