This time, it's "New Zealand's Next Top Model" under fire for having a 16-year-old contestant pose topless, with only mud smeared across her naked breasts. Then the show posted an unedited picture from the shoot online.
According to the New Zealand Herald News the image of teenage contestant Michaela Steenkamp "appeared on [NZ's] TV3 website yesterday morning showing her posing over a rock, her body smeared with mud but with her breasts clearly shown." Several hours later, TV3 replaced the image in question with the same picture but with steam covering up Steenkamp's chest.
Below is the "After" image.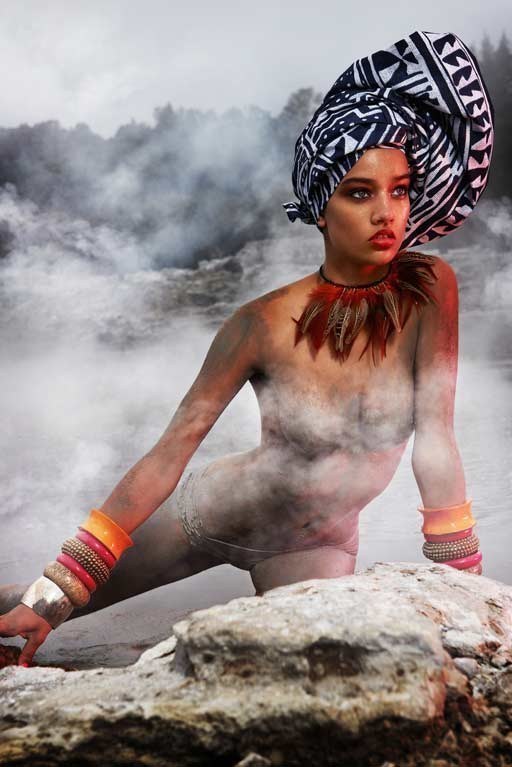 Blogger Isaac Likes followed TV3's actions from the get-go. TV3 explained to him, "Michaela....wore adhesive covers for the mud pool shoot. We make every effort to protect the girls' modesty and none of the girls are forced to do anything that they aren't comfortable doing." The station posted on Twitter, "For all those concerned about the images from last weeks [sic] episode, the girls are not naked. They have bits on their bits."
TV3 also later contacted Isaac Likes with another statement:
"I see you suggesting on your website and George FM that we "scrambled" to Photoshop Michaela & Amelia. If you watched the show on Friday you would have seen that clearly those shots never appeared on air at a 7:30pm timeslot. They went to air with steam over them and had work done for this the day after we received the images from Jackie Meiring. We were never going to broadcast Michaela "topless". This photoshoot was styled by Kylie Cooke and shot by Jackie (2 women..) - and they all had a chaperone.. their nipples were taped. The fact is, the un-photoshopped ones appeared on on our website as there were two image discs so one got uploaded in error."
We were able to watch the episode in question and the unedited shots were never on air. But what do you think? Is it appropriate for 'Top Model' to ask 16-year-olds to pose topless? Or is that part of the modeling game?