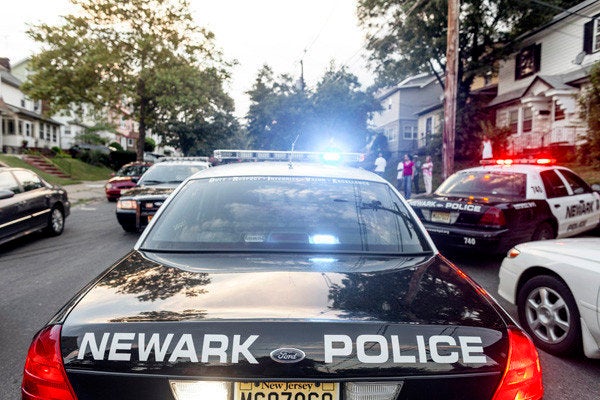 It's coming up on midnight on a sweltering July night in Newark when the call goes out from dispatch: shots fired in Vailsburg, a gritty residential neighborhood in the West Ward. The officers joking outside the 4th precinct station house scatter, scramble into squad cars and race down the darkened streets.

They find the victim, a man in his 30s, sprawled on the pavement under a crooked elm tree, a red patch spreading quickly across the shoulder of his white T-shirt. He stares up at a starless sky as paramedics arrive and take him off on a stretcher. He'll live, an officer observes. Shirtless boys gape in front yards and old women lean out of windows. The shooter escaped on foot.

Another call crackles on the radio: more gunfire in Vailsburg. Again the squad cars race. The scene is chaotic, with dozens of agitated young people swarming outside a dilapidated single-family home. At the curb sits a red Chrysler coupe with bullet holes in the rear window. Detectives scan the ground with flashlights, looking for shell casings, and a bulletin goes out for the shooter's car. Paramedics carry away a terrified teenage boy whose camouflage shorts are slick and dark, soaked through with blood.

This is policing Newark. It's a hard task in the best of times, and these are not the best of times.
Over the past three years the Newark Police Department has endured savage cuts, as the city struggled to balance its budget in the face of historic deficits. Staffing is down about 25 percent, to a little more than 1,000 officers, the lowest level in decades. Much of the decline happened quietly, through attrition, as positions of officers who retired or left for other jobs went unfilled.
But in late 2010, the city laid off 160 officers, many of them fresh from the academy, sparking widespread community angst. That year, Newark saw a spike in homicides that again drove its murder rate up among the very highest in the country, right alongside New Orleans, Detroit and Baltimore.
The police layoffs came just as New Jersey's governor and legislature slashed education spending throughout the state, including in Newark. The cuts may be a one-two punch for New Jersey's at-risk youth, some experts fear.
"Why would you decide that the first thing you want to cut is police and education?" says Brendan O'Flaherty, an economics professor at Columbia University who specializes in urban issues. "You're eating the young."
The task of running Newark's depleted police department falls to Samuel DeMaio, who rose from beat cop to police director over 25 years at the agency. DeMaio, 44, is a compact man with a neatly trimmed goatee and salt-and-pepper hair, who speaks in a gravely, rapid-fire patter. He took over as police director in June 2011, at the beginning of one of the worst sustained outbreak of violence in 20 years. By that summer's end, 32 people were dead.
Violent crime eased somewhat since then, but not the department's fiscal woes.
"If you look at the number of cops that we have today, it's the same number that we had in the late 70s," he says. "Two years ago there was an overtime budget for the police department of $20 million. Now it's $4 million."
An investment in cutting-edge technologies like gun-shot detectors and surveillance cameras is helping the department better deploy its resources. In response to falling manpower, DeMaio also pulled cops out of precinct houses and headquarters and sent them into the streets. Cops once behind desks now ride in radio cars, day and night, or patrol high-crime areas in specialized drug and gang units.
The shift means that property crimes like break-ins and thefts often get just a cursory review by investigators, according to the city's police union. DeMaio says the arrangement also ruffled feathers in a department long resistant to change. Either way, it is a policy that is here to stay.
"We're going to have to keep on doing that, because the department is going to keep on shrinking down, until we start to do some more hiring, and that's not anywhere in the foreseeable future," he says.
During the previous three major recessions, under Presidents Reagan, George H.W. Bush and George W. Bush, the public sector grew, as municipalities, states and the federal government boosted spending to stimulate the economy and offset the decline in private employment. But not this time around. At every level of government, payrolls are shrinking, often dramatically. Federal economic data show that at least 600,000 public sector jobs, from teachers to tax collectors, have disappeared since Obama took office in 2008.
Police departments are not immune. In the wake of the Great Recession, cities of all sizes and in every state have cut back on police staffing, in some cases drastically. For wealthier cities with low or manageable crime rates, such cuts can be seen as a reasonable source of savings in tough economic times. For poorer cities with serious crime problems, these cuts may mean that the cost of the current austerity climate will one day be tallied not just in dollars and cents, but in bloodshed and tears.
In cities like Stockton, Calif., and Flint, Mich., sharp contractions in police staffing were accompanied by an explosion of violence that shows no sign of abating. It is a situation that Newark's leaders desperately hope to avoid.
The struggles of municipalities have emerged as a potent issue on the campaign trail, with President Obama and his Democratic allies in Congress pushing a new stimulus bill allocating tens of billions of dollars for local public safety and education hiring. Republicans in Congress dismissed the bill out of hand, calling it pork-barrel spending that will only add to the ballooning deficit.
The Republican push toward smaller government—premised on the idea that spending cuts and lower taxes will stimulate the economy and revive struggling cities—has been even more successful on the state level. For many conservatives, a model to emulate is Wisconsin, where the newly-elected Tea Party-allied Republican governor slashed pay, pensions and health care for the state's public sector employees, then stripped their unions of collective bargaining rights.
Mitt Romney, the Republican presidential standard-bearer, enthusiastically embraces this philosophy. In a speech in Iowa in June, Romney mocked Obama's public safety and education stimulus proposal as yet another wasteful government handout.
"He wants another stimulus. He wants to hire more government workers," Romney said. "He says we need more firemen, more policemen, more teachers. Did he not get the message of Wisconsin? The American people did. It's time for us to cut back on government and help the American people."
For Cory Booker, the mayor of Newark, this viewpoint is deeply out of touch with the realities of governing in urban America. Booker has close ties to Wall Street, and clashed with Obama advisors in May after he criticized the campaign's attacks on Romney's career at Bain Capital, a private equity firm, as unseemly. But like many big-city mayors, he agrees with the Democratic president about the need for more fiscal stimulus, and calls Romney's worldview wrongheaded and deeply troubling.
"That is a reflection of a dangerous view of government, that views government as the problem, that there's no need for government, that the less government the better… that government is destructive, that government hurts communities and hurts people," Booker says. "And that's patently not true."
PHOTO GALLERY
Newark Blues
Booker took office in 2006, inheriting a city written off by many in New Jersey and the country at large as a near-hopeless case, crippled by endemic violence, economic decay and political corruption. Now in his second term, he points to numerous indicators that Newark is experiencing a long-overdue revival. Development is returning to downtown, with the construction of the first new hotels and office buildings in decades. The population is rising for the first time since a massive exodus began in the 1950s. Businesses are coming back, including major corporations lured by generous tax incentives. And the city now hosts a major league sports franchise, the New Jersey Devils hockey club.
Newark has much going for it, starting with its close proximity to New York City — Manhattan is just eight miles away — and a transportation network that includes a major port, a confluence of highways and one of the country's largest international airports. As Booker has said often since taking office, the fight to pull the city back from the brink will "live and die" on whether people can feel safe in Newark again.
To makes this happen means bringing peace to the epicenter of the city's crime problem, a patchwork of deeply impoverished neighborhoods, about 7.5 square miles in size, that surrounds the far safer and more prosperous downtown core. About 80 percent of the city's shootings take place here, in a decayed landscape of crumbling and burnt-out buildings, boarded-up homes, empty lots, liquor stores and fast food restaurants. This job is made infinitely more difficult by the city's current financial predicament and the loss of nearly a quarter of its cops. The work continues nevertheless.
On a blindingly bright morning in mid-July, the mayor gathers with other city leaders to kick off a public safety academy for several dozen Newark pre-teens. Over several weeks, they will see first-hand how the city's police, firefighters and county prosecutors do their jobs. It's one of an array of programs designed not just to stamp out crime but also to steer young people away from trouble in the first place.
DeMaio is the first official to address the kids, who sit fidgeting in folding chairs in a cavernous, hangar-like building that serves as the fire department's training facility. They are mostly black or Latino, reflecting the demographics of a city with a nearly 90 percent minority population. Well over a third of the city's children live in poverty.
"We realize that the key to our problems in this city of Newark is not to go out and arrest everyone," he says quickly and somewhat grimly, staring down at his notes. "We need to get you guys, at the age you are, and let you understand what's right and what's wrong, and turn your life in the right direction."
Booker then bounds to the podium and gives a brief though spirited speech about the heroism of the city's public safety workers.
"You may not get up-close and personal with Batman or Superman or Spiderman," he says. "But during this summer you will get a chance to be up-close and personal with men and women who are not fiction but fact, every single day, being the heroes that I most admire."
It's a nice image, but in reality, Booker's relationship with the police department is considerably more nuanced, as he acknowledges afterward to Huffington. In late 2010, he sought concessions from the police union on benefits, pay and perks that he argued would prevent most if not all of the looming layoffs. While other city employee unions took the cuts, the cops stood firm. It was a difficult political moment for Booker, and he now feels that the police union wields too much clout. "We have some reforms to do, where public sector unions have to work with us," he says.
The police union, for its part, accuses Booker of playing bait-and-switch, authorizing a generous new contract before the 2010 election, then seeking to dissolve it after his second term was secured. James Stewart, president of the Newark Fraternal Order of Police, maintains that the concessions requested by the mayor amounted to roughly $10,000 per officer. "That was deemed unacceptable," Stewart says. (Booker's office calls that figure wildly inflated.)
The mayor's bitter fight with the police union makes for good political theater, but it mostly serves to obscure a larger truth: Newark is caught, like so many other cities, in the teeth of a brutal economic crunch that is national, even global, in scope. Over the past five years, New Jersey municipalities lost a collective $700 million in state aid due to budget cuts, according to data compiled by Raphael Caprio, a Rutgers professor. Those cuts, in tandem with hits to local tax collection, forced virtually every major city in the state to slash vital public services, including police.
It's a pattern being replicated across the country, from California to Michigan, and Pennsylvania to Florida. In cities where cuts ran deepest, crime is climbing, defying a national downward trend. And in almost all cases, these cuts would have been even deeper if not for federal assistance, particularly from the 2009 stimulus package. With the stimulus exhausted, and an anemic recovery underway, these cities may have further to fall.
Some national Democrats, like Vice President Joe Biden, have drawn an explicit link between shrinking police departments and rising crime. For Booker, though, the relationship between police staffing and crime is more complicated. "Simplistically, we say, 'crime bad, more cops.' But that's not the answer," he says.
He agrees that cities need well-staffed police forces. But turning the corner on crime over the long term requires other strategies as well. Booker says these include drug treatment, re-entry programs that connect newly-released prisoners to jobs and social services, and specialized courts that aim to keep addicts, the mentally ill and veterans from cycling in and out of the legal system.
The Obama administration has invested in these strategies, steering millions of dollars to fund drug treatment, prisoner re-entry and similar programs in cities like Newark. The Justice Department has pushed to reduce mandatory sentences for non-violent drug offenders. And some recent reports suggest Obama may push for substantial new reforms in federal drug policy in his second term. Mitt Romney, on the other hand, has made little or no mention of crime, urban policing or criminal justice system reform in the nearly two years of his current presidential bid.
"Mitt Romney's policy is scary to me," Booker says. "He's not talking about the innovative programs that Barack Obama supports. He's not talking about the kind of funding that would fuel an urban agenda. In fact, I haven't heard him talk about an urban agenda at all." A spokeswoman for Romney's campaign did not respond to a request for comment.
Yet Booker is himself not immune to criticism on the issues of crime and spending. To some observers of Newark politics, he has been too cozy with Chris Christie, New Jersey's fiscally conservative Republican governor, who pushed through dramatic cuts in aid to the state's struggling cities over the objection of many Democrats.
Christie's first public appearance after his election in 2009 was in Newark, with Booker by his side. Booker told the crowd that the new governor had pledged to help him on crime reduction. Since then, their relationship has remained more than cordial: the two have appeared in public repeatedly and even filmed humorous Web videos together.
Booker should be criticizing Christie more vocally on public safety, says O'Flaherty, the Columbia economics professor. Instead, he says, Booker has mostly given the governor a pass. "The fact that several major cities in New Jersey are in terrible shape is Christie's problem," he says. "Cory is letting it not be his problem."
Booker deflects the criticism, saying he repeatedly asked the governor and legislature to moderate the deep cuts in aid to the city and to provide more help on public safety, to little avail. "Some of those cuts were justifiable, and some of those cuts were not," he says. "We as a state should be finding ways to prioritize public safety better than we are right now."
Newark typically sees a spike in violent crime during the summer, as bored and frustrated young people commit robberies, fight in the streets or shoot at each other from cars in drug-related disputes. In a bid to disrupt the violence, the police department's latest strategy is to flood crime-prone areas with cops in a high-visibility show of force during the evening and early morning hours.
Al Burroughs, a Newark police lieutenant, helps lead this effort in the field. Late on a Tuesday night in July, Burroughs stands by the department's mobile command post, a hulking blue-and-white van, puffing thoughtfully on a cigar. Sawhorses and squad cars with lights flashing shut down the block. Across the street sits a public housing project, a sprawling complex of squat, ugly brick buildings known as a hotspot for gangs and drug crime.
Out in the streets, teams of officers patrol on foot, while gang and drug units in convoys of marked and unmarked cars swoop down on known hot spots, driving suspected drug dealers off the corners, at least for a short while. A few undercover narcotics units, meanwhile, are using hard-won intelligence to set up sting operations in a bid to take down bigger fish.
One of the major flaws in the department's strategy seems to be that its depleted manpower means that even as it floods one problem area with cops, pressure is lifted from other crime-prone neighborhoods. "Right now it's quiet. But crime gets displaced while we're here," Burroughs says.
He believes that the city's gangs are well aware of the police department's cutbacks. "They know that we're restricted with resources," he says.
It has been a tough couple of years for the police force. Many officers lost close friends during the layoffs. They watched crime rebound after it fell to some of the lowest levels in decades just a few years ago. And just seven months after the layoffs, Willie Johnson, an extremely popular 16-year veteran of the force, was killed in a drive-by shooting while standing in line at a local pizza joint.
Johnson worked in the 5th precinct and Burroughs considered him a good friend. He left behind a wife and two young daughters. "He was killed in the same precinct he worked in," he says.
For officers like Burroughs, there's little they can do about the broader economic forces shaping the city and their department. But they must carry on. "The bottom line is that we've got to do more with less," he says.
In a time of widespread fiscal hardship, this refrain is surely familiar to workers of all stripes, whatever sector they fall in. Yet Newark's cops do not work at an ordinary job, like the rest of us.
Their work is closer to being a soldier on the front lines of a ceaseless, low-intensity war. As Burroughs tells it, less than 24 hours earlier an officer in the next precinct over was patrolling a low-income housing development when gunfire erupted from two cars circling the block. The officer called for backup, then charged after the shooters, who shot a few rounds at him. They missed. "He went straight into the line of fire," Burroughs says.
Two teenagers bailed out of one of the cars and fled on foot. They were pursued and tackled to the ground, and a pistol was recovered from the vehicle. The next day's paper buried a summary of the shootout in the back pages. It was nothing special for the Newark police.
"It's a dangerous job," Burroughs says. "This is real. It's not TV."
REAL LIFE. REAL NEWS. REAL VOICES.
Help us tell more of the stories that matter from voices that too often remain unheard.