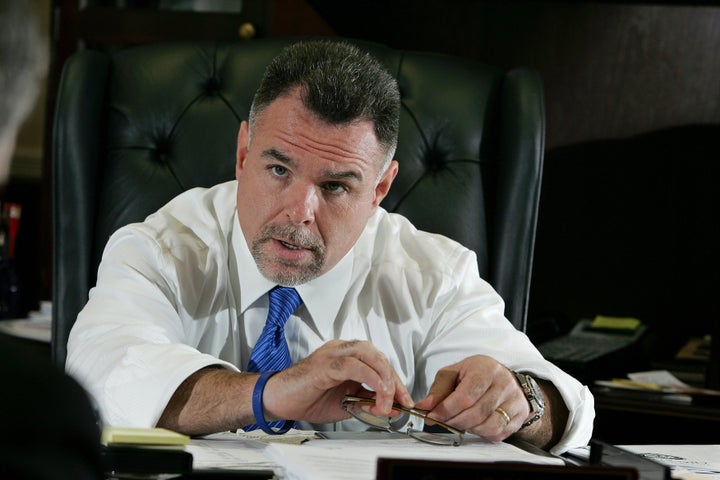 As Chicago prepares to welcome its new police superintendent, Newark Police Department Director Garry McCarthy, federal authorities have launched an investigation into the New Jersey department--months after the American Civil Liberties Union complained of rampant misconduct and lax internal oversight.
U.S. Attorney Paul Fishman says the probe will look into allegations of excessive force, discriminatory policing and poor treatment of detainees in holding cells. They will also investigate whether officers retaliate against those who legally observe, or record, police activity.
The assistant attorney general for the Civil Rights Division says the department did a preliminary investigation before deciding to launch a formal probe.
In a 96-page filing to the Department of Justice in September, the ACLU called for federal oversight of the city's 1,300-officer department because of lax internal oversight and a high number of excessive force and misconduct complaints against the department.
The city laid off more than 160 police officers at the end of last year to close a budget gap, marking the city's largest force reduction in 32 years. Last week, Garry McCarthy, Newark police director since 2006, announced that he was leaving to take a job as the acting head of the Chicago police. He was selected by Chicago's Mayor-elect Rahm Emanuel and dubbed "one of America's best police chiefs" by former NYPD police commissioner and LAPD chief William Bratton.
In 2008, after a series of embarrassing scandals involving the Chicago Police Department, outgoing Chicago Mayor Daley hired former FBI leader Jody Weis to head the CPD and clean up the department. During his tenure, Chicago's homicide rate fell to its lowest since 1965 and there was a 42 percent drop in complaints against officers. His tough response to police misconduct and his outsider status, however, cost him support from the rank-and-file, and Emanuel pledged to unseat him.
"Director McCarthy came to Newark promising to reform Internal Affairs, and it simply hasn't happened," the New Jersey ACLU said in a statement. "The Newark Police Department remains in need of fundamental changes to ensure accountability. Now, our primary concern is that Mayor Booker conducts an open and transparent process for his next appointment so that the public knows what it's getting."
Newark police and city officials, including Mayor Cory Booker, had called some of the ACLU's allegations frivolous and inaccurate when the petition was filed, arguing that the group skewed the data and exaggerated problems.
McCarthy said he had implemented several reforms in the department since taking over in 2006, including an agencywide performance monitoring system, new compliance and integrity tests to ensure that complaints were properly received and processed by the department, and revamping the internal affairs division.
Of 26 civilian lawsuits against the police that were cited by the ACLU in its petition, more than two-thirds of the incidents predated McCarthy's tenure.
Deputy Chief Samuel DeMaio, a longtime law enforcement officer in the city, has been named acting police director in Newark in the wake of McCarthy's departure.
Emanuel's team said in a statement Monday that McCarthy instituted "aggressive and successful reforms" during his tenure in Newark. They also said McCarthy asked the DOJ to work with Newark to study its reforms.
The ACLU filing cited 418 instances of misconduct that included officers breaking a man's jaw and eye socket during an arrest and seven deaths attributed to Newark officers. The deaths included shootings or ignoring urgent health complaints, the filing said. The organization said that out of 261 complaints filed with the police department's internal affairs division between 2008 and 2009, only one complaint, alleging an improper search, was found credible.
The ACLU petition also said the city had paid $4.8 million over 2 1/2 years to settle 38 cases brought against police by residents or department employees, with at least three dozen lawsuits pending.
Deborah Jacobs, executive director of ACLU's New Jersey chapter, said Monday that the ACLU had been calling for federal intervention in the Newark Police Department since 1967.
"The announcement that the DOJ will bring its resources and expertise to our city and hold the NPD accountable marks a critical moment in our city's history," Jacobs said. "The cries of Newarkers have finally been heard."
Newark police and city officials called the allegations frivolous and inaccurate when the ACLU petition was filed, arguing that the group skewed the data and is exaggerating problems that the city for years has been working with the ACLU to address.
Support HuffPost
The Stakes Have Never Been Higher
Related
Popular in the Community