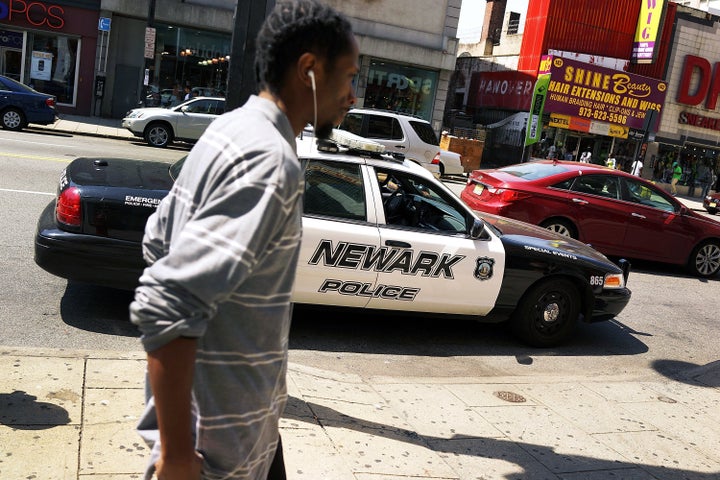 WASHINGTON -- Newark, New Jersey, residents who record police activity won't have to worry quite as much about being wrongfully arrested under a deal reached with the Justice Department designed to end widespread unconstitutional practices uncovered by a federal probe.
Under the agreement, the Newark Police Department will train officers that those who "witness, observe, record, and comment on or complaint about officer conduct" are engaged in behavior "secured and protected by the Constitution and laws of the United States."
An investigation into the Newark Police Department released in July 2014 indicated that 75 percent of pedestrian stops made by Newark officers did not have legal basis, that black residents were stopped at a much greater rate than white residents, that officers retaliated against individuals who questioned police actions, and that officers used unreasonable force in more than 1 of 5 cases. The probe even found that Newark officers in the specialized drug and gang units stole property and money from citizens and conducted inadequate investigations into those complaints.
The findings came just weeks before protests in Ferguson, Missouri, after the death of 18-year-old Michael Brown brought national attention to patterns of unconstitutional policing.
At the time the Justice Department released its investigation, Newark had settled three lawsuits that resulted from police officers improperly stopping citizens from recording police activity. While a 2011 guidance letter instructed officers not to arrest individuals simply for recording, the investigation found the department didn't adequately explain when an officer had an excuse to arrest someone recording police activity.
The DOJ deal is intended to help end so-called contempt of cop arrests, when police retaliate against individuals engaged in lawful activity by illegally taking them into custody.
Newark police officers will be banned from taking action unless an individual violates the law, incites others to violate the law, or "refuses to comply with an officer's order to observe or record from an alternate location and the bystander's presence would jeopardize crime scene integrity or the safety of the officer, the suspect, or others."
The deal will force Newark to "ensure that officers do not take any police action in retaliation for individuals lawfully exercising their right to witness, observe, record, comment on, or protest police activity. This includes detaining, searching, arresting, issuing a citation, or using force in response to non-criminal statements or other expressive conduct, when the officer would not have taken such action in the absence of the statements or expressive conduct."
While recording the police is protected activity, police officers don't always treat it that way. In rare cases, illegal arrests of individuals recording police activity have resulted in criminal charges against the officer. A former Connecticut cop was sentenced to prison after he arrested a priest who recorded him and then lied to cover up the unlawful arrest, and a former New York City Police officer was recently indicted for lying about the arrest of an individual who recorded him.
Under the deal, Newark police will also have to improve their troubled internal affairs system. The consent decree states that the department will conduct regular "integrity audits" to identify officers who refuse to accept or discourage the filing of misconduct complaints, or provide false or misleading information about filing complaints.
New Jersey U.S. Attorney Paul Fishman said at a press conference on Wednesday that Newark Police training "has promoted a view that living or simply being in a high-crime area is, in and of itself, criminally suspicious."
Vanita Gupta, who heads the DOJ's Civil Rights Division, said at a press conference on Wednesday that "changing policies, improving systems and rebuilding trust in policing will not come easily" in Newark or anywhere across the country.
"Change will not happen overnight. In many ways, the tough, complex and challenging work still lies ahead," Gupta said. "But precisely because of the dedicated leaders in this city – from government, to law enforcement, to the community – I know that we can tackle these challenges."
Support HuffPost
The Stakes Have Never Been Higher
Popular in the Community