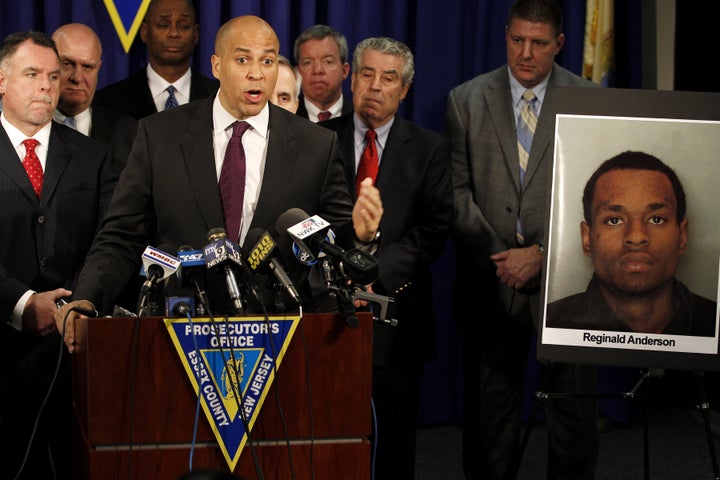 NEWARK, N.J. -- Early on a recent Wednesday morning, a 23-year-old former cop named Robert looked out to his driveway and noticed his car was gone.
He had left it idling out front, to warm it up amid the winter chill while he finished getting dressed, and had not imagined someone might steal it. Less than two months earlier, he was still working as a cop, and seen frequently around the neighborhood in his uniform. But Newark had just laid off 162 police officers, Robert among them, dealing a blow to a community that had seen significant gains in rolling back crime.
Robert picked up the phone to call his former coworkers and seek immediate help. But after reporting that his car was gone, he waited 15 minutes for a patrol car to arrive, worried that each passing second made it less likely the cops would catch the thief before a successful getaway. Twenty minutes passed, he later recalled. Then 30.
"Your average, run-of-the-mill stolen car, we don't got time for that," said detective James Stewart, 42, a 16-year veteran of the force. "As the night goes on, you're in catch-up mode."
As communities throughout the nation grapple with widening budget deficits, some of the statistically most dangerous cities are imposing cuts to the department they have tried hardest to protect. Police layoffs have sparked new concern about crime in metropolitan areas that have seen progress, raising fears that cops on the beat are being thrown into dangerous situations with less backup and fewer resources.
Cuts to the force can have "bad guys assuming there are no officers to respond, whether there are or not," said Geoffrey Alpert, a criminologist at the University of South Carolina. "They think they can get away with stuff."
Oakland, Calif., the fifth most dangerous U.S. city according to an analysis of recent FBI data, laid off nearly 10 percent of its police force last July. East St. Louis, Ill., just across the river from the nation's single most dangerous city by FBI data, laid off more than one-quarter of its police this January. Later that month, Camden, N.J., the country's second most dangerous city, laid off nearly half of its cops.
Newark, which ranks 23rd on the list of dangerous cities, laid off 13 percent of its force in December, and crime has since spiked. In the 11-week period since the layoffs, auto thefts are up 40 percent compared to the same period a year earlier, according to the city's data on reported crimes. Murders are up 73 percent. Carjackings have increased more than fourfold. The number of shooting victims has more than doubled.
Police Director Gary McCarthy maintains that reorganizations in the police department have ensured that there are no fewer officers patrolling the street. The crime spike, further, can't be wholly attributed to the layoffs. But other city leaders don't share the police director's confidence.
"You're cutting deeper into the bone," said Newark councilman Darrin Sharif, who grew up in the city. "That has devastated our efforts to fight crime, and it will take years and years and years to recover."
In crucial ways, the police department's ability to protect citizens has been compromised. Crime-prevention units, composed of aggressive rookies, have been eliminated. With the department stretched thin, police officers have been authorized to drive alone on midnight tour, a practice that gives the appearance of a stronger police presence, and which officers say is unsafe. As jobs pile up, response times for certain offenses, cops say, are now significantly longer.
The layoffs came as a last resort. Between 2008 and 2010, Newark's special tax collection, which includes revenue from hotel, payroll and parking taxes, dropped by nearly a third, according to the city's financial statements. Aid from the state of New Jersey, another crucial source of revenue, dropped by 40 percent.
Desperate for savings as costs rose and revenue withered, Newark Mayor Cory Booker slashed nonuniform payrolls and imposed furloughs on employees. As the city closed libraries, and even proposed cutting toilet paper from municipal offices, Booker pledged to preserve funding for the police department.
But then, late last year, after negotiations fell apart, the city opted for an uncomfortable choice: significant reductions to the police force.
"We're facing, literally, the worst economy of our lifetimes," Booker said in an interview with HuffPost. "It came to a point where we couldn't cut enough to make up for the tremendous budgetary shortfall."
Laid-off cops have contended with the grim realities of unemployment. A year's pay for a rookie cop was $42,000. Some have found lower-paying jobs. Others collect unemployment benefits.
Stephanie Diaz, 26, a former uniformed cop, was entering her final month of pregnancy when she lost her job. She was given one month of health coverage, she says. As December was ending, and the baby had not been born, she was forced to induce labor.
"We had to have him on the 30th or the 31st, because our insurance was only till the 1st," she said. "We had to make sure he was covered."
The department, meanwhile, struggled to compensate for its loss. In accordance with city rules, the greenest employees were fired. These young officers were by many accounts the most aggressive on the force, the most eager to improve their community.
"We were these young, ambitious cops. And we came out, and we policed," said Ahmad Stuckey, 29, a former plainclothes detective who graduated from the police academy in 2008 and was laid off in December. "You need the guys that do the suppression, that go out and are proactively policing."
Police Director McCarthy contends that the force has maintained its potency. The department underwent a structural overhaul. It streamlined its operation, re-deploying senior detectives to street patrol and eliminating staff positions. Mounted and aviation units were scrapped, and homicide and major crimes divisions were combined.
"By collapsing the bureaus and putting them on the ground -- it's like what a corporate organization does when it flattens out," McCarthy said. "We cut on every single level and eliminated jobs, resulting in virtually the same number of cops on the street."
But when the city laid off officers, it lost crime-prevention programs. One such initiative, Operation Impact, which targeted high-crime areas, had a proven track record. In a statement early last year, the mayor's office praised such preventative policing. Crime in the zones where Operation Impact was implemented, the mayor's office said, was down 35 percent.
Young officers were the mainstay of Operation Impact, which has since been disbanded. The police academy, which normally would train incoming classes, now has no students, imperiling the future of crime-fighting in Newark.
"If you arrest the guy walking down the street with the gun, then he's not committing another crime. He's not shooting somebody, he's not killing somebody, he's not robbing somebody," Stuckey said. "And those units are short-staffed or don't exist."
To maximize its remaining resources, the department has authorized one practice that cops say is particularly dangerous. In a letter dated Feb. 18, the local lodge of the Fraternal Order of Police complained that the southern bureau had been sending out cars of single officers -- without a partner -- after midnight. A memorandum issued in 2004 forbade this use of "alpha cars" late at night, a practice that many say can put officers' lives at risk.
In response to the letter, Director McCarthy rescinded the 2004 memorandum.
"Bureau Commanders shall use their discretion when deploying one-officer units within their commands," reads a new memorandum signed by McCarthy.
On a weekend night in February, a veteran officer expressed dismay when he learned that the rule had been rescinded. The officer, who is not authorized to speak for the department, said that in the county where he was previously employed, the use of single-officer cars had led to tragedy.
"It's unsafe," he said repeatedly, shaking his head. "You can't have single guys out there. You need another pair of eyes."
With fewer officers on the force, the department now responds to fewer calls. For years, the department has adhered to a strict ranking system to prioritize calls for service: A commercial robbery in progress or a sexual assault is a higher priority than, say, a home burglary that has already occurred. A call to assist an officer is a higher priority than, for instance, a stabbing in progress. Shoplifting is a higher priority than prostitution.
The bottom 20 percent of calls for service now get removed from the queue, McCarthy said. The police director and his spokespeople did not respond to requests to elaborate on that figure.
Stuckey, the laid-off detective, recounted a recent case in which a resident of western Newark saw two strange men in her backyard. She called the police, Stuckey said, but no cops arrived.
As officers are forced to play catch-up, it takes longer for them to respond to jobs, said Stewart, the veteran detective, who also serves as first vice president of the local lodge of the Fraternal Order of Police. High-priority jobs -- shootings, robberies and the like -- still get fast service. On a night in February, at least five police cars arrived at the scene of a commercial robbery within minutes of getting the call.
But other callers aren't so fortunate. For domestic squabbles that don't include violence, and even for drug-dealing, response times can be hours long, Stewart says.
"After a while, the activity on the street starts to mushroom," said detective Derrick Hatcher, president of the local FOP. "I'm not saying we're not functioning properly at this point, but right now the officers are doing double duty."
McCarthy, the director, flatly denied that some response times are longer. The department does not keep records of such information, according to detective Adolfo Furtado, who handles Open Public Records Act requests for the police department.
Robert, the laid-off cop whose car was stolen, now spends hours counting police cars that drive down his street. He lamented that he can't be out there with them.
"I feel for the officers' lives, and for us, as a people," he said. "What are we supposed to do now? It's not safe out here."
Popular in the Community