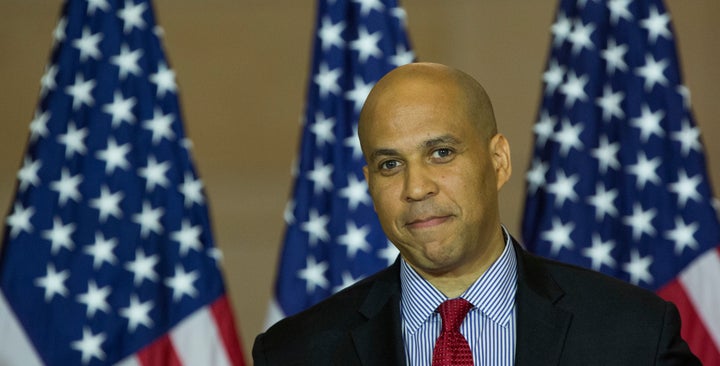 Elevated levels of lead and discoloration caused officials to shut off the water taps at 30 schools in Newark, New Jersey, on Wednesday.
The state Department of Environmental Protection and the city's school district are currently using alternate water sources, according to a joint release from both parties.
City officials have emphasized that this is a problem with lead piping in the various schools and that overall Newark's water is unaffected.
"The problem is localized in the finite number of schools, and those are the schools that are the oldest and still have lead piping," Frank Baraff, the city's communications director, told The Huffington Post Wednesday. The city's water supply is "perfectly safe," he said.
Baraff, who said the school district and state officials are committed to total transparency as they work to alleviate the issue, also stressed that the situation is not as severe as the ongoing water crisis in Flint, Michigan.
Still, there was no mistaking the seriousness of the issue. The affected buildings range from high schools to elementary schools citywide. Baraff said he's been communicating with local hospitals in the area, and that families have already started bringing in their children for blood tests.
"At this point, the main recommendation is... don't drink the water in any of the schools," Baraff said.
Newark, a city of nearly 300,000 residents, has the largest school system in the state by student enrollment. More than 25 percent of Newark residents are under 18. More than 80 percent of residents are non-white, and nearly 53 percent of residents are black.
Newark's water woes are the latest reminder that Flint's not the only city with lead pipes. In recent weeks, officials in Sebring, Ohio, and Jackson, Mississippi, have spoken about the high levels of lead in the local tap water.
Baraff said that drinking the schools' contaminated water on a short-term basis wouldn't cause any health concerns, but said he did not know if there might be any long-term effects. The DEP said some of the lead levels found in Newark schools were higher than the Environmental Protection Agency's "action level" for lead, a threshold for additional monitoring, testing and remediation.
U.S. Sen. Cory Booker (D-N.J.), a former mayor and councilman in Newark, said he and his staff would closely monitor the situation and offer any assistance necessary to remedy the problem.
"I am deeply concerned to learn that 30 Newark schools have tested for elevated levels of lead. As evidenced by the public health crisis unfolding in Flint, lead in our drinking water is a national issue that requires a robust response from every level of government," Booker said in a statement. "Under no circumstance should the health and safety of our children be jeopardized, particularly when they are supposed to be in the confines of a safe learning environment."
"This problem exists throughout the country, not just in schools, but in older buildings that contain lead pipes."
Newark-born Rep. Donald Payne (D-N.J.), who represents the city, said in a statement on Wednesday night that he was troubled to learn of the situation.
"While the state's Department of Environmental Protection has indicated that the water system poses no health risks to our students, the situation underscores the need for action to fix or replace lead-contaminated water pipes that threaten the city's safety," he said.
"I traveled to Flint, Michigan last week to raise awareness of that city's water crisis. The last thing I want to see is a repeat of that crisis in my home city."
Schools have not been closed or delayed, but the city has shut off all drinking water fountains in the 30 schools where elevated levels of lead were recorded. They will remain off until further tests are completed.
All drinking water has been replaced with water coolers and bottled water for the time being, according to the DEP. Baraff said officials will be delivering two pallets of water to every affected school.
"Parents should have no concerns about students' water and food consumption at the school while the situation is addressed," the DEP said in a release.
The state Department of Health is working with the DEP to resolve the issue. Newark's Health Department is also giving free blood tests to children.
Julia Kathan, director of public relations and communications at the Community FoodBank of New Jersey, said the organization has already pitched in to help, delivering 120 cases of bottled water to Roberto Clemente Elementary in Newark.
"The FoodBank stands ready to offer any assistance we can in the coming days," she said.
Baraff said the issue won't be going away any time soon, and that in fact, it's not even clear how long it's been going on already. He emphasized, though, that the problem stems from outdated lead piping -- not improper water treatment, as in Flint.
"This problem exists throughout the country, not just in schools, but in older buildings that contain lead pipes," Baraff said. "It's a problem that is found in other schools in New Jersey, and it's a problem that's a nationwide problem in the older cities that still have a lot of lead pipes."
"Newark's schools have been around for a long time," he continued. "And at every level, you have schools that are old."
Before You Go

America's Most Endangered Waterways (2013)
Popular in the Community