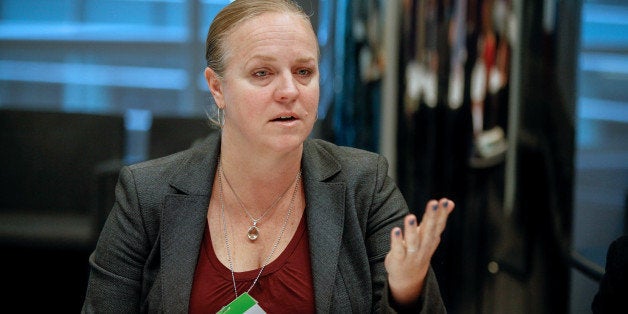 Instead of going to class or eating dinner at home with their parents, a group of New Jersey students has been living inside the headquarters of Newark Public Schools this week.
Since Tuesday evening, eight students have occupied the office suite of NPS Superintendent Cami Anderson. The students -- who belong to a group called the Newark Students Union -- do not intend to leave until Anderson meets with them and hears their concerns about how the district is being run, Thais Marques, a local community organizer who has been staying with the students, told The Huffington Post. The students also want Anderson to agree to go to the next district advisory board meeting. Anderson stopped attending these public community meetings last February, after facing verbal attacks.
The students have been sleeping in the superintendent suite with Marques and one other community organizer. Both organizers come from New Jersey Communities United, a group that provides organizing space and resources to the Newark Students Union. Some members of the group have been sleeping on the floor or on a miniature couch, and others have been sleeping sitting up, said Marques, who co-founded the student group in 2012 when she was at NPS.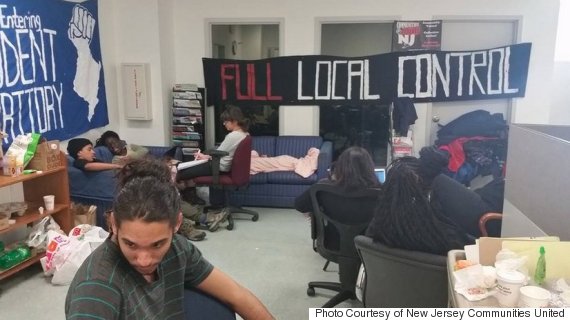 Students at the NPS headquarters this week. (Photo courtesy of New Jersey Communities United)
Parents and community members have brought the group meals and other resources such as clean clothing. While some students came equipped with basics like deodorant and toothpaste, others are relying on care packages that NJCU organizers are putting together, according to NJCU Executive Director Trina Scordo. They have not showered during the sit-in.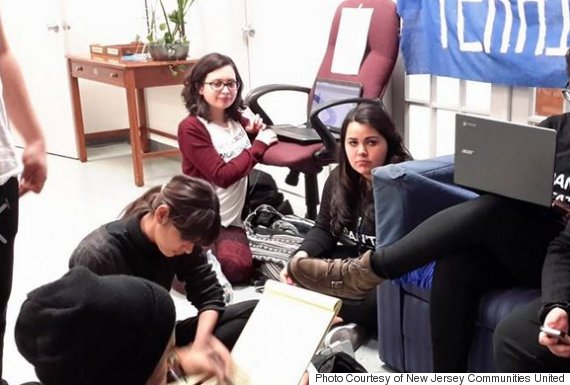 Members of the Newark Student Union discuss their sit-in strategy. (Photo courtesy of New Jersey Communities United)
Still, spirits are high, high school junior Tanaisa Brown told HuffPost.
"It's all positive vibes and energy. We have everything we do need," said Brown, the secretary of the Newark Students Union. "I got to see my mom and little brother and they ordered food for us. Things are going well."
The group's long-term goal is to see the district returned to local control, says Brown.
"We want to have an open and honest discussions with [Cami Anderson]," said Marques. "She's making decisions completely without engaging the community."
HuffPost reached out to NPS for comment and is waiting to speak with the district's spokeswoman.
The mayor of Newark, Ras Baraka, stopped by the sit-in Thursday to support the students, according to NJ.com. Baraka believes NPS should be locally controlled and has repeatedly criticized Anderson.
"They are obviously frustrated [about] not being able to have a voice," Baraka said of the students, per the outlet. "I am also frustrated."
UPDATE: 3:25 p.m. -- The students met with Anderson on Friday morning. A statement from the district described the meeting as "productive."
"We see this as a promising step towards an ongoing constructive dialogue where both sides are heard and valuable learning time is not compromised," said the statement, provided by spokeswoman Parmley.
On the other hand, a statement from the Newark Students Union told a different story.
"Due to her continued inability to have an open and constructive dialogue with us, she has inevitably created a deep mistrust against the administration and its policies," the students said after the meeting. "At this point, the students remain committed to the demand that she resign immediately and return to the monthly public school board meetings beginning Tuesday, Feb. 24th. We must continue the dialogue and develop a process for selecting her replacement."
UPDATE: 4:02 p.m. -- Later Friday afternoon, students announced that they would be ending the sit-in at 5:30 p.m. The students are "claiming victory" and will "continue to escalate demands for Cami Anderson to resign and to restore local control to the Newark Public School System," according to a statement from New Jersey Communities United.

Before You Go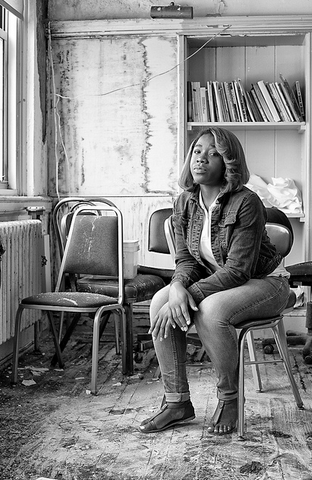 The State Of New Jersey Schools
Popular in the Community