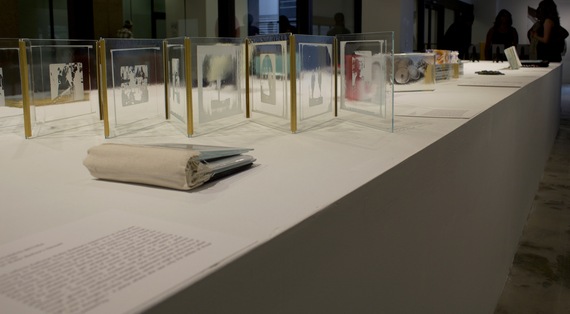 Some exciting things are happening in Newark, New Jersey. It is quickly becoming a new cultural hub. Its Gateway project located in the Gateway Center (built in 1932), is becoming the centerpiece of this extraordinary renaissance. The brainchild of two amazing women.
Rebecca Jampol and Jasmine Wahi, both of whom brought this artistic multi-disciplinary complex to its current fruition share director-ship, each bringing their substantial backgrounds and passion for the arts to an environment that serves not only as exhibition space, but residency program for emerging and mid-career artists, as well as a refuge where artists can rent studio space.
Currently on view, but closing eminently is Provisions from the GLASSBOOK PROJECT. The creation of artist Nick Kline, who has produced several of these outstanding bodies of work in glass. Included in his fragile portfolio of glass book works, are a number of tableaux with themes of Domestic Violence, 9/11, and thrill seeking after combat, to give you an idea of just a few of his other collections.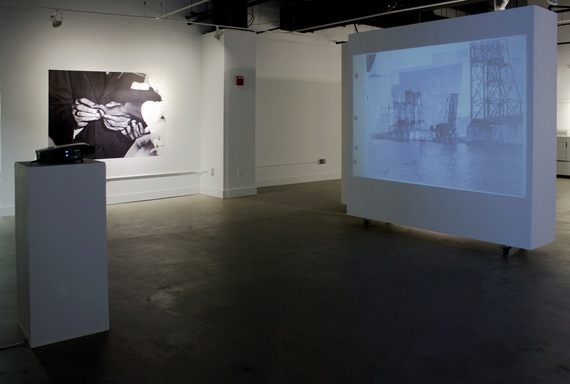 Provisions is another compilation of discoveries by way of conflict, hardship and the ability to overcome. This time made with co-curator artist Adrienne Wheeler and Endless Editions, Samantha Boardman with Rutgers University -Newark Book Arts class. The Provisions exhibition speaks tomes about a city transitioning from segregated ethnic lethargy, shifting through great waves of changes, to its present culturally diverse dynamism.
Included is artists' Adrienne Wheelers mother, Elizabeth 2015, an installation of her wedding album photographs from sometime in the 1950's. There, a young pretty woman from the south, marries a 7th generation northerner in celebratory happiness at a Newark church. At the listening station you can hear the interview by Wheeler with her mother, who accounts for the days past; a world rendered from an aperture only her mother can see through. Sumptuous fair for this generation to feast on; an excellent metaphor for engaging the viewer in the fragility of time and place. How prehistoric it seems and at the same time ever immediate. As we view Elizabeth's wedding pictures projected on a blank wall, both complete in its whole perspective, as well as cropped in close-ups to convey the essence of a moment in the young couple's history, as well as American History.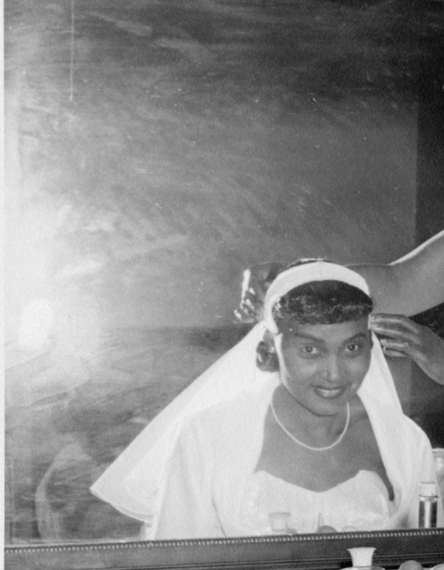 Using the medium of books, pressed into the delicate form of glass, to elucidate on the southern migration northward for African Americans in hope of finding better opportunities in a less oppressive world, Kline and Wheelers' canny creation illustrates deep roots in the zeitgeist of more than a few hearts and minds of Newark residents. But even more far reaching for people who seek historic context for the African American diaspora from the South. Kline explained that each piece was to be no larger than a shoe box; these perimeters were inspired by Jim Crow laws of the day, since African Americans were not allowed to eat in most restaurants that were available on the road. It was a White's Only world. By some of the accounts of people who lived through it as children, it was muted and got louder and softer depending on the circumstances.
On a long exhibition table lay the results of seven stories, told by Newark residents chosen from 200 audio tapes reinterpreted and given a metaphorical voice in glass by many artists. The project was inspired by Kreuger-Scotts' African American Oral History Collection, found buried away in the back of Newark public library.
The first is "Spirit Restored' by Lamont Royster, whose subject Zaundria Mapson May, talks about one Christmas eve when she arrived home finding all of her families presents had been stolen from under the tree. So for Mr. Royster this is his way of returning them so many years later. Channeling her words and memories he created something of a Christmas treatment with vintage ribbon. Ms. Mapson May is sure the gift paper is just the same as the wrapping used on her presents long ago.
For his work, Kline cut a piece of glass, shaped and colored bluish like a melting block of ice that was used before refrigeration. He placed a vintage rusted ice pick (which he procured from Alabama) on top, to tell the story of Isaac Thomas.
In the 1940's segregated South, just outside of Birmingham, Alabama, Isaac Thomas Jr. delivered ice.
"I delivered ice, I tell my children about this they laugh. I earned, I think $4.00 a week delivering ice. We delivered ice to the white folks in the morning while it was cool. We delivered ice to the black folks in the evening while it was hot. They used to say "give me a nickel piece of ice melting."
These stories inscribed upon pages made of glass; a substance made from sand, the granules ground over thousands of years from rock and finally through a process of refining into the fragile form of translucent canvas are the poignant accounts of people of an unforgettable historic era. Memories can be lost when people pass, but this highly intimate exhibition catches mutable imagery in glass works presented as allegories, inspired by weighty subject matter in tragic and uplifting detail. The stories told are not just about Jim Crow, but of humanity, faith and responsibility; of community and friends, family and everyday occurrences, It's a special show. The stories told are about life for African Americans of an era, which at times seems not so far away. See it or miss it!
Calling all HuffPost superfans!
Sign up for membership to become a founding member and help shape HuffPost's next chapter