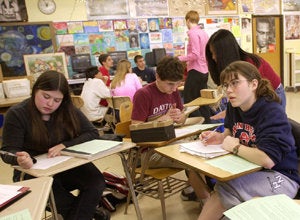 One of the country's most troubled school systems is close to naming a new leader.
The New Jersey Star Ledger reported Friday that Newark, N.J. has narrowed a slew of superintendent candidates down to two finalists: Cami Anderson, a senior superintendent who leads New York City's alternative high school programs, and Maria Goodloe-Johnson, the former superintendent of Seattle schools who was terminated by the school board a month ago.
The emergence of Anderson, a product of Teach for America, and Goodloe-Johnson, who completed the Broad Foundation's superintendent training, comes as America's urban school districts face rapid leadership turnover; in the last few weeks alone, Chicago, New York City and New Orleans' Recovery School District have hired new superintendents.
Those cities have snatched up coveted candidates -- in fact, Newark considered Chicago's newly hired superintendent, Jean-Claude Brizard, to be in the running to lead its schools until Monday -- while Atlanta, Montgomery, MD, Broward County, FL, and Detroit continue their searches for education leaders.
"There's a sense that the talent pool [for school leaders] isn't that deep," said Aaron Pallas, a professor of sociology and education at Columbia University's Teachers College. "It's hard to attract good candidates, because these are very turbulent decisions." He added that both Anderson and Goodloe-Johnson seemed to have apt experience.
Newark has 40,000 public school students. Even while spending $25,000 annually per student, a high achievement gap persists, as do consistently low graduation rates. Only half of all high school students receive a diploma on time, and even more require remedial coursework upon reaching college.
Education experts around the country have pointed to Newark as a litmus test: if a superintendent is able to turn things around there, any other failing district can do the same.
"It is a test case," said Paula White Bradley, founder and head of Newark Legacy Charter School. "For people who believe that you can't fix education until you fix poverty, if there's a city where societal ills are still plaguing people, and you're seeing improved education outcomes. You'll see that yes, we want to fix poverty, but it doesn't mean we can't also fix education right away."
Derrell Bradford, executive director for the New Jersey-based non-profit Excellent Education for Everyone, cautions against putting too much stock in the powers of a superintendent.
"The popular dogma is that once we pick a superintendent, we will be saved," he said. "But they don't always have all the tools they need when they take over."
Superintendents in urban districts have notoriously short tenures. "If you look at New York, Washington D.C., Newark, you see that when a superintendent leaves, the status quo creeps back in," Bradford said. "Parents ... have to sit through this." He added that Newark needs better communication with parents, in addition to better management.
On Thursday, U.S. Secretary of Education Arne Duncan visited Newark to talk up teacher recruitment. Duncan said he was sure that education could remedy "the poorest kid, from the toughest community from the most dysfunctional family." Cities with high dropout rates, he said, are "perpetuating poverty. We're perpetuating failure."
But Bradford said Duncan's attention makes Newark sound like "it's on the bleeding edge of education reform in America," and raises the stakes perhaps too high.
Eric Nadelstern, who left his post as deputy chancellor for New York City's division of school support and instruction in January, is optimistic about one of the Newark superintendent candidates. He supervised Anderson, and recalled her efficiency in closing underperforming GED programs to improve success rates.
"Newark is a serious case of educational malpractice compounded by decades of ineffective management," he said. "Someone with Cami's courage and intelligence and penchant for reform will have an impact."
Newark is no stranger to the education reform spotlight. In September, Facebook founder Mark Zuckerberg appeared with Newark Mayor Cory Booker on "Oprah." Zuckerberg pledged to donate $100 million to the Newark school system, making the district a test case for potential major philanthropic contributions to other public schools.
But if the influx of cash doesn't improve the system, the implications for education philanthropy could be dire.
"With that investment, if things don't work out in Newark, ... it would have a chilling impact on other philanthropists and on those rising-star politicians who may want to latch onto the education issue," said Kevin Chavous, a former Washington, DC city councilman and current national chairman of the Black Alliance for Educational Options.
Zuckerberg's donation, however, represents only one tenth of the budget of a system that White Bradley says has a "base level of distress." And working with that high-profile money will put Newark's new superintendent under closer scrutiny.
In White Bradley's eyes, an ideal superintendent would be simultaneously reform-minded and politically savvy -- and care about the city.
"Many Newarkers feel that people who come to Newark do so in order to gain credibility, and don't always have Newark's best interests at heart," she said.
Calling all HuffPost superfans!
Sign up for membership to become a founding member and help shape HuffPost's next chapter