This series of newborn photos is paying tribute to the unconventional way a baby girl came into the world ― and the police officer who played a key role in her delivery.
Destiny and Caleb Hall of Granbury, Texas, welcomed their second child, a daughter named Evelyn, on July 18. As Destiny told The Huffington Post, Evelyn's birth was "a wild ride."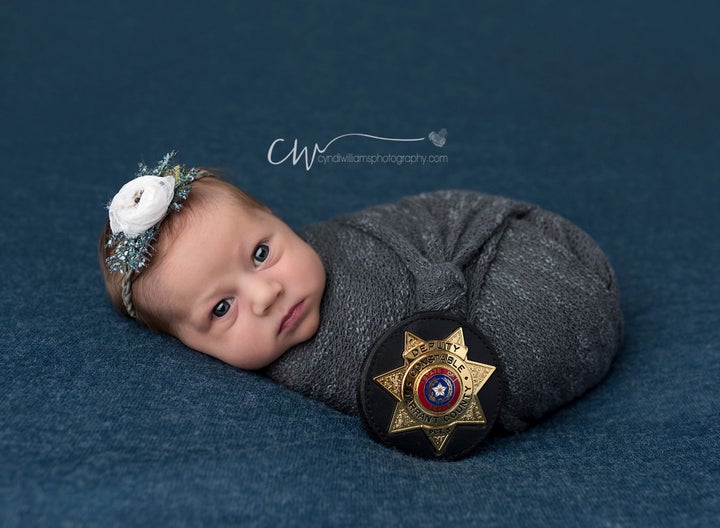 The mom started having steady contractions the evening of July 17, so she and her husband made the 45 minute drive to the hospital in Fort Worth around midnight, at the advice of their midwife. However, doctors told Destiny that she was not in active labor and sent her home around 4:30 a.m.
"We arrived back at home at 5:30 a.m. and tried to 'rest,'" Destiny said. But she was unable, as her pain had been gradually intensifying. "My contractions deepened to the point where I was off the bed and on my hands and knees on the floor," the mom recalled.
Destiny and Caleb set out toward the hospital again, with trash bags lining the seat "just in case." Destiny said she felt the baby coming. With each contraction, she repeated a refrain of "I don't think I can make it!"
"When we were about halfway there, my water broke, and I could tell I definitely wasn't going to make it much longer," she said. That's when Deputy Constable Mark Diebold stepped in.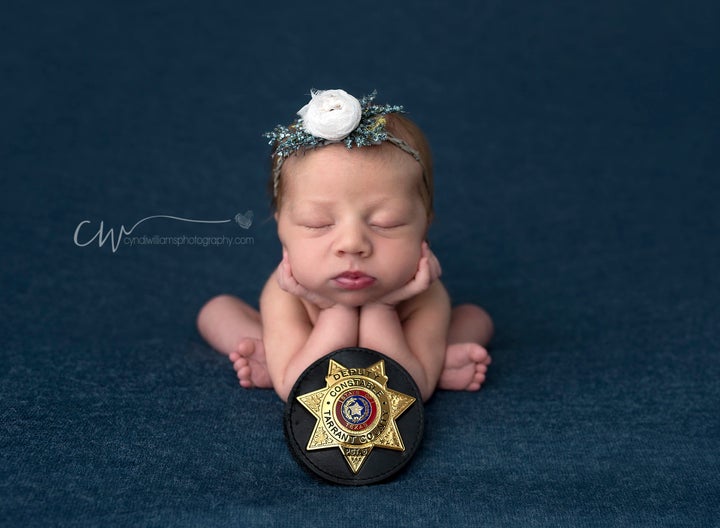 Diebold spotted their Jeep speeding down the highway and started following them, signaling to slow down. When they all stopped at a traffic light, Caleb rolled down his window and explained the situation to the officer, who instantly offered to escort them to the hospital.
About two minutes later, however, Destiny told her husband to pull over at a gas station. Diebold followed their lead and then called an ambulance. "Caleb told me, 'You're going to have the baby in the back of the ambulance, isn't that exciting?'" Destiny recalled, adding. "I replied, 'No, I'm having her NOW.'"
The mom sat up to start pushing. "Caleb pulled my pants down, and they didn't even make it to my knees before she started coming!" Destiny said. Soon, she had given birth to their baby girl. The parents were overjoyed, as was the officer.
"Mark was like a little kid in a candy shop, high-fiving and celebrating with us!" Destiny said. Diebold helped her husband clear the baby's airways and then went into the backseat to find a blanket for the newborn.
"He just couldn't stop smiling and was telling us that we just 'made his month.' It was such a wild, weird and wonderful experience," said Destiny. She and Caleb named the baby Evelyn Joy Deborah Hall.
"I come from a long line of law enforcement officers, including my mother and sister, who are both police officers in Louisiana," Cyndi told HuffPost. "I knew instantly that I wanted to do something honorary for the family, and Officer Diebold. In a way, I felt like it would also honor my mother and sister."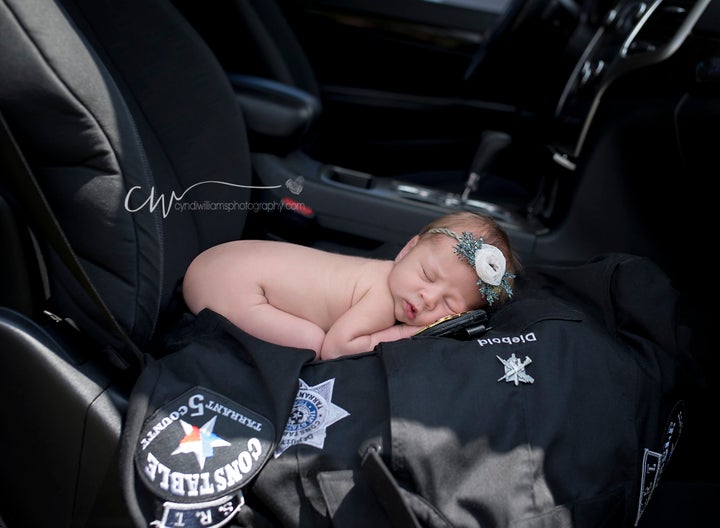 While discussing ideas for the photo session with Destiny, Cyndi mentioned incorporating Officer Diebold's badge, and the mom was completely on board. Destiny borrowed the badge and one of his uniforms. Though they also hoped Diebold might be able to pose for some photos himself, his work schedule did not allow him to attend the session.
Destiny said she and Caleb loved the finished photos, especially the one of Evelyn lying on the officer's shirt in the front seat of their car ― the exact spot where she born. "I want to frame this picture along with the newspaper clipping of the story to give to Diebold," she said.
As for the officer himself, "He was so happy, and those photos will be such a wonderful reminder of a moment that was shared between him and baby Evvie," Destiny added.
Both the mom and photographer said they hope these newborn photos and the story behind them will bring people joy. They also want to highlight positive news about police officers.
Destiny went on to say, "I hope that people see that there is hope and good in this world."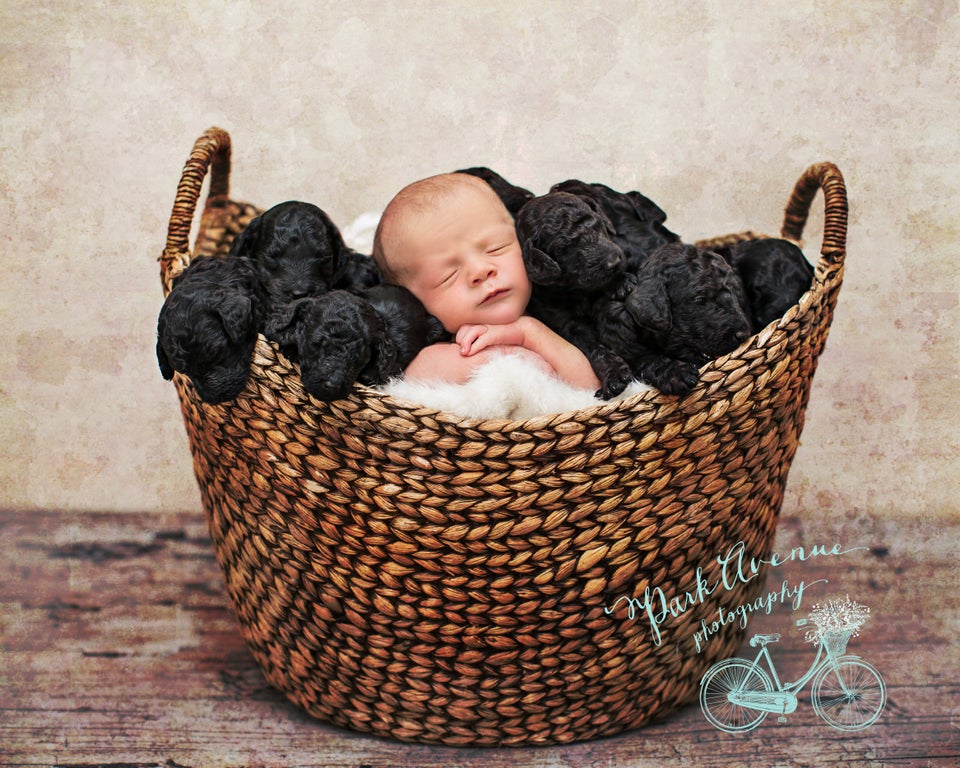 Newborn Baby And Puppies Take Part In Adorable Photoshoot